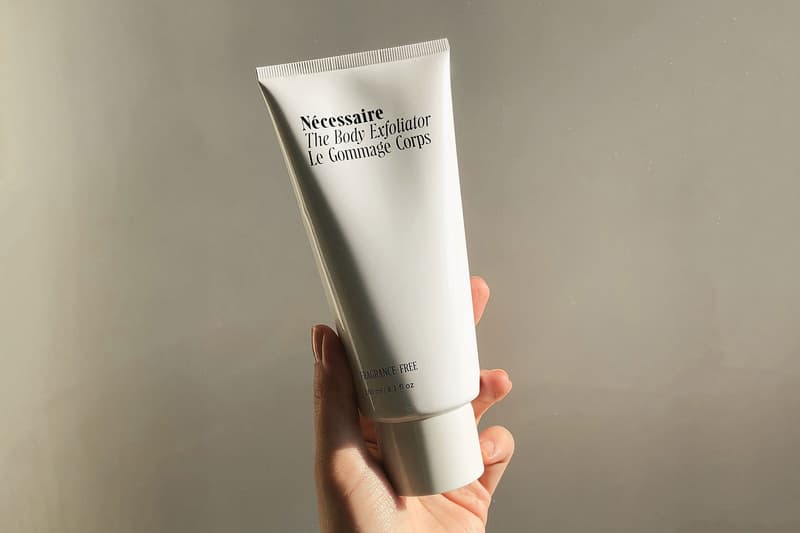 Beauty
Nécessaire's Body Exfoliator Gives Me the Softest and Smoothest Skin
This fragrance-free product is our editor's new favorite body scrub.
Nécessaire's Body Exfoliator Gives Me the Softest and Smoothest Skin
This fragrance-free product is our editor's new favorite body scrub.
Over the last year, my arms have developed rough and dry patches that cause my skin to feel itchy from time to time. Despite using a moisturizing body lotion on a daily basis, the condition of my skin hasn't improved. While I'm fully aware that I could seek a dermatologist's expert advice, I just don't have the budget for that at the moment. I've never really been one to invest much time on my self-pampering routine and I eventually got used to the uneven texture of my arms, which I know I shouldn't have settled for. Thankfully, I've recently come across Nécessaire's The Body Exfoliator and it has practically addressed my skin issue. I'm generally quite skeptical about scrubs, but this particular formula gets the job done without compromising the health of my skin. It has also helped smoothen my legs as I tend to have random dry patches there as well.
Read on for my review of Nécessaire's The Body Exfoliator and find out why it made this week's "Editor's Pick."
WHAT IT IS: Nécessaire The Body Exfoliator in "Fragrance-Free"
WHY IT'S WORTH THE HYPE: As I've mentioned, my arms suffer from dryness, so I've been using this exfoliator on my skin at least twice a week after using my body cleanser. What I love most about this scrub is that it features clean ingredients such as a gentle AHA/BHA trio of glycolic, lactic and salicylic acids, which all work together to get rid of dead skin cells and restore the skin's appearance. On top of that, the product arrives in recyclable packaging.
The product itself comes in a clear gel consistency with speckles of bamboo charcoal. Upon massaging the exfoliator onto my arms, the charcoal doesn't feel harsh at all. When it turns into a rich foam, that's when I start rinsing off the product. After drying up and applying lotion, I can instantly feel how soft and smooth my arms and legs are — that softness usually lasts up to about two days. If you're looking to improve the texture of your skin, this body care product is a great option.
WHERE YOU CAN FIND IT: Priced at $30 USD, Nécessaire's Body Exfoliator is available to purchase online at Nécessaire and Sephora.
Share this article