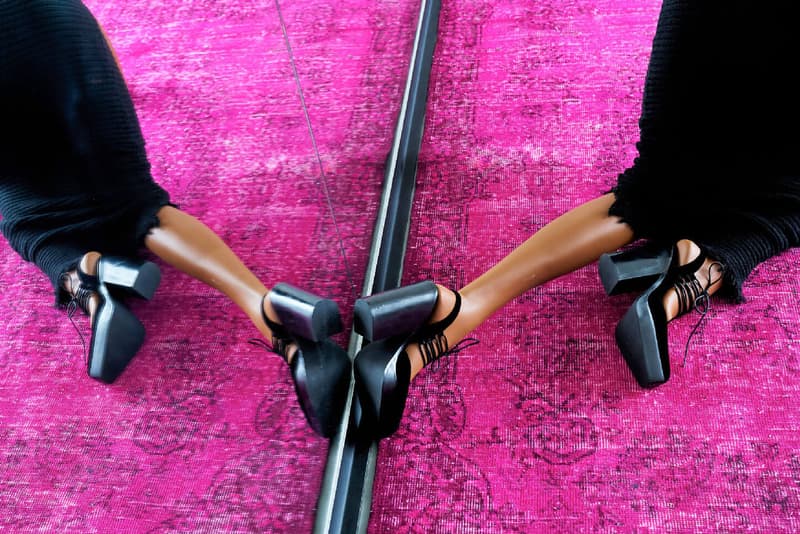 Footwear
5 Fashion Designers Altering the Future of Footwear
Introducing Ancuta Sarca, Nodaleto, Justine Clenquet, Bed On Water and Dubié.
5 Fashion Designers Altering the Future of Footwear
Introducing Ancuta Sarca, Nodaleto, Justine Clenquet, Bed On Water and Dubié.
The right pair of shoes has the power to instantly transform the wearer while simultaneously expressing their individuality, identity and interests in one fell swoop. To demonstrate the enduring appeal of shoes in all forms and introduce the next generation of visionary designers who are radicalizing footwear, HYPEBAE tapped five leading design talents to showcase their recent footwear collections and offer insight as well as inspiration behind each thought-provoking creation. 
Below, get to know the five designers altering the future of footwear.
As climate change and excessive waste from the fashion industry threatens our very existence, innovative creatives like Ancuta Sarca, a Romanian-born designer based in London, is reclaiming the footwear arena through the use of newfound techniques like upcycling and found materials that aim to shape the future of footwear. By scouring thrift shops, delving into resale sites like eBay and depop in search of disregarded Nikes as well as secondhand heels and boots, Ancuta has developed her own brilliant, upcycled take on crafting mash-up, hybrid shoes that consist of edgy kitten heels, slick, tall boots and eye-catching loafers for men.
How would you describe your discerning aesthetic and approach to design for those who are unfamiliar with Ancuta Sarca footwear? 
The core of my brand is sustainability and the process of upcycling. We work with deadstock materials or upcycled shoes and we give them a second life by regenerating them and transforming them into new shoes.
What was the inspiration behind the shoes you created for your most recent collection?
For AW21, we made a fairly small collection of bags and shoes. We introduced the Bow Bags which are made from deadstock sportswear fabrics. I wanted to subtly translate the shoes' aesthetics into a bag—a very feminine and delicate shape made out of sportswear fabrics. The shoes are made out of secondhand garments (jersey jumpers, etc.) deadstock materials and upcycled trainers. 
We worked with leftover materials from factories in Italy and London as well as materials that we had saved from previous seasons—this way we're able to reduce waste. We also bought deadstock trainers from a small local shoe shop in London who struggled in the past 12 months due to stores being closed because of the pandemic. We helped this shop by buying leftover trainers from them, which we introduced into the new collection. 
How do the shoes you developed play into the overarching theme of this collection? 
I felt quite nostalgic these past several months and also a strange feeling that we are moving into the unknown and sometimes feel like there is no end to this. There are a lot of sparkly tinsel, velvet and soft fabrics this season as a celebration for better times that we are all very much looking forward to.
Nodaleto is the Italian-made luxury shoe label making waves amongst fashion insiders, downtown darlings and the style elite who can't resist the visionary footwear brand's chunky-heeled soles and instantly-recognizable silhouettes, complete with fashion-forward colorways and discerning design motifs. Founded by designer, Julia Toledano (the daughter of chairman and CEO of LVMH Fashion Group Sidney Toledano) and artistic director, Olivier Leone, Nodaleto has secured its footing within the fashion and footwear industry by pushing the boundaries of traditional shoe design while taking inspiration from defining decades like the '70s and '90s and unique subcultures from around the world.
How would you describe Nodaleto's distinct DNA when it comes to crafting shoes that standout?
The brand has been described in many ways: fun, girly, chunky, elegant, daring, '70s, '90s and mischievous. We identify with most of them, but we don't feel comfortable being reduced to these [descriptions]. If our heel is what defines our style, we want the women who walk with it to define their own identity.
Talk to me about the design and creative process when developing your footwear styles from SS21. 
The SS21 collection was inspired by 4 cities which includes: London, Tokyo, Miami and Buenos Aires. Designed during the first lockdown, I was dreaming of a summer of love, travel and joy. The Nodaleto SS21 collection is about women with dual personalities and style, for whom life is like a dance in four tempos. They play with codes of good and poor taste, without ever losing their uniqueness. [Materials like] leathers that are metallic and crackled as well as pink hues and floral jacquards are inspired by Japanese kimonos. 
How do you use fashion as a tool to express yourself and share your experiences with your consumer base and the rest of the world?
Designing shoes, buying shoes and wearing them has always been a tool to express myself. From a young age, I have designed and imagined shoes for pleasure. I have always had a particular connection with shoes and experience [a range of] emotions when I try a shoe on for the first time. Feeling confident, feeling sexy, feeling powerful and feeling feminine—these are the emotions I want to share with my consumers who also share my vision of shoes and the emotions around it. With Nodaleto, it's not only about buying a pair of shoes, it's a journey.
Known for imbuing dazzling jewelry and mesmerizing footwear with a hint of '70s glam and a punk-inspired sensibility, French designer Justine Clenquet has released her second footwear collection. Brimming with an array of fashion-forward silhouettes cast into on-trend hues, the collection pays homage to defining '90s cinema and iconic women like Chloë Sevigny, Edie Sedgwick and Uma Thurman who embody both strength and femininity. Standout styles from the new footwear range include comfort-focused Mary Janes, block-heeled booties and strappy sandals fashioned in buttery soft leather and adorned with Swarovski buckles.
Your 2nd footwear collection recently launched. Talk to me about the design and creative process when developing these awe-inducing footwear styles. 
For this 2nd collection, I decided to develop more shoe styles and I [thought of ways to combine] jewelry and shoe collections together. I worked with a shoe design studio because it's important to have a [deep understanding] of the shoe like its construction as well as [the fit and comfort of it]. We chose some materials that I personally love like the python-printed leather and the patent leather. 
How do the shoes you developed play into the overarching theme of this collection?
The collection focuses on playfulness and duality portrayed by outlaws and on-the-run lovers from Wild at Heart or the iconic, free-spirited protagonists from True Romance. The collection features 11 timeless designs such as square-toe sandals, low heeled mules, Mary Jane shoes and hybrid stretch boots. The styles come in both a summer and earthy color palette which includes colors like baby blue, deep red or a python pattern. I wanted to affirm our brand's codes by adding hardware such as metal rings on the Drew sandals and eye-catching Swarovski buckles on the Liv sandals.
What are some ways you envision these footwear styles being worn and what would you pair them with? 
I love to wear the Eve boots with jeans. I don't wear a lot of sandals but the Drew sandals are one of my favorite styles this season because they represent the brand's DNA. You can wear them with Bermuda shorts to mix the feminine and masculine look.
Fusing Argentinian shoe-craftsmanship with easy-to-wear silhouettes, luxury materials and splashy colors, Dubié, is the revolutionary Argentinean label constructing smart, practical and stylish hand-made shoes for the modern woman. Founded by Agustina Dubié in 2012, the designer's eponymous line has evolved beyond the traditional aesthetics of footwear through employing heritage techniques inspired by her hometown of Buenos Aires, sourcing quality sheepskin and napa leathers and championing quality while challenging the conventional through her range of bold, sartorial styles.
What does Dubié represent and how would you describe your design philosophy? 
For me, it's about constructing shoes that embody attitude, functionality and are trustworthy—something that isn't ornamental that works for every day. Dubié is known for its sharp shapes and we've designed each silhouette to adapt comfortably to every foot, so it's more about you and encouraging you to stand strong and confident.
What was the inspiration behind the shoes you created for FW21 and how did you differentiate the various styles this season? 
Our mood this season was of course, tinted by the current [pandemic] and I wanted to make FW21's color palette quite expressive. Colors that shout, some that calm and others that are neutral. Being inspired for this season enabled us to deepen our quest for shoes that physically, emotionally and aesthetically support us.  
How do the shoes you developed play into the overarching theme of this collection?
This collection is all about attitude. We've all been through quite a lot and I wanted to have FW21 be a blend of different and strong shapes that work well together. This season's construction of our core DNA has been more substantial and more visible, where comfort and ease live in every pair that's made. You can expect padded details for comfort, elasticated cleavages to fit any of us and ergonomically-thought cuts to reinforce.
Designer Shanel Campbell of Bed on Water, is the Bronx-native propelling the future of fashion and footwear forward through her spellbinding designs that center around Black history, Afro-futurism, time and spirituality. Harnessing her multi-disciplinary practice that melds visualizations of the future with already-existing mediums, Shanel sought to create a newfound approach and aesthetic for the release of her Femmewear Collection 1. Exploring her own identity as a designer throughout the creative and design process, Shanel introduced a series of jaw-dropping shoes that feature corset-inspired lacing, luxe materials like sumptuous velvet and come equipped in a variety of brightly-tinged hues.
How would you describe Bed on Water for those who are unfamiliar with your brand?  
When I am designing I study vintage clothing and research media from the past, while designing and being informed by my own present-day experiences. From there, I make clothing for a future society where everyone loves clothes as much as I do. I am inspired by my father's suit collection, my grandmother's vintage beaded gown collection, my mother's clothes from the '90s and my personal vintage collection. I take all these ideas and recombine them to make alternative tailored pieces that are sometimes wearable and sometimes more editorial. 
Talk to me about the design and creative process when developing your statement-making footwear styles for Femmewear Collection 1. 
I collect corsets and I do a lot of lacing in my pieces because a lace back or side on a garment makes them more accessible in terms of sizing. I wanted to reference that detail in my footwear. I sourced the velvet for the shoes so I used a few different vibrant colors so they could make a statement.
What was the inspiration behind the shoes for Collection 1 and how do these styles play into the overarching theme of this collection?
I was inspired by lacing and a square toe. The lacing idea is fun because you can swap out the laces and use any colors and any lengths so the shoe can go up your entire leg if you want it to. The shoes reference the collection in color, material and detail. This is my first shoe production so I knew I needed some intense colors so that they would make a statement. I love that while the color is vibrant the style is simple enough that it can go with anything.
Share this article