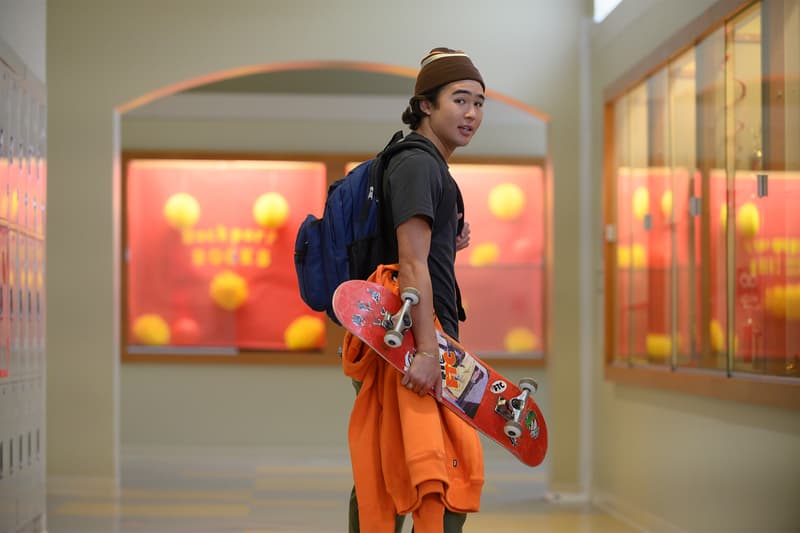 Film & TV
'Moxie' Star Nico Hiraga Hopes the Netflix Film Inspires Younger Generations
We spoke with the actor about how the movie raises awareness of ongoing social issues.
'Moxie' Star Nico Hiraga Hopes the Netflix Film Inspires Younger Generations
We spoke with the actor about how the movie raises awareness of ongoing social issues.
For Nico Hiraga, who portrays Seth Acosta in the Amy Poehler-directed Netflix film Moxie, the high school comedy is a project he feels proud to be a part of. Based on Jennifer Mathieu's 2015 novel of the same name, the recently released teen movie addresses serious social issues such as sexism, opening up conversations and removing the stigma surrounding these topics.
Editor's Note: This article contains spoilers for Moxie.
Moxie follows the story of Seth's crush Vivian Carter (Hadley Robinson), a 16-year-old who starts a revolution against the patriarchy by distributing a self-made zine exposing the school's unjust system to her classmates. Among the students of East Rockport High School, Seth is the first boy to make an effort in supporting Vivian's movement. In the first Moxie issue, Vivian prompts readers to draw hearts and stars on their hands as a symbol of unity. The following day, Vivian and Lucy (Alycia Pascual-Peña) spot Seth with the graphics on his hand, showing his support for the cause. Later on, the character even volunteers to help circulate the zine with other boys at the school.
Showing genuine respect towards women, Seth is a great role model for today's youth. Below, we spoke to Hiraga about his character's traits, his skater boy rebel days and the kind of roles he wants to explore in the future. Read on for our interview.
In case you missed it, get to know the rest of the Moxie cast here.
Your character, Seth Acosta, is one of the kindest souls in the movie. In your experience, how often does one actually get to meet someone like Seth in high school?
Seth is the kindest soul in the movie and I think every high school has an individual like that. I think it's whether you are looking for that kind of person or not. In Moxie, it seems like Vivian was surrounded by so many toxic guys, so Seth stood out so much more. You'll definitely find similar situations in any high school.
With Seth having older sisters, do you think that affects the way he treats girls in comparison to other characters like Mitchell Wilson?
110 percent! Seth having three older sisters definitely shapes the way he treats women. Similar to Seth, on my dad's side, I grew up with several older female cousins that are very, very inspirational and very amazing people. They definitely shaped me as a young kid and showed me what was right and wrong.
"I just hope that Moxie shows younger generations what's acceptable and what's not, as this movie definitely sheds a light on those problems. Hopefully, it inspires a lot of younger kids."
Moxie tackles a lot of ongoing social issues like gender inequality. In what ways do you think the movie has helped spread awareness about these topics?
Moxie has an incredibly strong message, and the fact that it has Netflix as a platform to deliver it to the world is huge. I think they got some amazing and controversial points across. It's hard to fit so much into a two-hour window, but they definitely succeeded.
As a guy yourself, how can you and other like-minded individuals help stop future generations from turning into people like Mitchell?
I can say that having a good head on your shoulders and knowing what's right and wrong is important. It's important to call out what Mitchell is doing and not let people get away with that. I just hope that this movie shows younger generations what's acceptable and what's not, as this movie definitely sheds a light on those problems. Hopefully, it inspires a lot of younger kids.
You were able to showcase your skateboarding skills in the movie, was that your idea?
It wasn't my idea to showcase skateboarding as I had already skateboarded in Booksmart, Skate Kitchen and North Hollywood. When Amy asked me to, I wasn't opposed — whatever Amy wanted, I was down to do. She wanted Seth to be a skateboarder, an outsider and mysterious to all the groups. I'm always happy to showcase my original love and passion and not have a stunt double.
Where does your love for skateboarding stem from?
From being a rebel growing up. I started skateboarding because kids at my school were doing lacrosse, soccer and basketball. I went to a private school and a lot of the moms didn't like me and didn't want me hanging out with their kids. I sagged my pants, wore a hat backward and had bleached blonde hair. On top of that, I think adding skateboarding to the mix made me even more of a rebel. I had moxie from a young age. My mom always pushed me to be myself and not care what the other moms thought of me. My mom is the definition of Moxie.
What other types of roles would you like to explore in the future?
Other roles I would be interested in would be comedic roles. I love cracking people up and making people smile. I'm also not opposed to a really serious role or a drama, or playing the troublemaker. I'm always down to explore and take it to the next level.
Share this article