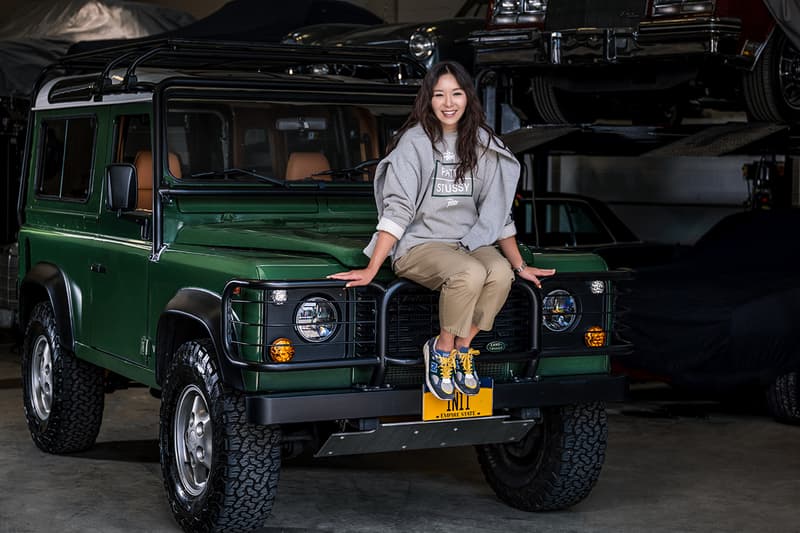 Culture
Sneakerheads Might Just Recognize This Customized Land Rover Defender 90
Inii King offers a detailed look at her vehicle, which stole the spotlight in an Aimé Leon Dore x New Balance campaign.
Sneakerheads Might Just Recognize This Customized Land Rover Defender 90
Inii King offers a detailed look at her vehicle, which stole the spotlight in an Aimé Leon Dore x New Balance campaign.
Inii King's Land Rover Defender may look familiar to some sneakerheads, particularly loyalists of Aimé Leon Dore's hugely popular collaborations with New Balance. The unlikely star of the two brand's Fall/Winter 2019 collection campaign, which depicts life in the idyllic countryside, King's Defender 90 was a hot topic of discussion among fans of the co-branded line. It was a joy for King to see others share the same enthusiasm for the iconic vehicle, a model that appeals to a wide demographic in the UK but is rare to find stateside — her Coniston Green 1997 North American Specification Station Wagon is one of just 334 units manufactured during the last year of the model's production.
Having recently upgraded her ride with stunning custom interiors, from chestnut-colored leather seats to teak flooring, King gives HYPEBAE an up-close view of her revamped D90. Take a look at the sleek details of the vehicle, and read our conversation with King about how she's developed a passion for classic cars below.
How did you become interested in the fascinating world of classic cars?
My husband Tony has been into cars since he was a kid, and he hoped that me and our daughter Olivia would share the same passion. (Editor's note: The duo runs the creative agency King & Partners. They also share the Instagram account @wejustlovedriving.) We go to classic car shows, road trips, car rallies and go on Sunday drives together all the time. Along the way, I fell in love with classic cars.
I never wanted to own a car until I started seeing beautiful, cool classic cars that have so much more personality than contemporary cars. Finding a great old car and maintaining it requires a lot of love and effort, but that's what makes everything special.
What was the first classic car that you purchased?
The Land Rover Defender 90. I've always loved Defenders — the iconic design, the agricultural nature of it, as well as the simplicity and versatility of it. I had a model Defender on my desk for years and dreamed of owning it one day.
In 2018, I got to drive a Coniston Green Defender 90, exactly like the model car on my desk. Tony was expecting me to get disappointed after driving it, thinking that the slight clunkiness would annoy me. But from the moment I drove it, it felt like it was meant to be my car.
Car culture has traditionally been heavily male-dominated. As someone who is passionate about cars, would you say that the classic car landscape has evolved in recent years?
The car scene is still very male-dominated, but I love seeing women who are into cars. There are a few women who participate in car rallies, and my friend Hannah Elliott, one of the best auto journalists, drives a vintage Rolls-Royce. More women getting into cars will make car culture way more interesting.
Do you have any tips for women who are interested in getting into classic cars, a hobby that can sometimes feel intimidating? 
Going to classic car shows would be a great start. Seeing all the classic cars with beautiful design and craftsmanship, and seeing really fun cars with their owners' personality coming through really make you want something special. Also, there are so many online resources for classic cars these days. You can find as much information as you want.
Let's talk about your Land Rover Defender 90. What sets it apart from the other models, and how is it different from domestic truck options?
Defenders were sold in most other areas of the world, except North America and a few other locations. From 1993 to 1997, Land Rover produced a limited quantity of Defenders that were specifically produced to meet North American requirements.
Full official description of this car would be 1997 NAS (North American Specification) Defender 90 Station Wagon, which is one of 334 Coniston Green NAS defenders made in the very last year of NAS production. I have never seen a Land Rover Series or Defender I don't love, but I really love the fact that this model is from the last batch of North American Spec Defenders and that they are highly sought-after.
What's usually the reaction toward your car in public?
There aren't as many Defenders in the U.S., but it's well-recognized and loved by many people. There are always people asking about the car or giving thumbs up when we drive around in it. There's a big classic car community and quite a few Defender owners where we live, and one of my favorite things is running into another Defender driver and waving at each other on the road.
Are you the first owner of the vehicle and do you know about its provenance?
We are the third owner of this car. The first owner lived in Tennessee; the second owner lived in Philadelphia. I know that the second owner was a smoker because the truck came with cigarettes in the ashtray, which made the truck smell and feel extra '90s.
Tell us about the past repairs and modifications on your Defender.
The truck was in good condition when we got it. It already had an engine replacement, I just had to tighten it up and do some general fixes here and there. I winterized the whole car with Waxoyl, so I don't damage the car while driving in snow and salt. I had new shocks and a new exhaust installed, and both improved the driving quality noticeably.
More recently, I have had custom interior work completed with beautiful tan leather, herringbone headliner and teak floors by Justin Merkhofer, who is the best person for custom car interiors.
Defenders are known to require regular maintenance. What is your routine like?
There are always old parts that will need to be fixed in old cars, even for well-maintained ones. You also need a reliable mechanic who is knowledgeable about your particular car. I have an amazing mechanic Ronnie at Bedford Greenwich Auto who specializes in old Land Rovers. I go to Ronnie once or twice a year to get the car inspected and tighten up things before they become a problem.
What advice do you have for someone looking to get into the Defender scene? What's something to look for when buying a secondhand Defender?
You get what you pay for. When a truck looks cool but the price seems cheap, it will more than likely give you a headache. Maintenance history makes a big difference. When you see a car, you can tell whether the car is well looked after or not. Go for the one that's been well-maintained. Go for a NAS Defender or an imported model sold by a reliable expert who has a good reputation.
Also, don't expect perfection. There will be water leaks if you leave it outside in the rain, and the windows may rattle when you drive — that's how Defenders are. They are simple, imperfect and charming.
Your truck was featured in an Aimé Leon Dore x New Balance campaign back in 2019. How did this opportunity come about?
Our good friend Harrison Boyce directed the campaign and we lent them the truck for the shoot. It was such a great campaign. I probably watched it 100 times the day it came out, and I couldn't be happier.
Can you share with us any other interesting stories or adventures you've had with your Defender?
My favorite moments with the Defender are when I drive it when it's filled with plants. It feels totally out of the ordinary and makes you imagine driving through a jungle somewhere.
What are your thoughts on the recent Defender reissue?
It actually really grew on me and I think it's very cool. It's modern, utilitarian and totally original.
Share this article