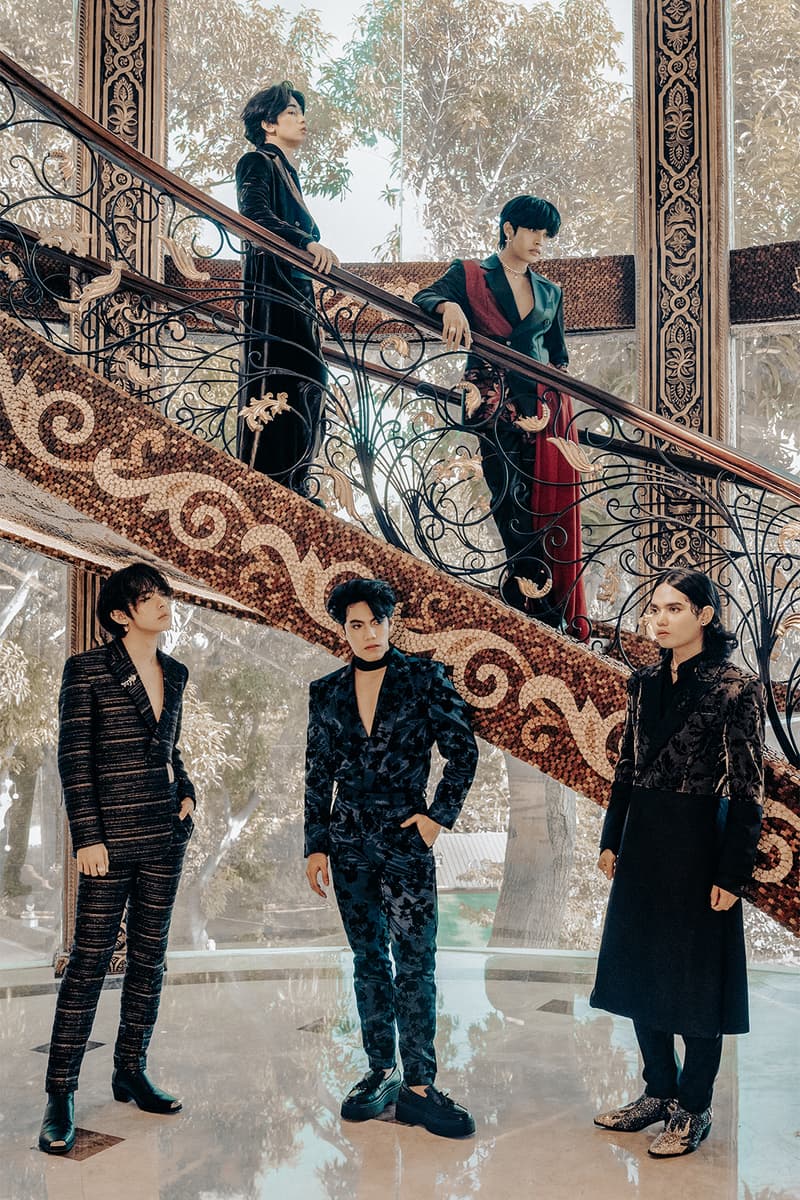 Meet SB19, the Boy Band Making Waves in the Filipino Music Scene
Josh, Pablo, Stell, Ken and Justin honor their roots on their latest EP, 'Pagsibol.'
Music
Meet SB19, the Boy Band Making Waves in the Filipino Music Scene
Josh, Pablo, Stell, Ken and Justin honor their roots on their latest EP, 'Pagsibol.'
"Pagsibol is about going back to our roots and giving back to the people who support us, because they're the reason why we're here right now," SB19's leader Pablo spoke of his group's new EP. Sat in front of a royal blue backdrop were Josh, Pablo, Stell, Ken and Justin, all dressed to the nines in colorful blazers, with a welcoming smile on their faces as we commenced our Zoom interview.
The P-pop (Pinoy pop) quintet was formed by the Philippine subsidiary of Korea's ShowBT Group three years ago when the entertainment and media company was scouting for aspiring Filipino musicians. "Around 100 auditionees were chosen to train. Every week, trainees would be eliminated until it narrowed down to just us five. The company then decided to debut us on October 26, 2018, with our ballad song called 'Tilaluha,'" Stell explained.
The boys, who have just launched their first EP Pagsibol, shared with us the concept behind the project. "I wrote the lyrics for all of the songs [in Pagsibol]. My songwriting process varies," Pablo said. "'Pagsibol' directly translates to 'germination' in English, so it's basically an analogy to our lives." Inspired by their roots, the six-track project is dedicated to those who have supported the group since day one.
Before achieving mainstream success, the five members underwent the same kind of intensive training given to K-pop stars. "We used to train six to seven times a week for more than 12 hours a day. Our training included dance, vocal exercises, acting and even personality development. It was rigorous. It was really hard for us, but we managed to adjust," Josh said. Paolo added, "Sometimes we would get sick of it, because we would do the same routine every day. We did a lot of stretching, breathing exercises and practiced our line movements — all of that every day, six times a week, sometimes seven."
On top of their brimming schedule, the members admitted that they struggled with personal finance when they were still in training, as they weren't able to book any shows just yet. "For three years, we didn't receive enough allowance to at least eat three times a day. My parents and my friends kept telling me to stop and that what I was doing wasn't practical, and that I wouldn't go anywhere if I continue training," Pablo revealed. "I really considered quitting, but my teammates pushed me hard and motivated me. I'm glad I held on."
Upon releasing their debut single "Tilaluha," SB19 didn't receive the recognition they were anticipating. "We had to wait for a year or so before we released our second single, 'Go Up.' That's when we blew up," Pablo shared. However, as other musicians in the industry would experience, fame comes with a price. "When 'Go Up' blew up, there were some negative comments despite the support we received from our fans. It was expected, but it was also saddening to hear those negative words from other people who don't even know us," Justin expressed.
Filipinos are often believed to be blessed with singing and dancing skills. While that is mostly true, we see only a select few who succeed in making it big in mainstream media. Pablo commented on the notion, "I think it's because we don't have enough opportunities for our talents to be honed. Or maybe it's also because of the standards that the entertainment industry has set." Josh added, "I think it's about discipline as well. While we are really talented, sometimes we're overconfident. One thing that we learned is we shouldn't always be confident and complacent, because anything can happen."
International audiences are slowly but surely becoming aware of how multi-talented Filipino artists are. Most recently, SB19 became the first-ever Filipino and Southeast Asian act to be nominated at the Billboard Music Awards for "Top Social Artist." "We're very proud of our achievement, and I think this is going to open a lot of opportunities — not just for us, but for the entire country as well," Josh said. Adding to their unforgettable nomination, the boys also recently collaborated with one of the Philippines' most popular acts Ben & Ben on "MAPA (Band Version)," a track on their Pagsibol EP. Feeling extra kilig and at a loss for words, Pablo did his best to describe what it was like working with the band's leaders, Paolo and Miguel: "It was an amazing experience to be on the same stage as them. They're super approachable and welcoming. They really assisted us on how to perform the band version of 'MAPA.' When I was on stage, I was next to Paolo and Miguel. Just seeing them perform the song I wrote was like, 'wow.'"
Through all the trials and tribulations they experienced as a collective and as individuals, SB19 is just getting started and has so much more ahead of them. "Praise yourself. A lot of people are going to mock you and belittle you, but stay strong. Study harder and learn everything you need to know, because you will definitely need it for your future," Pablo concluded our conversation with advice to his younger self.
With no plans of touring at the moment due to the pandemic, SB19 will have to stick to sharing their music virtually for now. Listen to Pagsibol below, and be sure to tune into the group's Back In The Zone online concert on August 1.
Share this article