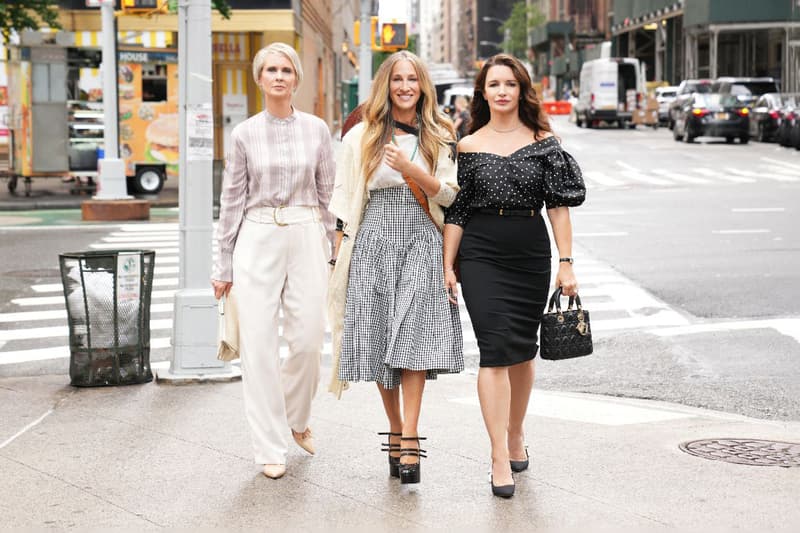 Film & TV
HBO's 'Sex and the City' Reboot Is Full of Major Fashion Moments
Take a first look at Carrie, Charlotte and Miranda's revamped wardrobes.
HBO's 'Sex and the City' Reboot Is Full of Major Fashion Moments
Take a first look at Carrie, Charlotte and Miranda's revamped wardrobes.
HBO Max's Sex and the City reboot began filming in New York City earlier this month, marking the official return of Carrie, Charlotte and Miranda. (A Samantha-shaped void remains in our collective heart.) Though the series, titled And Just Like That…, hasn't yet received a premiere date, an onslaught of paparazzi shots have given fans a sneak preview of the show — specifically, the costumes.
Patricia Field, the legendary costumer who dressed the original series, won't be returning to style the reboot. According to WWD, Field is too busy working on Emily in Paris to pencil the return of SATC into her schedule. Instead, the wardrobe expert's longtime collaborator, Molly Rogers, was handed the opportunity to clothe NYC's favorite trio of girlfriends.
Evidenced by a slew of behind-the-scenes photos, Rogers has done an expert job at incorporating key elements of Carrie, Charlotte and Miranda's style into looks that work with the show's present-day setting (our heroines are now in their 50s, meaning they've gravitated away from hot pants and frilly tutus). They're still the same Carrie, Charlotte and Miranda — just evolved.
Keep scrolling for a first look at the fashion of HBO's Sex and the City reboot.
Carrie still knows how to rock a statement fit
Though Carrie (Sarah Jessica Parker) seems to have bid farewell to wearing belts around her bare waist, the columnist-turned-podcaster (yes, she hosts a podcast now) is still pulling off statement-making fits. While filming outside of the Apple store on Fifth Avenue, our protagonist donned a pair of strappy, sky-high platforms paired with a poofy, gingham skirt, a combo that very much serves Little Dominatrix on the Prairie.
In another shot, Carrie is captured in what appears to be a winged pantsuit accessorized with a feathered chapeau. She's further decked out in not one, but two crossbody bags (what is she carrying?!) and a floral-embroidered jacket.
A third photo, perhaps the pièce de résistance of the bunch, pictures Mrs. Big with a paillette-covered Fendi Baguette under her arm, the very same one she carried in the original SATC. Of course, it got stolen from her along with a pair of Manolo Blahniks, but we don't have to rehash that.
Charlotte has a new favorite accessory
Charlotte (Kristin Davis) is still our Upper East Side co-op queen, with a posh new companion to match: an English bulldog. Charlotte was shot cleaning up after her furry friend and, unsurprisingly, it seems she's treated her dog to the very best — namely, a Burberry poop bag carrier and a leather leash and harness set.
In another ensemble that screams "picking up the kids from Dalton," Charlotte dons a nautical-printed dress paired with a Fendi basket weave bag and bow-topped sandals. In a similar vein, she's seen toting a Dior Lady bag — a Park Avenue staple — in a promo image for the series.
Miranda nails business chic
Miranda's (Cynthia Nixon) androgynous look gets a 21st-century refresh. Swapping out baggy overalls for high-waisted trousers and turtlenecks for sleek pantsuits, Miranda's new aesthetic exudes confidence. Based solely on her wardrobe, we're assuming she's a high-powered lawyer now, perhaps leading her own firm.
Miranda was also photographed in a more casual ensemble, comprised of a plaid maxi dress — belted at the waist, of course — and a BAB (Big Ass Backpack). On top of her hefty pack, she sported a tote printed with the words "Her Presence Matters." Very Brooklyn.
Share this article