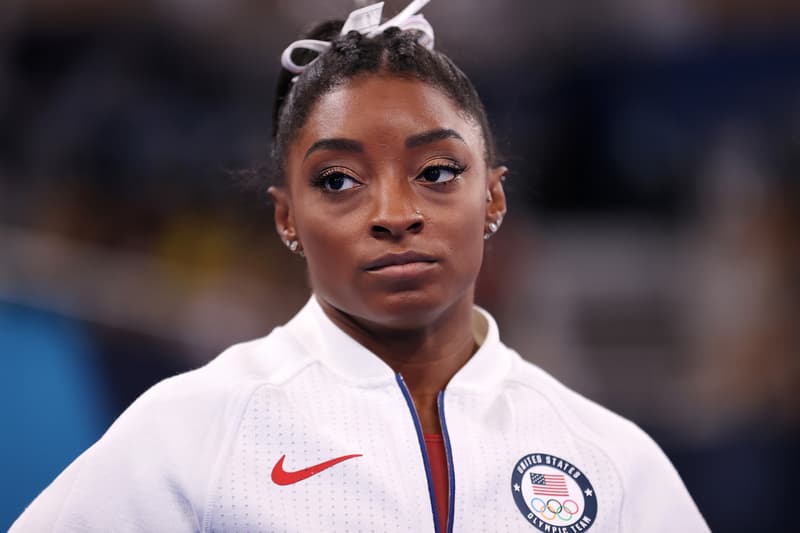 Culture
Simone Biles Returns to the Tokyo Olympics After Recent Withdrawal
For the balance beam final alongside Team USA teammate Suni Lee.
Simone Biles Returns to the Tokyo Olympics After Recent Withdrawal
For the balance beam final alongside Team USA teammate Suni Lee.
UPDATE (August 3, 2021): The Tokyo Olympics took to Twitter to confirm that Simone Biles is returning to the Games on August 3 for the women's balance beam final. The 24-year-old athlete will be competing alongside Team USA teammate and all-around gold medalist Suni Lee.
Due to her withdrawal, Biles missed out on three individual events she qualified for. The upcoming balance beam will be her last chance to claim a gold medal at the 2020 Tokyo Olympics.
Tune into the competition's livestream on August 3 at 9:50 a.m. GMT (5:50 a.m. EST) via the NBC Olympics website, Peacock or the NBC Sports app.
---
UPDATE (July 27, 2021): Following her withdrawal from the women's team gymnastics final at the Tokyo Olympics, Simone Biles has revealed that she decided to drop out due to mental health concerns.
"Whenever you get in a high stress situation you kind of freak out and don't really know how to handle all of those emotions, especially at the Olympic Games… I have to focus on my mental health and not jeopardize my health and wellbeing," the athlete told reporters. "It's okay sometimes to even sit out the big competitions to focus on yourself, because it shows how strong of a competitor and person that you really are, rather than just battle through it," she added, stating that the U.S. Gymnastics Team will be taking a "mental rest day" on Wednesday.
As of now, it's unclear whether Biles will be returning to individual competitions.
---
ORIGINAL STORY (July 27, 2021): Simone Biles dropped out of the women's team gymnastics final at the Tokyo Olympics due to a "medical issue," according to a statement issued by U.S.A. Gymnastics. "She will be assessed daily to determine medical clearance for future competitions."
Biles exited the competition floor on Tuesday after performing her vault routine. The 24-year-old appeared to make a last-minute change to her routine, executing one-and-a-half twists in the air instead of two-and-a-half. She then stumbled on her landing, resulting in a score of 13.766, uncharacteristically low for the gymnast. She left the arena with her trainer, later returning to cheer on her teammates from the sidelines.
Yesterday, Biles posted about her experience at the Olympics on Instagram. "I truly do feel like I have the weight of the world on my shoulders at times," the athlete, fondly referred to as the "GOAT," captioned her post. "I know I brush it off and make it seem like pressure doesn't affect me…The Olympics is no joke!"
Biles's teammates, Jordan Chiles, Suni Lee and Grace McCallum, continued in the finals without her, clinching silver for Team U.S.A. Winning gold, Russia finished three points ahead of the U.S., while Britain won bronze.
Share this article