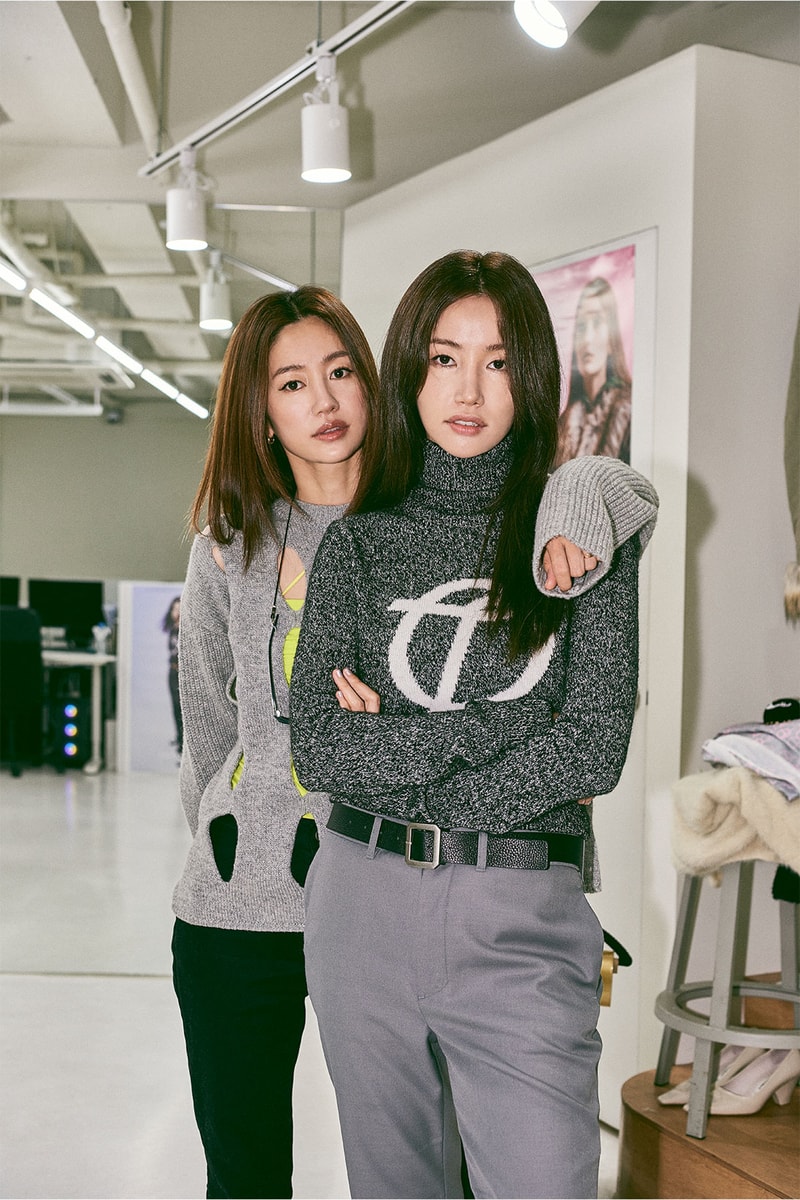 Meet TheOpen Product, the Instagram-Favorite Korean Fashion Brand
We spoke to founders Boyoung and Jiyoung Kim ahead of the label's launch on HBXWM.
Fashion
Meet TheOpen Product, the Instagram-Favorite Korean Fashion Brand
We spoke to founders Boyoung and Jiyoung Kim ahead of the label's launch on HBXWM.
From scoring collaborations with adidas Originals and New Era, to having celebrity fans like Kendall Jenner, TheOpen Product is one of South Korea's hottest fashion brands at the moment. Helmed by sister duo Boyoung and Jiyoung Kim, the label is expanding globally with its launch on HBXWM.
"We do not set a certain standard in our aesthetic, because beauty is ageless and expressed differently all the time," the founders share. With TheOpen Product, the two hope to challenge societal standards of dressing that exist in the rather conservative Korean fashion industry. Leveraging their influence on social media, the Kims are now aiming to grow their brand as they make their designs available worldwide. For their inaugural HBXWM drop, the siblings have updated knit bolero tops and sweaters from their Fall/Winter 2020 collection with exclusive lilac and metallic silver colorways — versatile, statement-making pieces perfect for the fall and winter wardrobe.
In the latest installment of HBXWM's Female Series, Boyoung and Jiyoung discuss the evolution of TheOpen Product, as well as their inspirations and future plans. Read on for our conversation with the co-founders, and head to HBXWM to shop the brand's designs.
What led you to launch TheOpen Product?
Ironically, both of us were far removed from fashion at school and in our careers. We were observers of the fashion industry from a distance, but always felt that a slight dose of "fun" in the rather conservative Korean fashion industry was much needed. I am quite a spontaneous person and don't plan things ahead of time. This is why there was no major planning when we first started this brand. We just worked our way through focusing on the present and eventually, this is what got us to complete the TheOpen Product brand.
How do you work together as sisters?
We try our best to plan and direct the major parts of our business together, such as season directing, product design, campaign shoots and so on. We do have divided tasks and teams that focus on specific areas. However, we make sure that the overall mood and direction of the business are applied throughout. We both need each other's support to get the best out of our projects. Being sisters gives us the biggest advantage when it comes down to communications and dealing with our business. We create that perfect harmony in supporting our strengths and improving our weaknesses to make the best out of our business.
What are some messages you hope to deliver through TheOpen Product? Where do you look to for inspiration?
Many of us tend to dress the way society expects us to, especially in Korea. We designed our clothes with the hope that people could confidently wear what they truly want and to try out new outfits without feeling excluded. Our inspiration comes from all kinds of realms like movies, documentaries, old magazines or people we meet on the street. I often admire the elderly when they dress up in unconstrained outfits that express originality.
How would you describe TheOpen Product's aesthetic?
We believe that setting no boundaries in our designs really helps in breaking stereotypes. Limitless designs between menswear and womenswear, or streetwear and runway, challenge the norms of what women or men should or should not wear. We also do not set a standard in our aesthetic, because beauty is ageless and expressed differently all the time.
TheOpen Product went on a short hiatus in 2018. Why did this happen and what has changed since?
We decided to take a break that summer as we both needed to reenergize. It really helped us to let go of anything unnecessary.
How is the brand navigating the ongoing pandemic?
It was when we booked tickets to Hong Kong to shoot our campaign that we first heard of the COVID-19 outbreak. The pandemic worried us, but we didn't really have a plan B. We are not very bright in business strategies, so we thought we would just have to stick to our original schedule and move forward. Fortunately, there wasn't much that the pandemic limited us to do. Rather, e-commerce flourished and that gave us a great opportunity to promote our products online.
What aesthetic or concept did you focus on for your exclusive capsule with HBX?
We were inspired by '90s fashion for the 2020 collection. We created a simple bolero cardigan similar to long arm-warmers for our first collection, and for our FW20 collection, we made another style with a complete cut-out on the front. Both designs were very bold attempts for us. These cardigans are versatile and also work as statement pieces. We can't wait to show these designs for our HBX-exclusive collection in silver and purple colorways.
What about the 2021 Summer Holiday collection?
We had so many ideas for the range that we could actually launch a separate second collection. We hope that our customers can play around with our outfits depending on their mood and the weather. The latest lineup is based on the fantasy era of the '00s. We transformed the bikini into a cropped top, and used bold, contrasting colors inspired by the hot summer sun.
Apart from work, what are some things that have been keeping you motivated?
As most of our time and energy are concentrated on TheOpen Product, we prefer to reserve some extra time to travel. We enjoy visiting both familiar to unfamiliar spots for a sense of comfort.
Could you share any new projects you have in mind for TheOpen Product? 
We always have new projects in mind. Since the beginning of our launch, we have always wanted to create a showroom where customers could relate more closely to our brand. The idea was postponed due to pandemic-related restrictions, so we are now planning to set up a flagship store to implement our goal of providing space for our customers.
Photographer

Soma Kim/@soma_kim
Producer

Woonbi Jung/Hbx
Hair/Makeup

Hyunmi Koo/@9hyunmi
---
Share this article