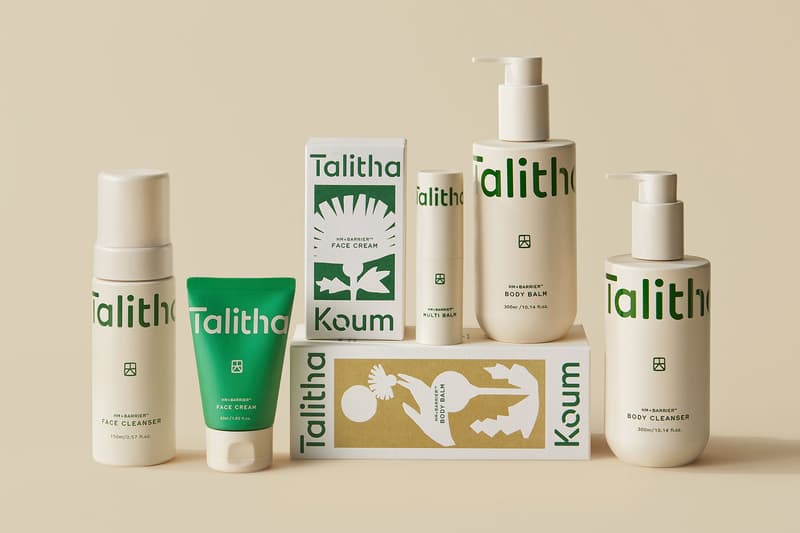 Beauty
Learn About the Effects of White Dandelion in Skincare, as Told by Talitha Koum
Meet the up-and-coming beauty brand based between South Korea and the US.
Learn About the Effects of White Dandelion in Skincare, as Told by Talitha Koum
Meet the up-and-coming beauty brand based between South Korea and the US.
Talitha Koum is an up-and-coming skincare and body care brand heavily inspired by the powers of white dandelion — a plant specific to South Korea.
The Korea- and U.S.-based label was first conceptualized by Moonsun Chai, who was born with a condition making her skin extremely sensitive. Having to deal with keloids her entire life, Chai came across white dandelion one day, and noticed significant changes to her skin once she started drinking its extract. This inspired the entrepreneur to do more research about the ingredient, which is commonly used in oriental medicine and tea.
The resulting brand Talitha Koum was launched earlier this year, with a starting lineup of a body balm, body cleanser, face cleanser, face cream and multi-purpose balm, all packed with white dandelion and designed for sensitive skin. Each formula, vegan and cruelty-free, is created with the aim to offer sustainable options to those struggling to find the right skincare product.
Continue scrolling to read our editor's review of Talitha Koum, as well as an interview with the brand's founder, Moonsun Chai.
View this post on Instagram
WHAT IS IT: Talitha Koum's Face Cleanser, Face Cream and Multi Balm.
WHY IT'S WORTH THE HYPE: Having frequently seen white dandelions throughout my years of living in South Korea, I never realized that the flower was unique to the region until I learned about it from a skincare lens through Talitha Koum. While the plant is often used in tea and medicine, it's not the most common ingredient found in Korean skincare, in comparison to green tea, mugwort extract or rice water.
I wouldn't call my skin super sensitive — it usually works fine with most beauty products, minus those that are heavily fragranced or too greasy. However, as someone who has tried numerous products, I can say that Talitha Koum's face cream and cleanser feel gentle on the skin with a very subtle, refreshing scent. The cleanser is a sulfate-free, PH-optimized foam-type product that I like to use in the mornings when I want to cleanse my face, but don't want to use anything too overpowering. Meanwhile, the cream is a nourishing formula with a soft and lightweight texture that moisturizes the skin for up to 72 hours.
I would say the Multi Balm is the star of Talitha Koum's inaugural lineup for its versatility. The stick product, comprised of "39% natural oils and 15% skin-hydrating properties," can be used as lip balm or any dry patches you may have on your body. It quickly became a go-to during my travels this summer, especially on long-haul flights where moisturization is key.
WHERE YOU CAN FIND IT: Talitha Koum's skincare and body care products are available via the brand's online store in the U.S. and South Korea. Prices for individual products range from $32 USD for the HM+Barrier™ Face Cleanser to $55 USD for the HM+Barrier™ Body Balm.
What inspired you to launch the brand Talitha Koum?
I was born with intractable keloids and have had to undergo years of medication and procedures to prevent getting more scars on my body. Having the condition made my skin sensitive to things as small as injection needles, but one day when I was traveling with my family, my skin developed an allergic reaction to the bed and sheets I was sleeping in.
Amid multiple doctor visits and medication, my mother heard from a friend that they drank white dandelion extract to alleviate a skin condition that they had. As desperate as I was, I immediately ordered a batch of white dandelion extract and drank it for the following three months. I noticed that the allergic reactions that I was experiencing were getting significantly better.
White dandelion is an ingredient commonly used in oriental medicine but not widely recognized in the world of cosmetics. I decided to reach out to a farm specializing in white dandelion, and took it to a lab to discover what exactly makes the plant good for the skin. I then filed white dandelion as a new cosmetic ingredient and developed Hyan Mindelay Phytoplacenta Extract, specifically for the launch of Talitha Koum.
The cosmetics that I've made can't fix keloids entirely. However, I wanted those with sensitive skin conditions to have access to skincare and bodycare products that offer gentle and nourishing moisturization.
View this post on Instagram
What were some components that you aimed to incorporate into each product?
Talitha Koum prioritizes sustainable, high-quality products that are designed for people with sensitive skin. We use clean formulas with soft textures, paired with functionality and modern packaging design. For instance, we developed the Multi Balm specifically in South Korea because the country is known for the production of stick-type products.
With so many beauty brands and products on the market already, what made you feel like consumers really needed Talitha Koum's product specifically?
With the ever-so-changing environment, we are exposed to a lot of stress as our lifestyles change. With these shifts, the need for products formulated for sensitive skin is bigger than ever. Talitha Koum offers solutions that are simple yet make sense, building an experience beyond product as we build an audience based on customer experience and service.
Do you plan on venturing beyond White Dandelion and using other ingredients in your products, or will you be making White Dandelion products only?
White Dandelion is an ingredient that I really value, and it's become one of the core identities of Talitha Koum. We will treat White Dandelion as our core ingredient as we continue to explore ways to cater to all skin types.
Aside from making products that are vegan and cruelty-free, what is Talitha Koum's brand mission?
Our mission is to share the respect for and value of the environment, life and people. When developing our White Dandelion products, we found a way to take as little as we can from the environment without compromising product quality. We plan on utilizing sustainable processes to create eco-friendly products.
---
Share this article