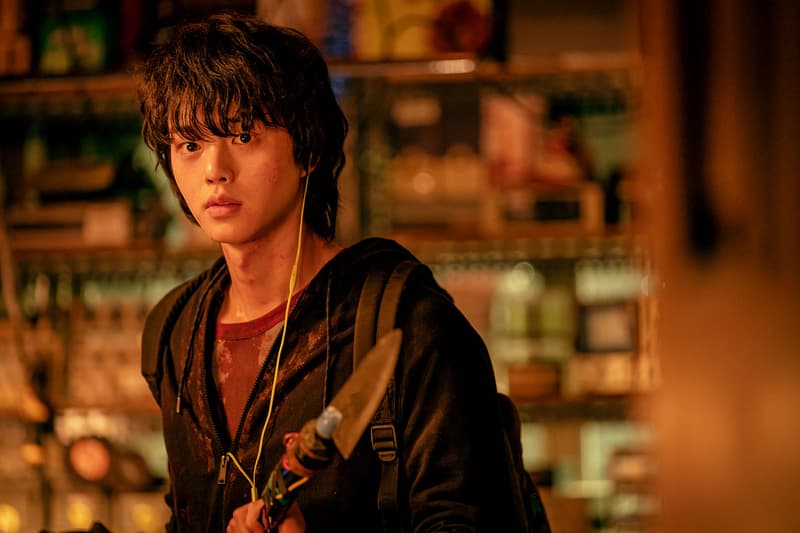 These Are the New K-Dramas Coming to Netflix
Add these titles to your watchlist.
Netflix is continuing to roll out a slew of South Korean titles following the global success of series like Squid Game and Itaewon Class, gearing up for the new year with an expansive list of K-dramas. As we near the year 2023, we've gathered a list of TV shows that are expected to hit the streaming platform, ranging from sophomore seasons of hit titles to all-new series.
For those who enjoyed watching D.P., Sweet Home, Hellbound and All of Us Are Dead, all four of these K-dramas are receiving second and third seasons. Meanwhile, Gyeongseong Creature, which will premiere in early 2023, has already been greenlit for a sophomore installment. Other titles we're looking forward to include Doona! starring Suzy Bae, Goodbye Earth starring Yoo Ah-in, Murder DIEary starring Choi Woo-shik, The Glory starring Song Hye-kyo and more.
Continue scrolling to see the new K-drama series scheduled to hit Netflix.
D.P. Season 2
PREMIERE: TBA
CAST: Jung Hae-in, Koo Kyo-hwan
D.P., which stands for Deserter Pursuit, covers life in the military in South Korea, where service is mandatory for able-bodied men. The crime-drama series follows Private Ahn Joon-ho (played by Jung Hae-in) and Corporal Han Ho-yul (Koo Kyo-hwan), who are assigned to track down and catch deserters from the military. Overall, the show spotlights issues such as bullying and hazing that often happens within the South Korean military.
Sweet Home Seasons 2, 3
PREMIERE: TBA
CAST: Song Kang
Sweet Home, a dystopian series set in a world dominated by mysterious creatures, is returning with two more seasons. The show, which first premiered in late 2020, is currently in production for Season 2 with Song Kang reprising his role as Cha Hyun-soo. While it was previously announced that musician BIBI would join the cast, she later pulled out.
Hellbound Season 2
PREMIERE: TBA
CAST: TBA
Hellbound was confirmed for a second season after its successful premiere in 2021. Written and directed by Yeon Sang-ho, the name behind Train to Busan, the dark fantasy series is set in a world where mysterious, otherworldly monsters randomly appear, bringing individuals to hell. A religious cult group called The New Truth emerges based on these supernatural occurrences.
All of Us Are Dead Season 2
PREMIERE:  TBA
CAST: TBA, likely Park Ji-hu, Park Solomon, Im Jae-hyuk, Ha Seung-ri, Lee Eun-saem, Kim Bo-yoon
The buzzy zombie series All of Us Are Dead is scheduled to return with its sophomore installment following its successful premiere in early 2022. The show's director Lee Jae-kyoo, who said he "intentionally" created the series with a second season in mind, spoke of the upcoming installment, "Many directions, settings and scenes were intentionally produced to expand the story into an additional season, including the introduction of the new races of zombies. If the first season can be seen as having presented humanity's survival, the next season can talk about the survival of zombies." While it's unclear what exactly Season 2 will be about, we can expect it to be a continuation of the first season with surviving students navigating a world taken over by zombies.
PREMIERE: TBA
CAST: Han Sohee, Park Seo-joon, Claudia Kim
Slated for the release of its first installment in early 2023, Gyeongseong Creature is set in the year 1945 in the city of Gyeongseong, which is the former name of Seoul used during Japanese colonial rule. The thriller series is described to "follow individuals going up against monstrous creatures that were born out of human greed." Even before the premiere of the first season, the show has been confirmed for a second season.
Doona!
PREMIERE: TBA
CAST: Suzy Bae, Yang Se-jong, Lee Yoo-bi
Doona! is a K-drama adaptation of a webtoon of the same title with direction by Lee Jeong-hyo, whose portfolio includes Crash Landing on You. Suzy Bae will play the main character Lee Doo-na, who is an ex-celebrity. According to the webtoon's synopsis, Joon (Yang Se-jong) moves into a new apartment on his first day of college, realizing that a former star lives just downstairs.
Goodbye Earth
PREMIERE: TBA
CAST: Yoo Ah-in, Ahn Eun-jin
Goodbye Earth is a dystopian series based on a novel by Kōtarō Isaka. While not much information is available just yet, it's known that production for the show has wrapped up and that the show follows a group of characters as they become aware of an asteroid headed toward the earth.
Mask Girl
PREMIERE: TBA
CAST: Go Hyun-jung, Nana, Ahn Jae-hong, Choi Daniel
Mask Girl is a K-drama adaptation of a webtoon that was published from 2015 to 2018. Kim Mo-mi (Go Hyun-jung) lives a double life by putting on a mask after her 9-to-5 job, livestreaming as "Mask Girl" to fulfill her dream of performing on stage. Joo Oh-nam (Ahn Jae-hong), her colleague at work who is a fan of Mask Girl and later learns that Mo-Mi is actually her.
Parasyte: The Grey
PREMIERE: TBA
CAST: Koo Kyo-hwan, Lee Jung-hyun
Yeon Sang-ho, the director of Train to Busan and Hellbound, is returning with another K-drama series titled Parasyte: The Grey. Based on the comic book series Parasyte by Hitoshi Iwaaki, the show is about "unidentified parasitic life-forms that live off of human hosts and strive to grow their power. As they start to disrupt society, a group of humans wage war against the rising evil," as noted by Netflix.
The Glory
PREMIERE: December 30, 2022
CAST: Song Hye-kyo, Lee Do-hyun
The Glory, which will be released at the very end of 2022,  is a revenge-drama series written by Kim Eun-sook, the name behind Descendants of the Sun. Moon Dong-eun (Song Hye-kyo) is a teacher who learns that one of her homeroom students is the child of a bully from her own childhood. She begins plotting her revenge against her former bullies and bystanders who let it all happen.
Murder DIEary
PREMIERE: TBA
CAST: Choi Woo-shik, Son Seok-koo, Lee Hee-joon
Lee Tang (Choi Woo-shik) is an ordinary college student who unintentionally swings a hammer and kills a customer after getting into an argument with him during his part-time shift at a convenience store. He later learns that the person who died was actually a serial killer, realizing that he has a supernatural ability to sense the evil in people. He then becomes a secret hero by punishing people who have committed crimes in the past.
Chicken Nugget
PREMIERE: TBA
CAST: Kim Yoo-jung, Ryu Seung-ryong, Ahn Jae-hong
This comedy K-drama is based on the webtoon titled Fried Chicken. Chio Min-ah (Kim Yoo-jung) mysteriously turns into a fried chicken, and receive help from her father Chooi Sun-man and intern Go Baek-jung to return to her normal state.
Queen Maker
PREMIERE: TBA
CAST: Kim Hee-ae, Moon So-ri, Ryu Soo-young
Hwang Do-hee (Kim Hee-ae), a general manager for strategic planning at a company called Eunsung Group, joins Oh Seung-sook (Moon So-ri) in a campaign to become the mayor of Seoul. Seung-sook, a human rights lawyer with the aim to empower the weak and the misrepresented, works together with Do-hee to reach their final goal.
Celebrity
PREMIERE: TBA
CAST: Lee Chung-ah, Park Gyu-young, Kang Min-hyuk, Jeon Hyo-sung
Celebrity stars Park Gyu-young as the lead role of Seo Ari, alongside Kang Min-hyuk as Han Joon-kyung. The show is set in an imaginary world where societal position and power are determined by the number of followers you have online. Ari enters this world and gets involved in multiple individuals as she strives to gain a bigger following.
Song of the Bandits
PREMIERE: TBA
CAST: Kim Nam-gil, Seohyeon, Yoo Jae-myung, Lee Ho-jung
Song of the Bandits is set in the 1920s during the time of Japanese occupation. The action-melodrama series follows a group of characters who head to Gando to unite together as Koreans and protect their land.
Black Knight
PREMIERE: TBA
CAST: Kim Woo-bin, Esom, Kang Yoo-seok, Song Seung-heon
This sci-fi K-drama is set in a dystopian future in the year 2071, when only 1% of the world population has survived toxic air pollution. The remaining people on the planet live in a restructured society where strict social classes exist and people have to wear gas masks before stepping outside. The Knights, who are a group of specialized drivers, offer convenience and security to citizens in this world by helping them acquire supplies and protecting them from theft.
A Time Called You
PREMIERE: TBA
CAST: Jeon Yeo-been, Ahn Hyo-seop
Jun-hee (Jeon Yeo-been) grieves and misses her boyfriend Yeon-jun (Ahn Hyo-seop), who died a year ago. She mysteriously travels back to 1998 and wakes up in the body of 18-year-old Minju, later meeting Si-heon, who resembles her late boyfriend.
Share this article