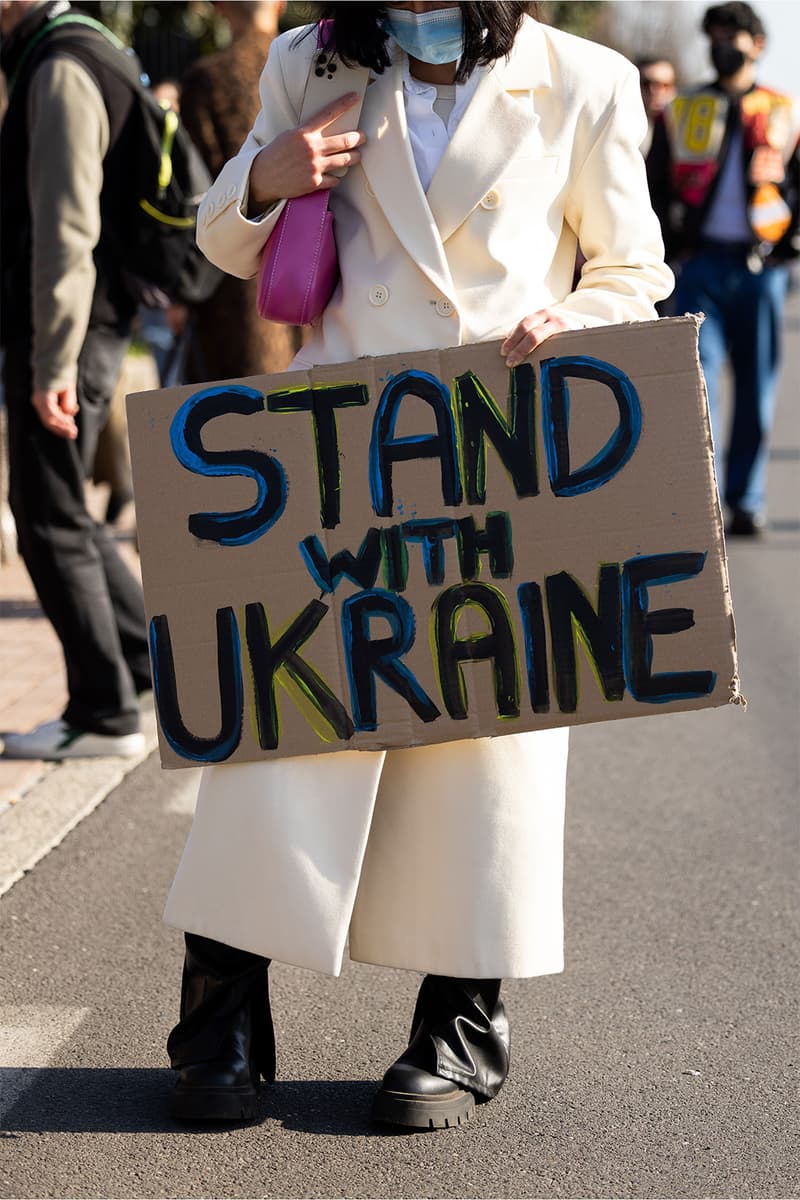 Protestors at Milan Fashion Week Draw Attention to Ukraine-Russia Conflict
Holding signs that read "Stand With Ukraine" and "No World War III."
Fashion
Protestors at Milan Fashion Week Draw Attention to Ukraine-Russia Conflict
Holding signs that read "Stand With Ukraine" and "No World War III."
As shocking as it may sound, fashion shows are still happening at Milan Fashion Week while refugees are fleeing Ukraine as the country is being invaded by Russia. In an attempt to bring attention to the war, protestors have appeared outside presentation venues, holding signs that read "Stand With Ukraine" and "No World War III."
While the show goes on with Gucci and Versace being some of the biggest brands that showcased their Fall/Winter 2022 collections on Friday, numerous followers of the fashion scene have taken to social media to voice their thoughts on the situation. "More important things in the world are happening right now. In fact, if I'm going to be honest, Fashion Week should be canceled and postponed for the time being in solidarity of Ukraine bc damn, with all my heart, I do not give the slightest f-ck what Kim K is wearing right now," one user wrote. Another tweeted: "The fact we live in such f-cked up world, where people of Ukraine are fighting for their freedom and lives and at the same time all these celebs are at Fashion Week, posting pictures, smiling… Now it's time to speak up and do something."
The situation has directly affected Ukrainian individuals who are currently in Milan for Fashion Week. In an interview with GQ, Dima Ievenko, the founder of Ukrainian outerwear label IENKI IENKI, shared that he is now stuck in Italy. "I'm with every person constantly on the phone, asking where are you, what's happening," he said, adding that he has been spending the past few days trying to figure out how to help his 120 employees based in Kyiv. "Starting from Thursday morning, I've slept only for three hours. All the other hours I'm on my phone, trying to somehow help from here. It's getting worse every hour. My parents are in Kyiv, they cannot leave," he explained.
Ievenko further pointed out that nobody in the fashion industry is talking about the situation. "This is the thing, nobody cares. I'm here with some other Ukrainian people, and we're meeting with each other, and when we go out in the middle of Fashion Week; it's like we're in a capsule." He added: "Here in Milan there are tons of people, the weather is beautiful, the COVID-19 restrictions are not that high, and people are dressed up for the street style. And we are going in between them in a completely different reality. Because my reality now is in Ukraine."
If you're wondering how you can help those in Ukraine, consider donating to these nonprofits and organizations.
Share this article