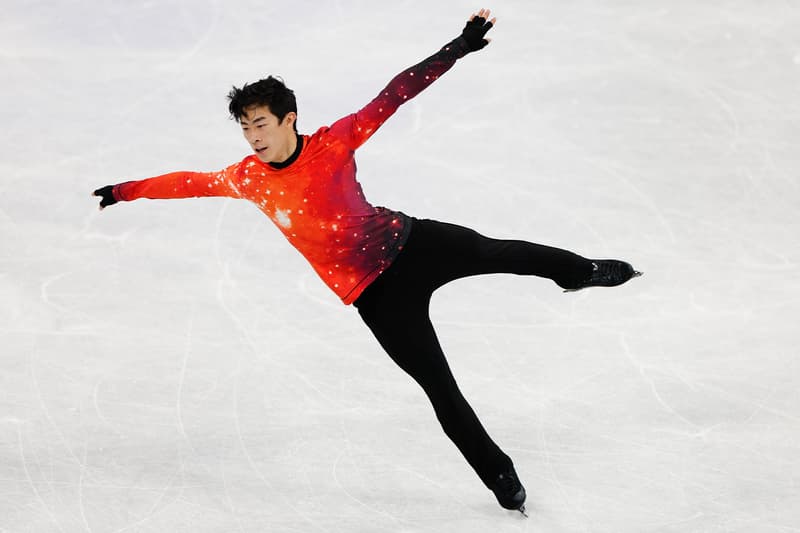 Fashion
The Internet Is Divided Over Nathan Chen's Vera Wang Look at the 2022 Winter Olympics
The figure skater claimed a gold medal in the outfit.
The Internet Is Divided Over Nathan Chen's Vera Wang Look at the 2022 Winter Olympics
The figure skater claimed a gold medal in the outfit.
Figure skater Nathan Chen brought Team USA another gold medal at the 2022 Beijing Winter Olympics, following Chloe Kim and Lindsey Jacobellis. Throughout the long program event, the athlete performed to an Elton John medley, finishing with a grand score of 332.60, taking the lead ahead of Japan's Yuma Kagiyama and Yuzuru Hanyu.
For his performance, Chen wore an outfit featuring a galaxy-printed top designed by Vera Wang. After the skater's big win, social media users took to Twitter to share their reactions to the outfit.
"Wait, what? Vera Wang designed Nathan Chen's outfit? I thought he got it at Walmart," one criticized the design. Another wrote: "Love Nathan Chen but can he please get a crumb of Yuzuru's wardrobe… Vera Wang is doing him dirty." Others have compared the tee to "a bag of Doritos" and "2014 Tumblr galaxy prints."
Contrary to the criticism, some have praised Wang's design for Chen. "Vera Wang has done such a great job," one user stated, while another pointed out: "Chen was involved in the process from go. She made a fit that allowed him to be him out there on the ice, not some Ice Capades retro-glam." "I liked it because it's different, not the usual shiny gold and silver… Nathan was fire on ice!" a tweet read.
Share this article