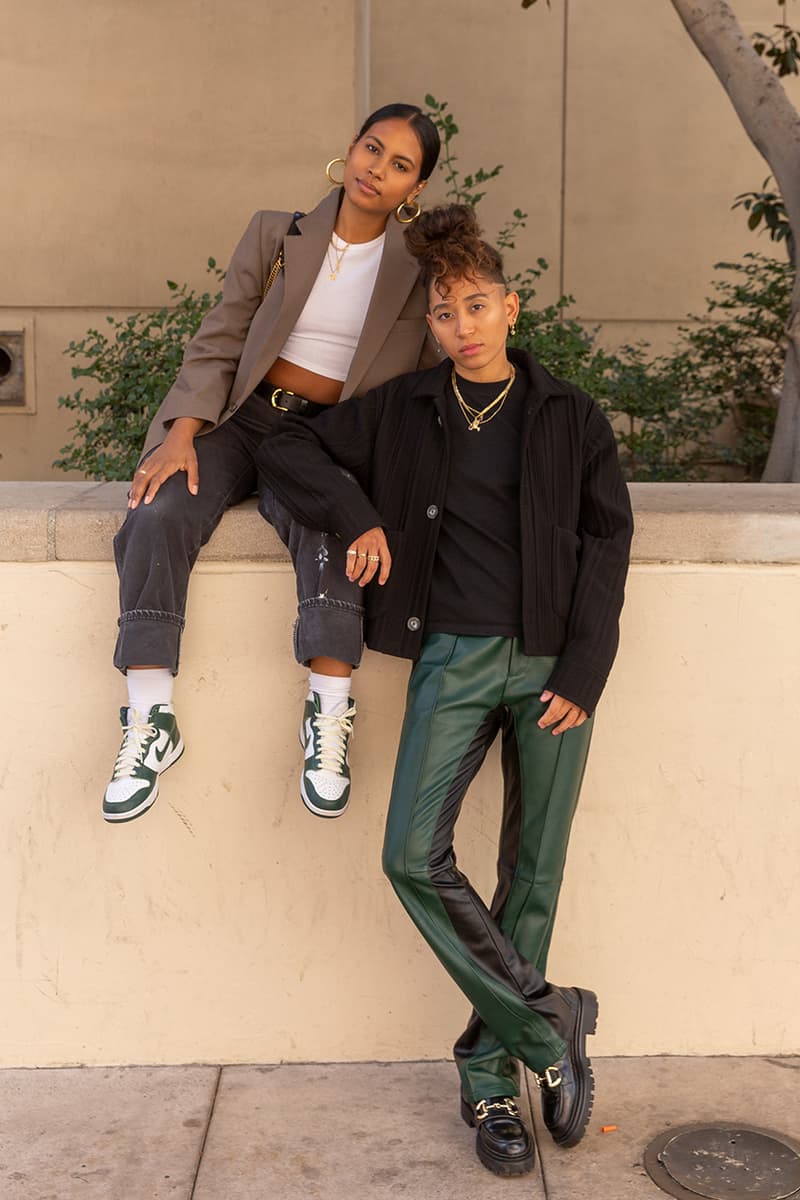 Todd Patrick Adds a Woman's Touch to Menswear
The bespoke brand is Black women-owned.
Fresh out of school with not much else, but ambition and grit, Desyree Nicole set out to make her mark in New York. After playing Division I basketball and pivoting to dressing NFL players, Nicole realized a glaring gap in bespoke menswear — there were not enough options for larger men. Soon enough, Todd Patrick was born.
With Nicole's life and business partner Gabriella Paulino joining as the operational half of Todd Patrick, the menswear brand was founded in 2016 as Nicole began creating her own luxury garments, catering to clients in all shapes and sizes. The considered collection of garments is infused with a vintage and unapologetic sense of flamboyant masculinity, evident in the effortless Cuban-style button-downs and rockstar-approved green leather pants. Inspired by her own self-proclaimed tomboyish style and the languid swagger of men in the '70s and '80s, Todd Patrick is meant for the confident and self-assured man, a natural sex symbol. It's unsurprising to see celebrities like Yahya Abdul-Mateen II don the brand for his Hollywood Reporter profile.
When asked about the value of a women's voice in menswear is, Nicole is quick and correct to point out that no one bats an eye at the countless male-owned brands that design clothing for women, like Tom Ford and Calvin Klein. Why not Todd Patrick? As Nicole says, "Reflecting today's time, our past, and how it molds our future. It's no longer the time to do what you're told. It's never been that time for that."
Keep reading to hear more from the creative minds behind Todd Patrick.
What sparked the idea to create Todd Patrick?
The spark behind Todd Patrick came as a result of not knowing what to do. After graduating from college where I played Division I basketball, I moved to New York and was contracted to play in Italy. For better or worse, the deal fell through and I began searching for my passion. Coming from Michigan, we do have our own unique sense of style, but the city of New York was my biggest inspiration in wanting to create clothes rather than just buying them. I didn't have any connections, so I really put my head down and learned how to build a brand from the ground up.
Tell us more about your experience dressing NFL players.
Their physiques are very unique, one client had a 32-inch waist and a 29-inch thigh, for example, so it was difficult to just go into a department store and find something for bigger or different shapes. I eventually started making the pieces that I couldn't find, not only because of the lack of sizes, but the lack of style men's plus-sized clothing offered. After designing and sourcing garments for clients, I eventually began creating bespoke clothing for bigger men.
Would you consider the luxury space to be homogenous, in terms of race and gender?
Definitely. Often times, people ask us why we're designing menswear as women, but no one questions the men designing women's clothes. And I'm not sure if it's because there is a lack of women in the menswear industry, but it is not that farfetched for us to be creating clothes for men. We're in a time when fashion is becoming much more fluid, when women are borrowing from the boy's section and vice versa, so it shouldn't be so surprising for us to own a menswear brand.
What value does being a woman creative director of a luxury menswear brand add to the space?
Women offer a different perspective and truthfully, a woman's touch is needed in the space. I think that we provide a lot of inspiration and culture for a lot of things, and we should be spearheading those projects.
What are your personal fashion inspirations and icons?
Black cinema is my fashion inspiration if I had to pinpoint something, as I'm a movie buff. I really look to vintage international suiting. In the past, it seemed like men were more okay with wearing flamboyant clothes and rather than hiding behind fragile masculinity, they wore clothes to express themselves. My goal is to have one of those brands where someone can look at our pieces 20 years in the future and still want to wear them.
As people are beginning to experiment more with fashion across genders, do you think Todd Patrick will be a pioneer in gender-fluid clothing as well as size inclusivity?
Definitely, we're constantly innovating, and trying to push the envelope, while keeping it classic. We also offer up to a size 44, which not many luxury brands do. We want to make sure that we're making clothes for the big boys because this space is for them. We want to make fly clothes for everyone.
What kind of man wears Todd Patrick?
I envision a young, hip and self-aware man wearing our clothes, almost a modern-day sex symbol. Someone who is inspired by icons like Prince and Jimi Hendrix, but is as comfortable in a bespoke suit as they are in sweatpants.
Can you tell us about your latest collection "Sunday Blues"?
Our Fall/Winter 2022 collection is inspired by a relaxed yet intimate club, or when you're lounging on a Sunday by the record player. We played with a lot of browns, navy blues as well as yellow. We're venturing into knit sweaters, not to mention this is the first time we're producing denim.
What can we expect from Todd Patrick in the future?
We want everyone to wear Todd Patrick, but we're not going to jeopardize our voice for it. We're not fast fashion, but we want to further grow our brand and eventually have our own runway show.
---
Share this article