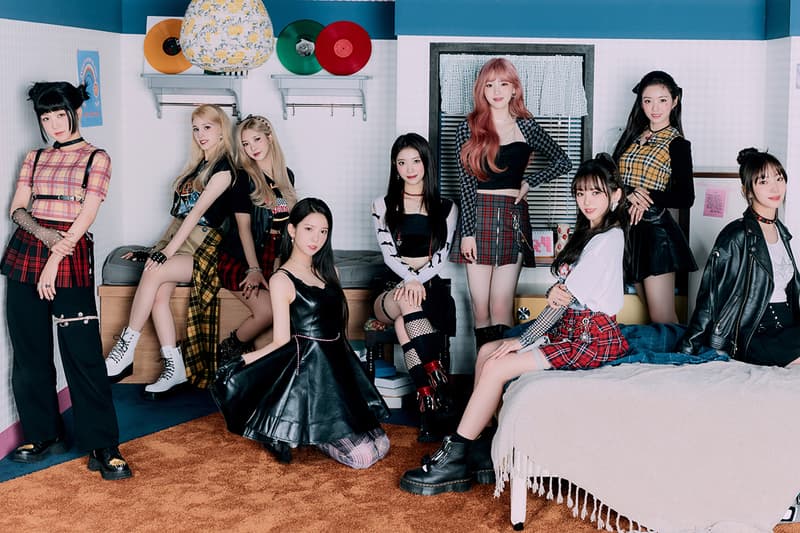 Music
Kep1er Make Their 'FIRST IMPACT' With Debut Mini-Album
The nine-member K-pop girl group is one to watch in 2022.
Kep1er Make Their 'FIRST IMPACT' With Debut Mini-Album
The nine-member K-pop girl group is one to watch in 2022.
Yujin, the leader and eldest member of Kep1er, defines her group's name as "unique." It incites curiosity about what they will bring to the table. "The first time I heard the name, I was looking forward to the concepts that Kep1er will show," she recalls. Derived from the verb "kep," to catch, with the number "1" symbolizing nine young women coming together to reach the same dream, it's a name as fresh and surprising as the group's journey into K-pop history aims to be.
In a Zoom call from Seoul, neatly seated and wearing different shades of mint green, the members of Kep1er reminisce about their journey. It all started last year with Mnet's survival show Girls Planet 999, where 99 girls from China, Japan and South Korea competed for a spot in what would become Kep1er. "We heard the group name before shooting the final episode, and because we heard [it] before they announced the final lineup, all I thought was, 'I really want to debut. I really want to join and become part of the best group ever,'" Chaehyun says.
Formed by one Chinese member (Xiaoting), two Japanese (Mashiro and Hikaru), and six Koreans (Yujin, Dayeon, Chaehyun, Huening Bahiyyih, Youngeun and Yeseo), they know that teamwork is foundational to success — and it's working. Their debut mini-album, FIRST IMPACT, holds the highest first-day sales of all girl group debut albums in the history of Korea's Hanteo music chart, and their official Instagram and TikTok accounts both reached 1 million followers weeks before the release. While many would feel the pressure to keep up with these achievements, to Kep1er, they are a motivation. "Already having fans prior to our debut is something that I should be thankful for, rather than feeling it as a burden on my shoulders," Hikaru tells us.
Main track "WA DA DA" introduces the group through a brisk pace and cosmic synths. "Heads up, run towards your dream," they sing while teleporting in and out of neon rooms in the music video. "MVSK," the b-side promoted on music shows, uncovers a sleek, more mature side of Kep1er that Huening Bahiyyih describes as "dreamy." Xiaoting agrees, choosing the song as her favorite: "The stages are especially stylish and full of charm." But for Mashiro, who is also the co-leader of the group, the mystical opener "See the Light" takes the crown. "Because it's the first track on our first album, I feel like it represents the start of Kep1er's journey overall," she explains.
And through the trials of their path, both as trainees in general and during Girls Planet 999, they have learned not to take wins for granted. "I felt like I always had limitations," Youngeun says. "Back then, I thought there was an end to doing the best, but that was not the truth. I was able to push myself to do way better. I believe that was the 'first impact' that helped me realize there's no limitation while having a dream of becoming an idol."
Hikaru furthers that perception, saying that "while practicing with other members, you have the same goal, you lean on each other, work hard and grow up together." Being a trainee was also the "first impact" of her life. "Without this experience I'd never be able to be who I am today, and I'm very grateful for that," she adds. It's an opinion also shared by Dayeon, who says that without being a trainee, she "would not be motivated as much, and work as hard as I can, to make this dream come true."
The members know it's an opportunity that thousands would give anything to have. And while Girls Planet 999 posed several challenges, it also reinforced their passion. "I really loved the process of practicing and preparing for the performances," Yujin says. "It was a moment of realization that I am this person who loves stages and performances in my life."
"Preparing for performances with those who shared the same dream, I was able to rely on the girls and learn from each other," Chaehyun reflects. "I also became more and more determined to debut." Mashiro remembers that she was always concerned about not having a set date to debut, but kept those difficulties to herself. "Now that I became a member of Kep1er, I feel like I've found a family with whom I can share worries with," she says.
This is a dynamic that can be observed even during this interview. as Yujin gently encourages Huening Bahiyyih to speak when she hesitates, as all the members help Xiaoting and Hikaru find words in Korean, and as their faces brighten up the most when speaking of the daily routines at the dorm where they live together.
"There are members from different countries in the group," Hikaru says. As she stops to think of a specific conjugation, Yeseo hands in a suggestion. Hikaru continues: "But we always try to respect each other, so I think we're [becoming] more similar." Like Mashiro, Hikaru also thinks of Kep1er as a "family," bonded by the love between the members and their fans, called Kep1ians.
To Huening Bahiyyih, the fondest memories happen when the members gather in the living room to watch a movie, play puzzles and have late night snacks — she specifically recalls a time when she and Chaehyun cooked beef for dinner. "Living in the dorm is fun and exciting," she says.
"The most challenging part is that there are a lot of people, but a limited number of bathrooms," Yeseo, the youngest among them at 16, says. "So the waiting line for showering in the morning is quite long," she gestures vividly, making all the members laugh. Dayeon says that the differences they experience are trivial. "There are members who prefer sleep over food, and there are members who prefer food over sleep. For instance, Yeseo always has breakfast in spite of busy schedules," she explains, with Yeseo grinning in agreement. "But for Youngeun, she prefers sleeping, and just gets breakfast to have energy for the rest of the day."
"After our debut, I was expecting to perform many stages on music shows," Xiaoting says. "But I have to perform much more than I imagined. Also, there were so many people who helped me debut, and so many more fans than I expected. I'm very grateful, and think I should work harder to live up to their expectations." Although Yujin, Yeseo and Hikaru have had previous experiences in other groups, the rest of them are stepping into idol life for the first time. And while the hectic schedules have been a surprise for Xiaoting, Huening Bahiyyih prompts a round of laughter by saying that they are easier than she imagined. "I expected to have less and less energy as I went through [them], but the rest of Kep1er members are very energetic, so I feel the same way."
The experience of being a member of Kep1er is even more poignant when taken into account that, in two years and six months, the group is set to disband. It puts their work in perspective, even though they have just started. "We are nine members who have survived through this competition [in Girls Planet 999]," says Youngeun. "Because the time is limited, we're definitely determined to show our best," she adds.
In the words of Yeseo, "We can make beautiful sounds individually, but when we're together, we create a harmony that is Kep1er's unique voice." This is just the first impact of many more to come. And even after Kep1er disbands, the members will reach for their bright futures ahead. "WA DA DA" will become tinged with nostalgia. Maybe their brightness will still inspire millions. In what form? No one knows. All we know is that their mark in history is set, only to unveil more of their serendipitous nature. "Kep1er is Kep1er," Chaehyun says. "And we want to become a group that can't be replaced. A one-of-a-kind group."
---
Tássia Assis is a freelance writer covering culture and music, with a focus on K-pop. You can read more of her work here or follow her on Twitter.
---
Share this article