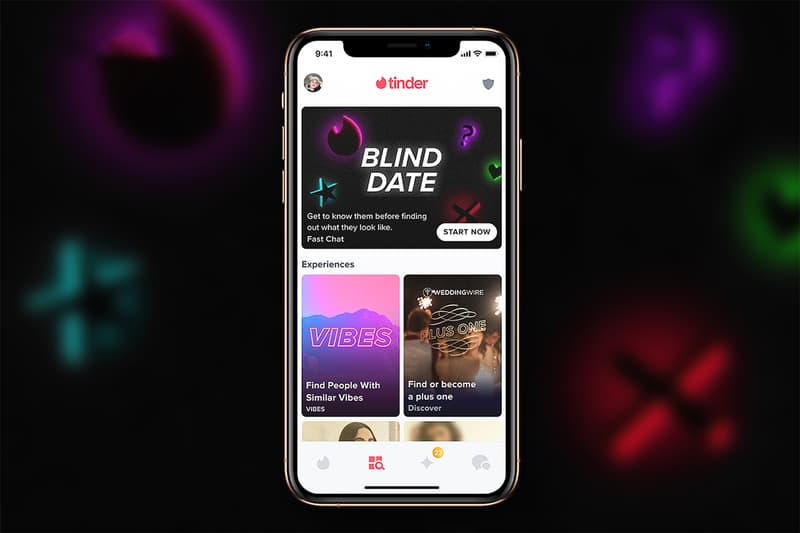 Blind Dates Are Making a Comeback With Tinder's Newest Launch
Let the chaos begin.
Dating app Tinder is back with some good news, after the chaos that was The Tinder Swindler, with its latest creative launch. While blind dates were once an awkward last resort for the single life, Tinder is reimagining the dating trend with a light-hearted twist.
Perhaps fueled by '90s nostalgia, more than a fifth of British Gen Zers said they would actually like to revisit the era of blind dating, according to a research conducted by Opinium. Clearly, they haven't seen the chaotic blind dating episodes of Sex and the City.
Instead of matching via pictures, Tinder has found a more creative way to spark a connection. Here's how it works: First, answer a series of witty icebreakers and then you'll be matched based on your responses. You'll then enter a timed chat and get to know each other. Basically, a short vibe check via conversation. Kyle Miller from Tinder says in a press release, "There's something really special about letting conversation introduce someone's personality, without the preconceptions that can be made from photos." Unless you're the type to get annoyed by the way people type too.
If the connection tickled your fancy, you can like their profile which is revealed at the end of the conversation. Then, you'll find out if they liked you too. If not, you can be paired with someone new.
Access the new feature on the Tinder app Explore page.
Share this article