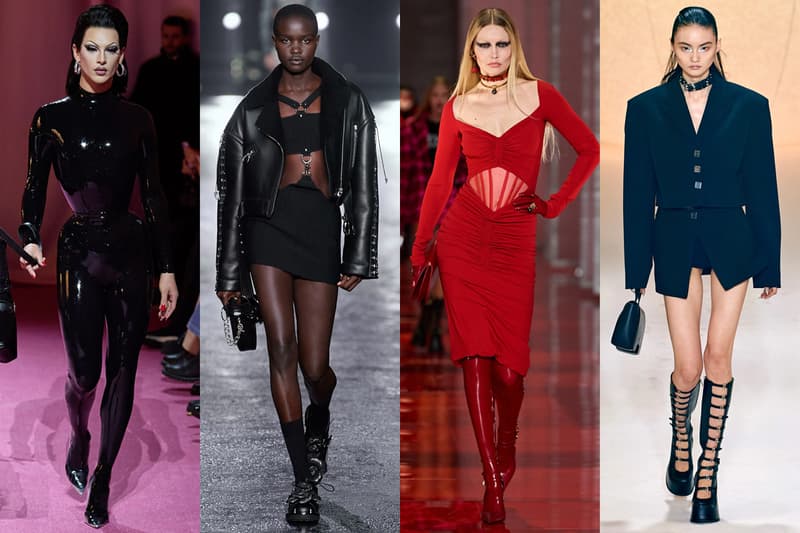 Fashion
Fashion Week FW22 Trend Spotlight: BDSM-Inspired Looks for the Kink Lovers
Leather harnesses, corsets and chokers galore.
Fashion Week FW22 Trend Spotlight: BDSM-Inspired Looks for the Kink Lovers
Leather harnesses, corsets and chokers galore.
BDSM has been influencing fashion for decades through hardcore elements and dominatrix-inspired designs. The runways of Fashion Month Fall/Winter 2022 show how kink and other free-spirited forms of sexuality can not only enhance basic monochromatic looks, but also create a sartorial world of their own. Recurring kinky elements on the runway this season include chokers, fishnets, lace, thigh-high boots, harnesses, heavy shoulder pads, bustiers, corsets and leather overload.
For FW22, Dior draws inspiration from corsets for a large part of its collection, including a trench coat designed with a waist-cinching silhouette. The French maison even implements the corset into the waist of a pair of printed jeans.
Versace also proudly incorporates kinky design details in its latest collection. A press release shares that the goal is to give a "powerful and seductive sense of mystery … With unapologetic certainty [the wearer] fully owns her allure and knows exactly when to unleash her power." To achieve that, Versace plays with elements and styles such as crystal and metal chains, tightly cinched waists, latex gloves and knee-height boots.
AMBUSH pays homage to a trend that has a deep history in the BDSM community: chaps. The trend originated among cattle herders in Mexico, where they would wear chaparreras to protect their clothing while working. Eventually, this item was picked up by leather-loving queer men who wore them for easy access — sexually that is. AMBUSH's cowhide chaps are a great example of how the everyday farmer's item can be a sexy wardrobe addition. 
Below, view our favorite references to BDSM and kink culture during Fashion Month FW22.
Share this article