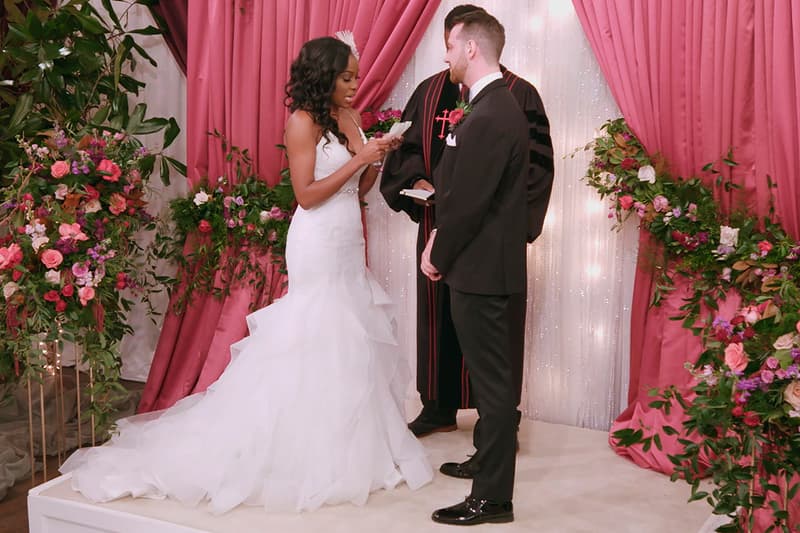 Film & TV
'Love Is Blind's Lauren and Cameron Officiate a Super Fan's Wedding
Of course, Sal brought his ukelele.
'Love Is Blind's Lauren and Cameron Officiate a Super Fan's Wedding
Of course, Sal brought his ukelele.
The minds behind Love Is Blind recently crafted another lovely moment but this time, they're marrying a couple who have already found love. Super fans Alex and Olaf met when Olaf was student teaching at the university Alex was attending. Olaf was in the United States on a student visa which eventually expired, and when COVID-19 hit, they were forced to do long distance longer than expected. Thankfully, Netflix and the Love Is Blind team gave the happy couple a day full of surprises.
The show flew the couple out to the Love Is Blind Las Vegas wedding chapel for their dream wedding, and not before they commissioned help from former cast members. Alex and Olaf's long awaited life together was made possible with the help of Nick and Vanessa Lachey as well as Season 2 cast members like Deepti, Iyanna and Danielle.
The cast came equipped with everything from advice to champagne to help the couple prepare for their special day. Upon meeting the bride, Iyanna looks at the size of Alex's ring and hilariously lets out a "holy sh-t." Of course, Sal, known for leaving Mallory at the altar during Season 2, made an appearance with his infamous ukulele.
To celebrate, the former Love Is Blind couples were able to add in their own celebration twist, and Lauren and Cameron had the perfect idea. Just when fans thought the moment couldn't get any sappier, the only couple going strong from Season 1 surprised the newlyweds and officiated their wedding.
Watch Alex and Olaf's dream wedding hosted by your favorites from Love Is Blind below.
Share this article