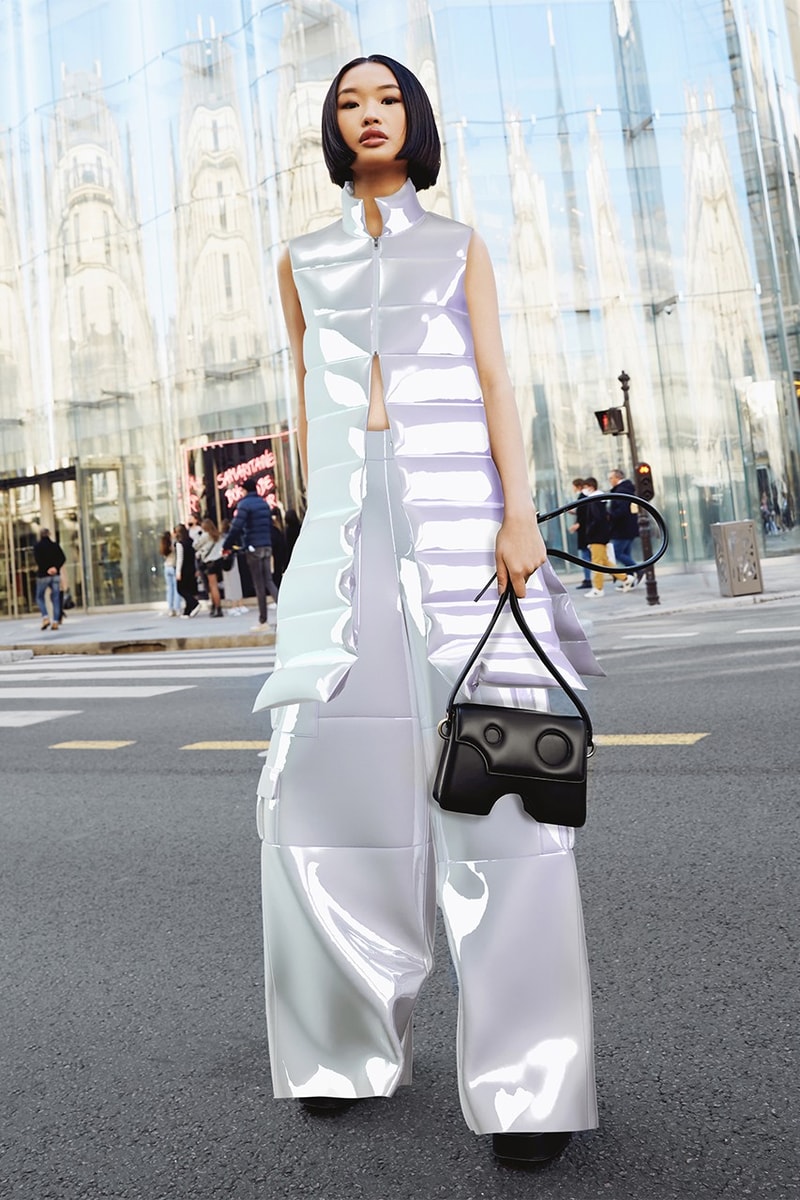 Fashion NFTs Are Here To Stay In 2022
With designers embracing virtual runways and digital experiences, the trend is only getting bigger.
Fashion
Fashion NFTs Are Here To Stay In 2022
With designers embracing virtual runways and digital experiences, the trend is only getting bigger.
You've most likely noticed the immense buzz around NFTs, or non-fungible tokens, since the beginning of 2021 and how they have permeated the digital space since. But what exactly are NFTs? And what can they mean for the world of contemporary fashion?
Non-fungible tokens are considered a form of cryptocurrency, just like Bitcoin. The key difference is that NFTs evidently don't possess the fungible quality that Bitcoin does, which grants them more rarity and exclusivity. The term "fungible" refers to the ability of an asset to be exchanged for other goods that are of the same value. An example of trafficking fungible currency would be trading a $20 USD bill for two $10 USD bills — one would receive the same amount, but in different denominations. In contrast, NFTs are one-of-one and cannot be exchanged or duplicated, only reacquired through purchasing from its current proprietor.
Unlike Bitcoins, there's a bit more complexity to the anatomy of NFTs. They are tracked through an application called Blockchain, which analyzes and keeps track of the activity among all buyers and sellers of various NFTs. In other words, Blockchain logistically tracks the continuous movement of NFTs throughout the digital space.
In terms of the interrelation between fashion and NFTs, there's certainly been much discussion, exploration and even implementation. Although clothing, accessories and footwear are usually utilized tangibly, fashion NFTs exist to ultimately go beyond the physical realm to provide a unique "phygital" experience for a fashion consumer.
Crypto Fashion Week, which took place for the first time in February last year, is a digital event where fashion enthusiasts can further educate themselves about NFTs and other digital trends. The inaugural edition featured a community of avant-garde designers and artists as guest speakers. One of them was multi-disciplinary creative KESH, who's well-known for her monochromatic and geometric artworks, as well as collaborations with brands such as Moschino. Returning this March, CFW presented a series of insightful panel discussions on Telegram and Twitter, including a conversation between Gala Marija Vrbanic, founder of high-end contactless fashion label Tribute Brand, and Lauren Kacher of ALTERRAGE, about augmented reality and wearables.
Hot on the heels of CFW, virtual reality platform Decentraland will kick off its Metaverse Fashion Week on March 24, with brands like Tommy Hilfiger and Elie Saab set to virtually present their collections over a four-day period. The event will also see participation from a crop of innovative, digital-first brands, such as  Republiqe, The Fabricant and Auroboros. Unlike traditional, invite-only Fashion Weeks, tickets aren't required for MVFW, meaning anyone can view the digital shows, or even purchase the cyber clothing items to dress their customizable avatar. Physical versions of certain designs will also be available to satisfy those seeking to acquire the same items for their IRL wardrobe.
View this post on Instagram
The concept of "phygital" fashion products has been around for some time. In February last year, virtual sneaker brand RTFKT Studios produced more than $3 million USD in sales with a limited-edition drop, which included both a tangible pair of polychrome sneakers and an NFT that correlates with the shoe. The exclusive NFT, of course, possesses much more value than the sneaker itself.
The Balmain x Barbie collaboration launched in January is another example of a "phygital" product. The NFT release debuted auction-style, with three different digital dolls adorned in monochromatic pink garments embellished with the French fashion house's monogram print. The co-branded collection also featured a complete lineup of tangible pieces, including dresses, T-shirts, jackets and shoes that were available to shop offline.
View this post on Instagram
When the NFT craze emerged early last year, there was still much planning needed for implementing NFTs as digital fashion experiences. The user experience design of most existent fashion NFT platforms once lacked the ability to appeal to a demographic of luxury consumers, but in just one year, more digital creators have successfully employed this concept to entice shoppers to invest in NFTs. An archetypical example is the MetaBirkins NFT.
The MetaBirkins NFT showcases a digital art gallery of luxe handbags reminiscent of the silhouette of a Birkin bag, decorated with furry florals, cow print, distorted smiley face motifs and other psychedelic patterns. Conceived by LA-based digital artist Mason Rothschild, the NFT was also part of an Art Basel Miami showcase last December. It's worth noting that Rothschild's project wasn't created in partnership with Hermès but rather independently, and that the French luxury house is actually suing the artist for trademark infringement.
Currently, there are companies working on offering more luxurious digital experiences to appeal to NFT-inclined consumers. Australia-based start-up Neuno is a digital platform where fashion enthusiasts are encouraged to buy, collect and digitally wear, sell and trade on the Flow BlockChain. The start-up is collaborating with luxury fashion labels on implementing NFTs. For example, the consumer of a designer blouse will be able to utilize their fashion NFT in a multitude of ways, including trying on the blouse virtually as well as dressing their gaming avatar in the same garment.
The rise of NFTs gives fashion brands the opportunity to capitalize on a new generation of shoppers that is incredibly tech-savvy, enjoys creating and curating digital content, and desires to collect highly coveted digitized novelties that are one of a kind. Creative application of NFTs can also be beneficial for luxury brands looking to bolster their diffusion lines — their more casual and affordable sub-brands — by generating buzz. Even smaller brands can experiment with NFTs and sell them on digital shopping platforms such as Nifty Gateway, KnownOrigin and OpenSea.
The discussion and utilization of NFTs are inevitable these days, and these ongoing digital projects prove that NFT fashion is certainly not going anywhere anytime soon.
---
Tiffany Harrison is a multifaceted creative who is skilled in visual storytelling. She immerses herself in artful endeavors within photography, prop styling, product design and creative writing. Tiffany's work is very conceptual and is inspired by contemporary art, which she is truly passionate about. You can connect with Tiffany on her website and Instagram.
---
Share this article