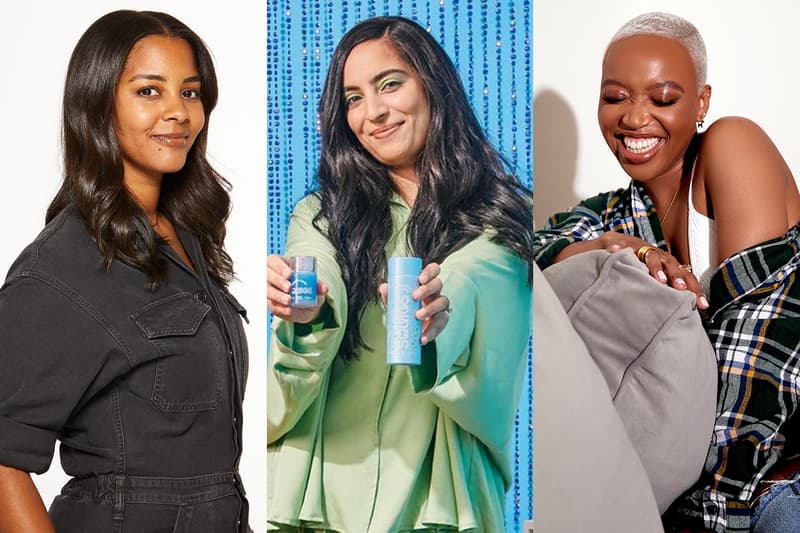 Beauty
3 Women of Color Beauty Founders Get Candid About Their Entrepreneurial Journeys
These female founders are making waves in skincare, haircare and fragrance.
3 Women of Color Beauty Founders Get Candid About Their Entrepreneurial Journeys
These female founders are making waves in skincare, haircare and fragrance.
March is Women's History Month, and what better way to celebrate women than by speaking about something connects them, like beauty? To close out the magical month, we talk to three inspiring female beauty brand founders — from skincare, haircare and fragrance categories — about their journeys as "beautypreneurs." Read on for more inspiration.
Squigs Beauty was founded by longtime beauty and fashion editor, Nikita Charuza. The brand believes that true "headcare" starts on the inside and works its way out. Formulated with skin-loving ingredients such as apricot and strawberry seed oil, Squigs' Double Shot Face Serum and Gooseberry Delight Hair Oil are delightful products for your face and hair. The hair oil even leaves a yummy scent on your pillows.
View this post on Instagram
What inspired you to make the leap from being a fashion and beauty editor to becoming a beauty brand founder and CEO?
I've been lucky enough to be working in this industry for almost a decade now. In that time, I've watched and championed a lot of amazing AAPI women-owned companies coming to the forefront, which has been so exhilarating to see. I studied entrepreneurship and finance in college, so wanting to start something of my own has always been in my blood. I was inspired to start Squigs because the pursuit of beauty can feel super alienating, expensive and only for "a certain type" of person. I want Squigs to help change that narrative.
Everything from our formulations to our packaging, is designed to make it easier and fun to cultivate happiness through beauty. Beyond making effective products with the very best ingredients, I'm also very passionate about modeling a better way of talking about them — and about beauty in general. With Squigs, I want to be intentional and mindful of how I'm adding to the industry. I want to create a space of camaraderie where anyone and everyone feels welcome. In the Squigiverse, it's always okay to look (and be) yourself — no matter who you are, or what mood you're in.
View this post on Instagram
Namesake Skincare is especially created for the needs of melanin-rich skin. The brand is inspired by founder Davlyn Mosley's life as the daughter of a board certified-dermatologist with ultra-reactive skin. Mosley believes it is important to create a line of efficacious products without them being harsh on skin. The Namesake Daily Moisturizer is perfect to reinforce and strengthen the skin barriers, all while reducing hyperpigmentation and evening the skin tone.
View this post on Instagram
What do you wish for Namesake's legacy to be?
When creating anything, it's essential to ask yourself, "What is this all for? Why are you doing this?" My biggest wish for Namesake is that all of the wisdom that my dermatologist mom passed down to me about skincare and life in general, will be passed on to the melanin-rich community. I look forward to Namesake creating a community that is no longer confused or frustrated by skincare, and who will be able to find the information they are looking for with ease.
What is next up for the Namesake portfolio?
It's very important to me that we create products that are essential to a skincare routine and special in their own right. I'm excited to hear what the melanin-rich community is currently missing, and what they would like to see formulated with their skin tones in mind.
View this post on Instagram
Fragrance brand MOODEAUX was founded by Brianna Arps with the intention of merging eco-friendly beauty products with self-care. Its first fragrance Worthy, a clean, floral scent with hints of lavender and red rose, is named after Arp's personal journey that led her to launching the brand.
View this post on Instagram
What is the inspiration behind launching Moodeaux?
Ever since I was a little girl, fragrance has been my favorite accessory to flaunt how I feel. From layering scents at my grandma's vanity to now designing my own for other scent-crazed beauty fanatics, it's kind of surreal to see the ways in which my passion for perfume came full circle with launching MOODEAUX — especially given the fact growing up and while in college, I wasn't interested in becoming an entrepreneur at all. I thought I'd end my career as a journalist — a beauty editor to be exact. But life has a funny way of getting you on the right track, regardless of where you started.
View this post on Instagram
---
Share this article