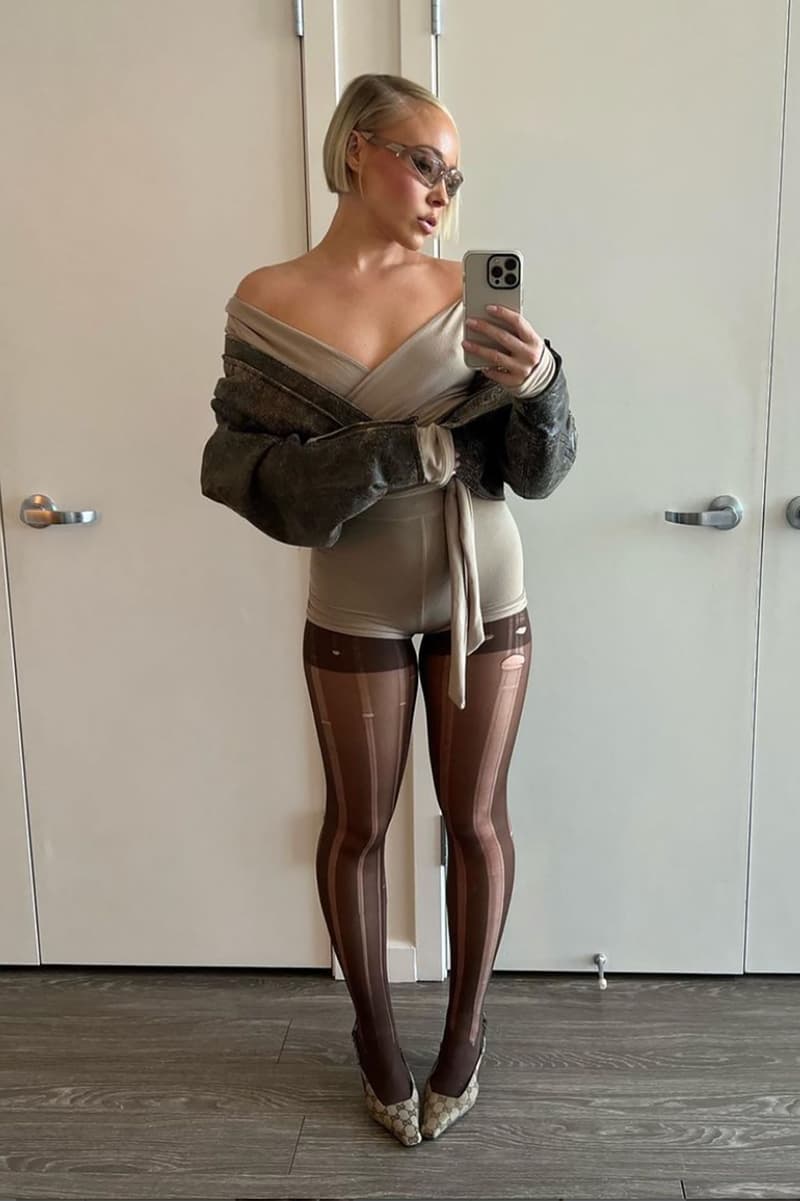 Loungewear and Lingerie Designer Laina Rauma Is Her Own Muse
Her alluring "Dance Class" collection is inspired by her dancer days.
Fashion
Loungewear and Lingerie Designer Laina Rauma Is Her Own Muse
Her alluring "Dance Class" collection is inspired by her dancer days.
Los Angeles-based designer Laina Rauma is not only a lingerie and loungewear designer, but a woman on a journey of exploration. Originally from Canada, Rauma made her way to the City of Angels like many other creatives, who are unsure of anything besides their talent and drive. One of her first projects after she relocated to LA was designing costumes for VH1's Hit the Floor, a show about professional dancers and the drama that drips through their lifestyle. One opportunity led to another, and more recently, she crafted a custom set of chaps, bralette and thong for Lizzo's cheeky boudoir shoot.
The designer is known for always making sure that her friends and customers look and feel their best through her styling. Rauma's impact is obvious, with hundreds of women commenting daily on her Twitter and Instagram, thanking her for helping them feel more in tune with their bodies.
Rauma's latest loungewear collection, titled "Dance Class," is inspired by her years of experience as a former dancer and cheerleader. With the ability to seduce the wearer, the range combines cozy classics such as oversized sweatpants and bathrobes with an effortlessly sexy aesthetic, perfect for those dress-down days.
Read on for an interview with the designer, and shop "Dance Class" on the Laina Rauma website.
How did you end up designing for the show Hit the Floor?
My roommate Stephanie was on the show with Taylour Paige and recommended I do the costume design. I actually sewed all of those pieces myself and got maybe three hours of sleep in four days. I didn't even have an industrial sewing machine at the time. I had a rinky-dink machine and sewed with my own two hands.
Did you enjoy the experience? 
I had massive dreams and was just happy to be there doing what I loved, even though I was scared and uncomfortable. I didn't really have a design direction, I just made what I liked, so it was nice to be challenged and put my little flair on it. At the time, the fact that anyone believed in me was amazing.
"Sexy and comfortable — that's my M.O."
Did that time inspire the "Dance Class" collection? And if not, what inspired it?
Honestly, I forgot that I even did that until you brought it up. I was actually getting ready one day and put on these big, baggy sweats that I always buy three sizes too big. I put it on inside out because I wanted that laid-back look, so I rolled the waistband and I thought, "Oh, this is like my cheerleading sweatpants."
I was just so inspired and thought, "I'm going to do basics — inspired by dance class." I did basics back in 2017 or 2018, so I decided to bring them back because I love them. I just didn't have a really great production team at the time, so I didn't really go hard with it.
And then I went on my little tangent and started googling the staple dance movies I know. It's like a little homage to my dance years, and all the looks that I loved from the New York Prima Ballerinas that wear the big trench coats with big scarves and tons of layering. So yeah, just one little rolled pair of sweatpants, and I was inspired.
My favorite qualities of your upcoming collection are how baggy yet form-fitting the pieces are in certain areas, the layering, as well as how insanely soft the pieces look.
It's so soft. I'm really lucky that I have a production girl that can see exactly what I'm seeing in my head — I've never had that before. That's why I've just gone so crazy with releasing basically a new drop every month. I have someone who understands my vision. Right away I was like, I just want the material that feels as soft as baby clothes and she found it for me. It feels softer than it looks — I'm so obsessed with it.
When I first started seeing the samples, I was like, "Oh my God, if I was online shopping and I came across this collection, I would be stressed out thinking 'how the f-ck can I buy all of this?'" I've been creating lingerie for a year and it's been super fun, because lingerie is just fantasy. It's so fun for my brain to just have an outlet, but I can't wear lingerie every day, all the time. So finally, I have something I can actually wear every day. Sexy and comfortable — that's my M.O.
What is your favorite item from the collection?
The Super Jogger — it's extremely oversized. The size small is typically what our size large would be, but bigger than that. Everything is huge, so I ended up adding drawstrings to the ankles so that it doesn't drag, because I wanted them to feel like you're wearing your boyfriend's massive sweatpants.
I love that your clothes are gender-inclusive and that anyone can wear any items they're drawn to, no matter how they identify. Which piece from this collection do you think would look the best unisex?
The Super Jogger and the Blanket Coat. [The Blanket Coat] basically looks like a robe but it's a huge a-s coat. I have this guy on my production team who loves clothes more than anyone I know — even more than me — and he asked me, "Oh my God, can I wear these?" And my answer is absolutely yes. If it fits you, wear them. You do not need men's or women's sweatpants, they're just sweatpants.
You also teased that you have six new collections pending. Are you ready to spill what those are?
Yes. I have a really sexy latex drop coming. It's insanely gorgeous. We also have three lingerie drops we're working on, and one's unisex too. I hope the guys agree. It's so fun and I'm really, really excited about it.
View this post on Instagram
This interview has been edited and condensed for clarity.
Share this article