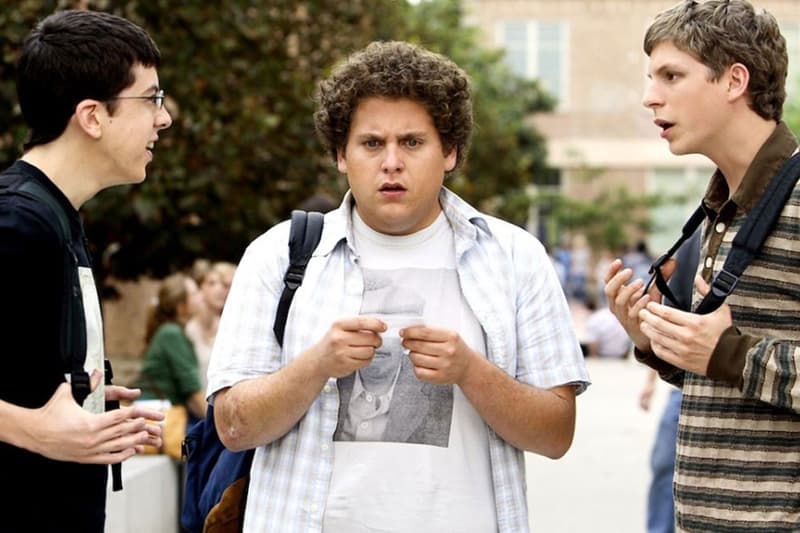 A 'Superbad' Sequel Almost Could Have Happened
It would've taken place in college.
Judd Apatow revealed he had an idea for a Superbad sequel that would've involved Evan (Michael Cera) and Seth (Jonah Hill) in college. However, not wanting to ruin the movie's legacy, Apatow, who produced the 2007 film, scrapped the idea.
"I always wanted them to do a sequel to Superbad," he said during a recent interview on the Inside of You with Michael Rosenbaum podcast. "I know that Jonah said 'Oh it'll be funny to do it when we're 70 or 80,' but I really wanted them to do a Superbad in college where Jonah flunks out of college and just shows up and visits Michael Cera at college."
He added, "But everyone was like 'Nah, we don't want to screw up Superbad by accidentally making a crappy second one,' and I would always say the same thing, 'Well that's like saying don't make the second episode of the of The Sopranos. Like, so why do you think we would screw up the second one?'"
Though Apatow is on board for a sequel, the actors have different ideas. Hill previously told W that he wants to film a sequel when he's 80. "Like, 'old-folks-home Superbad.' Our spouses die, and we're single again," he told the outlet. "That's what I want 'Superbad 2' to be, and that's the only way I would ever make it."
However, Cera doesn't care to make a sequel, but he's interested in working with the same cast again. "I mean, I would be open to just doing anything with that group of people," Cera told Esquire earlier this year. "I think that everybody is pretty staunchly against this, just because we feel good about the movie. It could only tarnish something that is a good memory. That said, I would just love to do something with the same group of people, even if it's not Superbad."
Share this article