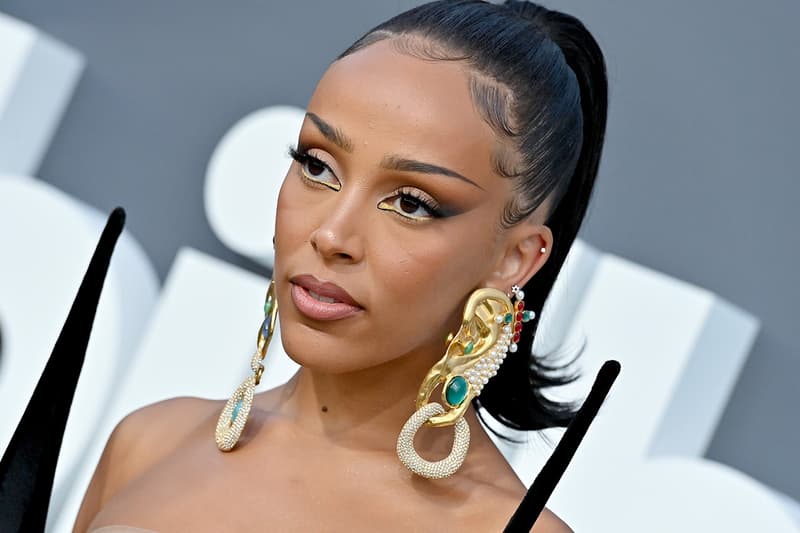 Entertainment
Doja Cat Is Not Impressed With Noah Schnapp for Sharing Their Private DMs
"He went and shared information that I didn't feel comfortable with him sharing."
Doja Cat Is Not Impressed With Noah Schnapp for Sharing Their Private DMs
"He went and shared information that I didn't feel comfortable with him sharing."
Following the TikTok video that Schnapp shared of his exchange with Doja Cat, the singer has revealed that she "didn't feel comfortable" with the messages being posted online. In an Instagram Live, Doja Cat explained the situation to her followers and opened up about why she didn't feel it was appropriate.
As reported by Indy100, Doja Cat shared: "I think that, to be fair, first let's be chill about it. Like Noah is a kid, but, I don't even know how old he is, but he's not even over — like there's no way he's over 21. But when you're that young, you make mistakes. You do dumb sh-t. I'm like trying to be super fair. You do dumb sh-t, you say dumb sh-t, you f-cking f-ck up relationships with people. You make mistakes."
The singer added: "You're supposed to [make mistakes] so that you know you're not to do that in the future. I did my share of f-ck ups so that I don't f-ck up again. The fact that Noah did that, like went and posted a private conversation between me and him is so unbelievably socially unaware and whack. That's like borderline snake sh-t, that's like weasel sh-t. And I'm not saying that encapsulates his entire personality — like I don't imagine Noah that way. I made an assumption that he was gonna be chill about it and he went and shared information that I didn't feel comfortable with him sharing."
The Stranger Things star has not yet responded to Doja's comments, but we imagine that an apology is on the cards.
---
Share this article