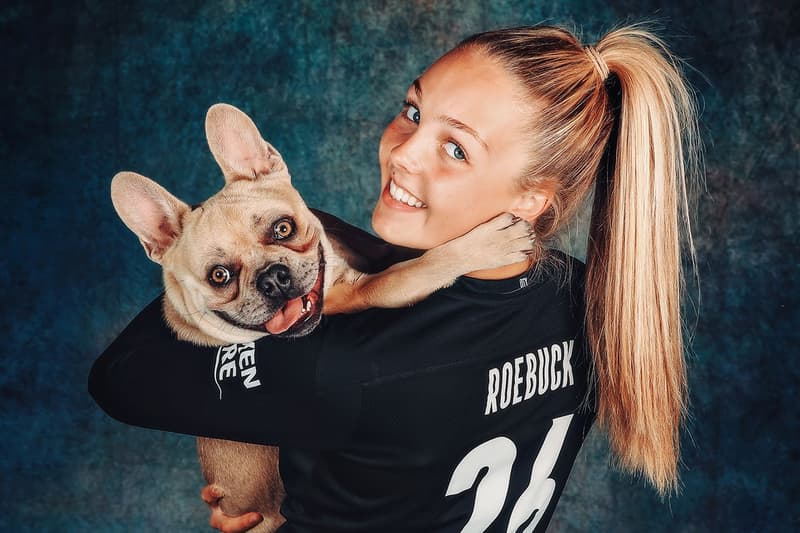 Culture
England's Ellie Roebuck on Winning the Women's Euro and What Comes Next
"We want to get as much visibility in women's sport as we can, but also grow the opportunities for young people coming through from school."
England's Ellie Roebuck on Winning the Women's Euro and What Comes Next
"We want to get as much visibility in women's sport as we can, but also grow the opportunities for young people coming through from school."
As a result of winning this year's Women's Euro tournament, the Lionesses marked England's first international win since 1966, undoubtedly paving the way for a new generation of female footballers. 22-year-old goalkeeper Ellie Roebuck was one of the players responsible for that win, and she's here to make sure that the momentum keeps on going.
"Seeing all the young girls in the crowd and boys too was certainly inspiring for us because I've never experienced anything like that growing up," Roebuck tells Hypebae. "Going forward, we want to get as much visibility in women's sport as we can, but also to grow the opportunities for young people coming through from school," she adds.
Roebuck has had a pretty impressive career so far. She's played (and won) the 2022 Women's Euro tournament, been a part of the Tokyo Olympics squad and was just signed to Jay-Z's Rocnation. Off the back of the Lionesses' major win, we caught up with Roebuck to find out more about how she's feeling about the result, her journey into football and what her goals are for the future.
Scroll down to read the full interview.
How do you feel after the incredible result from this year's tournament? Has it sunk in yet?
It's pretty wild. It's been a crazy few weeks off the back of [the tournament]. I feel like I've not been a human. You're just stuck in this bubble and now I'm like walking around the streets and I don't know what to do with myself. But it's been incredible. I've been on cloud nine for the past few weeks, obviously, after getting the win. I'm back to normality now which is also kind of nice.
What do you hope that other young athletes will have taken away from seeing your success over the last month or so?
I think for us, we always went there and wanted to inspire a nation, and hopefully, we've done that. Seeing all the young girls in the crowd and boys too was certainly inspiring for us because I've never experienced anything like that growing up. Going forward, we want to get as much visibility in women's sport as we can, but also to grow the opportunities for young people coming through from school, making sure that they have the chance to play.
What was your journey into the world of football like?
I grew up in Sheffield. My family was quite a football-crazy family and so the minute I could literally walk my dad had given me a season ticket to Sheffield United. So I've grown up watching games every Saturday, and then at school, playing football with the lads. I was lucky enough really to even have that opportunity to play with the lads at school. I was shocked to see the figures, the number of girls who aren't allowed to football in schools. That's something that I think as a team, we really want to push. I grew up playing in school then I joined a boys' team and I loved every minute of it. I got to about 10 or 11 and I joined Sheffield United Girls Centre of Excellence, played there for a few years and then joined Manchester City at 15.
You've had a pretty amazing track record so far with the Women's Euro tournament, being a part of the Tokyo Olympic squad and playing for Manchester City. How does it feel to have achieved all of that at such an early age?
It's a weird one really because if I wrote it all down, I'd probably be amazed. If you'd have asked me a few years ago, I'd have been absolutely buzzing but I think I'm just quite a driven person. As an athlete, you're always looking at what you can win next. I'm already looking at the World Cup next year, and what I can achieve with City this year. For me, it's always about what's next and then hopefully, when it comes to hanging my boots, I'll be able to look back at it and reflect on a pretty successful career.
You've also just joined the Rocnation family as the female footballer that they've had on the roster. What can you tell us about that partnership and how it came about?
First and foremost, it's a really exciting opportunity. One that I was really excited to get on board with. It came through a recommendation from one of my coaches. To be honest, from the minute I spoke to [the agent], I knew he was a really down-to-earth guy and that he knew what he was speaking about. It just felt like a really good family environment and one that I wanted to be a part of and it was definitely what I was looking for at the time. Now I've come on board, I'm getting to know the guys, they're all really great. I can't wait to kind of see what more the partnership brings to be honest.
Sounds amazing. Outside of football, we've heard that you're pretty into streetwear and fashion so what are some of your favourite brands in that space?
At the minute I'm all over the Birkenstocks, I literally live in them. Brands like Acne Studios and Sporty & Rich. I spend most of my time to and from training, so it's a lot of sweat sets at the moment. I wear a lot of Adanola, Palace and KITH, I love KITH. I actually got the KITH and Birkenstocks collab which I was really buzzing about. Oversized jeans, oversized T-shirts, anything baggy, two-pieces, I'm all over that.
In terms of fashion, and football, what do you think are some of the similarities between those worlds?
I think that both are a way to express yourself. Through fashion, you can show off your personality and I like to be different. As a goalkeeper, my position's very separate from the team, it's very individual. For us as a team and in football, we're all in the same kit. We all wear the same thing every single day. So to have that opportunity when you leave training and put your own clothes on, it's just a chance to be yourself and express yourself. I think a lot of footballers have some pretty crazy style, but that shows who they are and that's really nice to have.
I think a lot of fans have that perception that you should focus only on football, but fashion is something that you can have on the outside that you can take an interest in and really invest in and for me, it's a nice way to switch off. To go shopping and buy those things for yourself and enjoy wearing them, because a lot of your energy is used up running around a football pitch. It's nice to have that different side to your life.
Is fashion something you've always been interested in?
Definitely not. I think growing up I was literally living in football kits and my parents hated it. They wanted me to be in dresses and things like that. It's definitely come in time and I think you do get influenced by the people around you. I have some pretty cool teammates that wear nice clothes. For me, I think it was just a case of growing up and seeing different sides [to myself]. I always enjoyed going shopping, but it wasn't it definitely wasn't for nice clothes, it was for football kits.
Who would you say are some of your fashion influences?
Within my team, I've got some really cool people like Cara Walsh, Lucy Bronze, Leah Williamson and Alex Green. They're really into their fashion as well and they're the people I surround myself with so we all have that in common. Ocean Lewis too, she wears some pretty cool stuff.
What's next for you, what are your future goals?
The goals for me are to certainly spend the season injury free because last year was a bit of a nightmare. I want to win everything and I think having that experience of winning gives you the drive to want to do it again. I'm lucky enough to be at Man City, and the Champions League is a huge, huge goal of mine. Looking ahead to next year there's the World Cup, that's going to be huge. Especially off the back of this tournament, I just want to get out there and play a bigger role than I have this year. I'm just going to put all my energy into that and work hard to get myself in the best position possible.

---
Share this article