Fashion
The Top Shows and Trends at Paris Couture Week SS23
From Haider Ackermann's standing ovation to Schiaparelli's animal kingdom.
The Top Shows and Trends at Paris Couture Week SS23
From Haider Ackermann's standing ovation to Schiaparelli's animal kingdom.
Paris Couture Week's Spring 2023 edition has once again come to an end and as always, it gave us plenty of things to talk about. Standout moments from this season naturally include Schiaparelli's divisive show, complete with Kylie Jenner's lion-head dress and Doja Cat's red crystal look courtesy of Pat McGrath, not forgetting her recent eyelash ensemble at the Viktor&Rolf showcase.
Outside of the usual controversies, this season's schedule saw numerous designers making their Couture Week debut, including South Korea's Miss Sohee, whose intricately embellished showcase acted as a love letter to the avant-garde. Elsewhere, sustainable designers like Rahul Mishra made a welcome return to the calendar, enveloping its audience in a cosmic wonderland.
In terms of the trends, SS23 was no stranger to asymmetrical silhouettes and exaggerated cut-outs (or cut-offs, in the case of Viktor&Rolf) with more than a few designers turning to optical illusions in a bid to continue Couture Week's legacy of shocking and awe-ing.
Headdresses also featured prominently throughout the showcase, with Schiaparelli, Miss Sohee and Robert Wun resorting to opulent headwear for their collections, alongside the return of metallic color palettes — evidenced through gold and silver ensembles at Dior, Mishra and Fendi. Finally, numerous collections seemingly took cues from the worlds of Little Red Riding Hood and The Handmaids Tale, with capes and hooded dresses appearing en masse.
Ahead, we revisit some of the standout collections from SS23 at Paris Couture Week.
Viktor&Rolf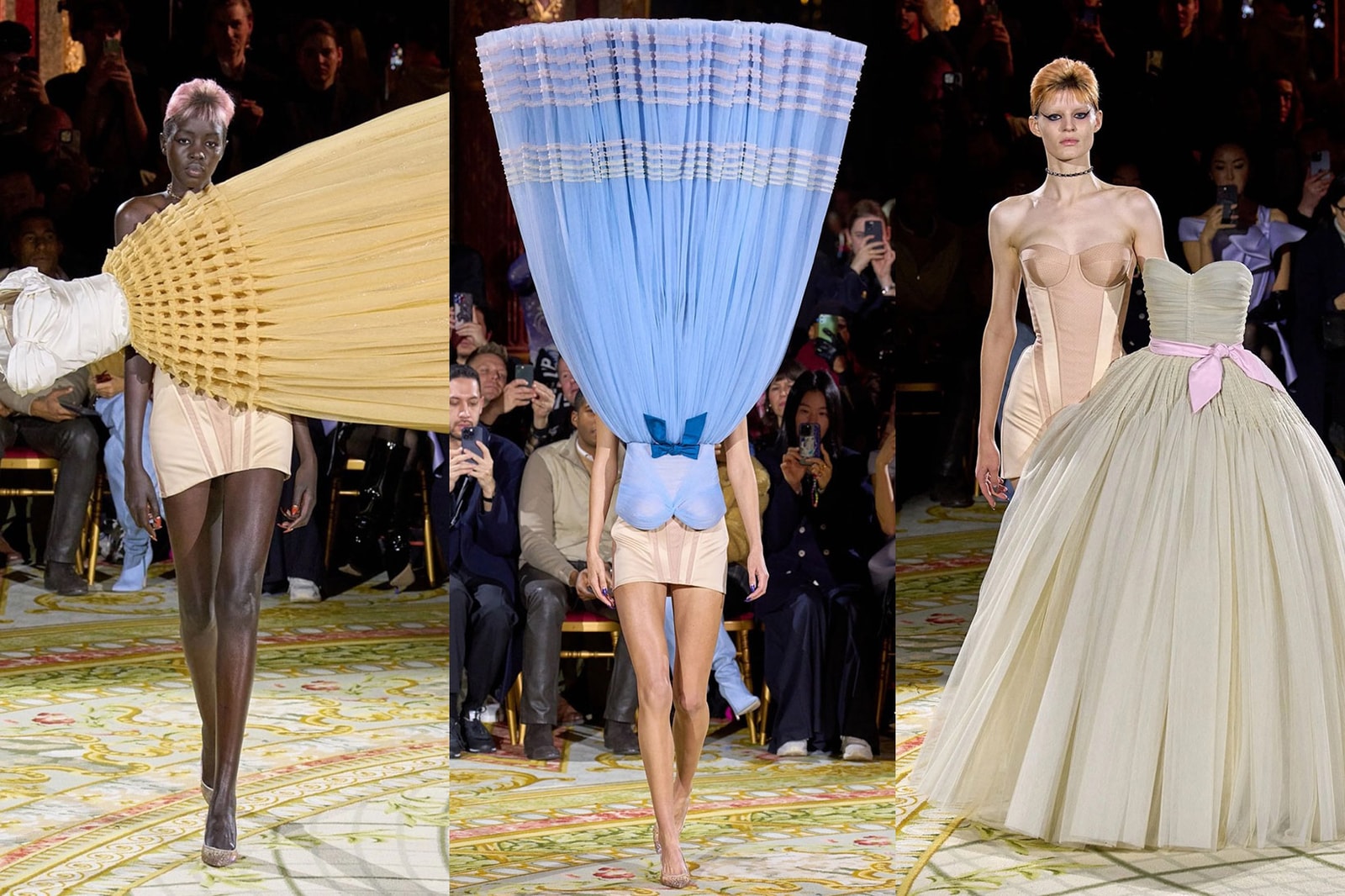 Undoubtedly one of the main highlights from the Couture Week season, Viktor&Rolf's show proved that no direction is off limits when it comes to couture. With its collection spanning upside-down, cut-off and sideways dresses, the surrealist showcase evoked a sense of awe and wonder among its audience. Fusing subtle pastel hues with outlandish silhouettes and gravity-defying movements, the unique offering brought a dose of playful energy to the week's offering.
Jean Paul Gaultier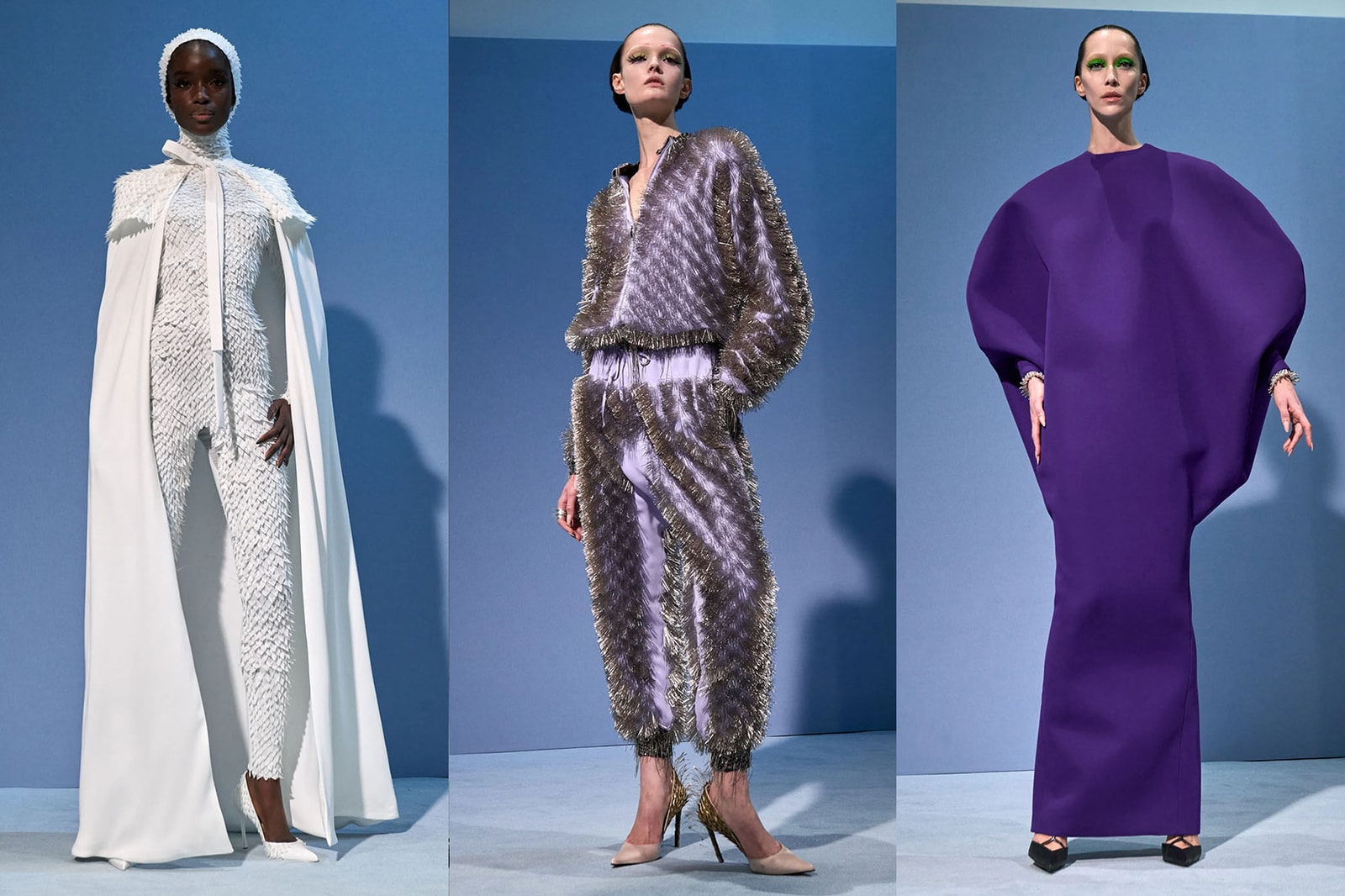 Haider Ackermann was the fourth name to guest design a couture collection for Jean Paul Gaultier, and possibly, one of the most impactful ones yet. The sculptural showcase resulted in a standing ovation for Ackermann, due to its origami-inspired pleats, balloon gown silhouettes and high-octane colorways. The most talked about looks from the collection were undoubtedly the seemingly fuzzy tracksuit and coat, each adorned with a dizzying display of thousands of straight metal pins to create a phantom softness.
Schiaparelli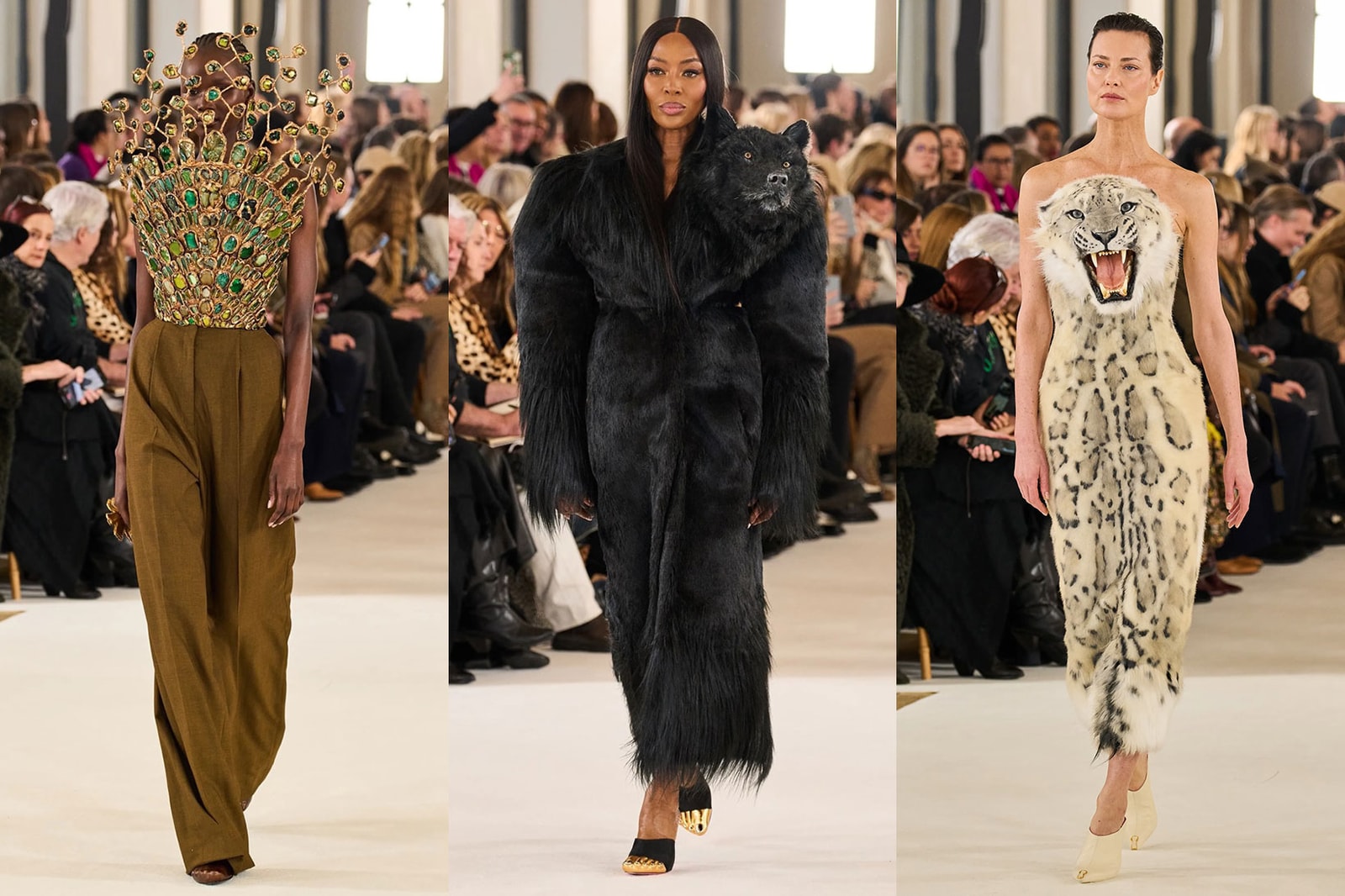 It's virtually impossible to talk about this Couture Week season without mentioning Schiaparelli, so we won't even attempt it. The controversial showcase resulted in equal parts applause and equal parts criticism from attendees and activists alike, due to the litany of animal references and fake furs throughout. However, the decadent showcase has since been PETA-approved, alongside lauded for its creativity and craftsmanship. With the likes of Kylie Jenner and Doja Cat in the audience and Naomi Campbell and Irina Shayk walking the runway, whichever way you look at it, Schiaparelli's feline 'fits made an impact.
Miss Sohee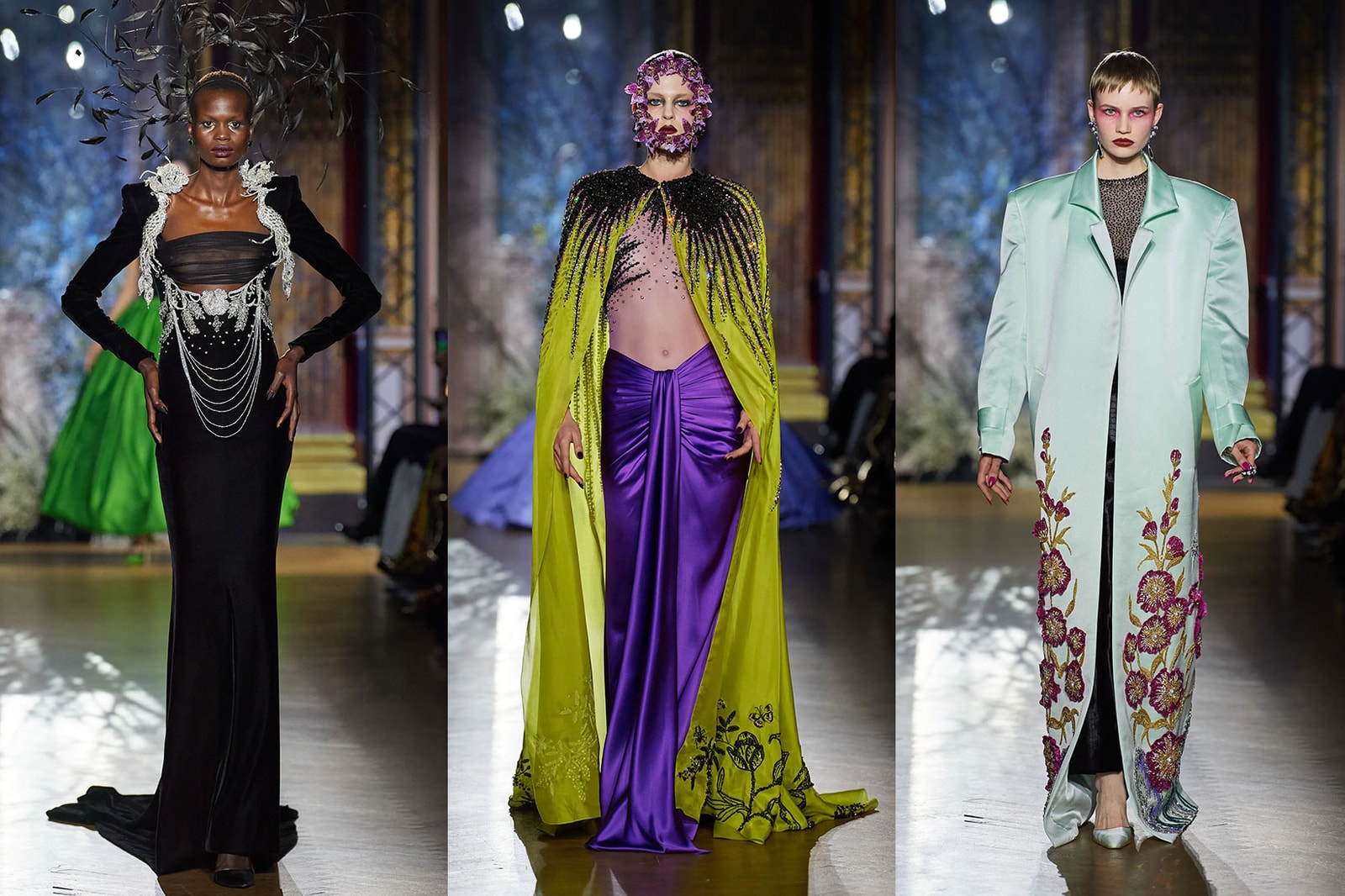 South Korean newcomer, Sohee Park, made her Couture Week debut this season, and clearly, it was a much-needed addition to the already impressive schedule. Miss Sohee's embellished dreamland was a lesson in intricate detailing, fusing flamboyant hues with delicate embroideries, all the while utilizing upcycled and deadstock fabrics from LVMH's Nona Source. Opulent headwear features heavily throughout the collection alongside sculptural draping, exaggerated shoulders and theatrical necklines.
Rahul Mishra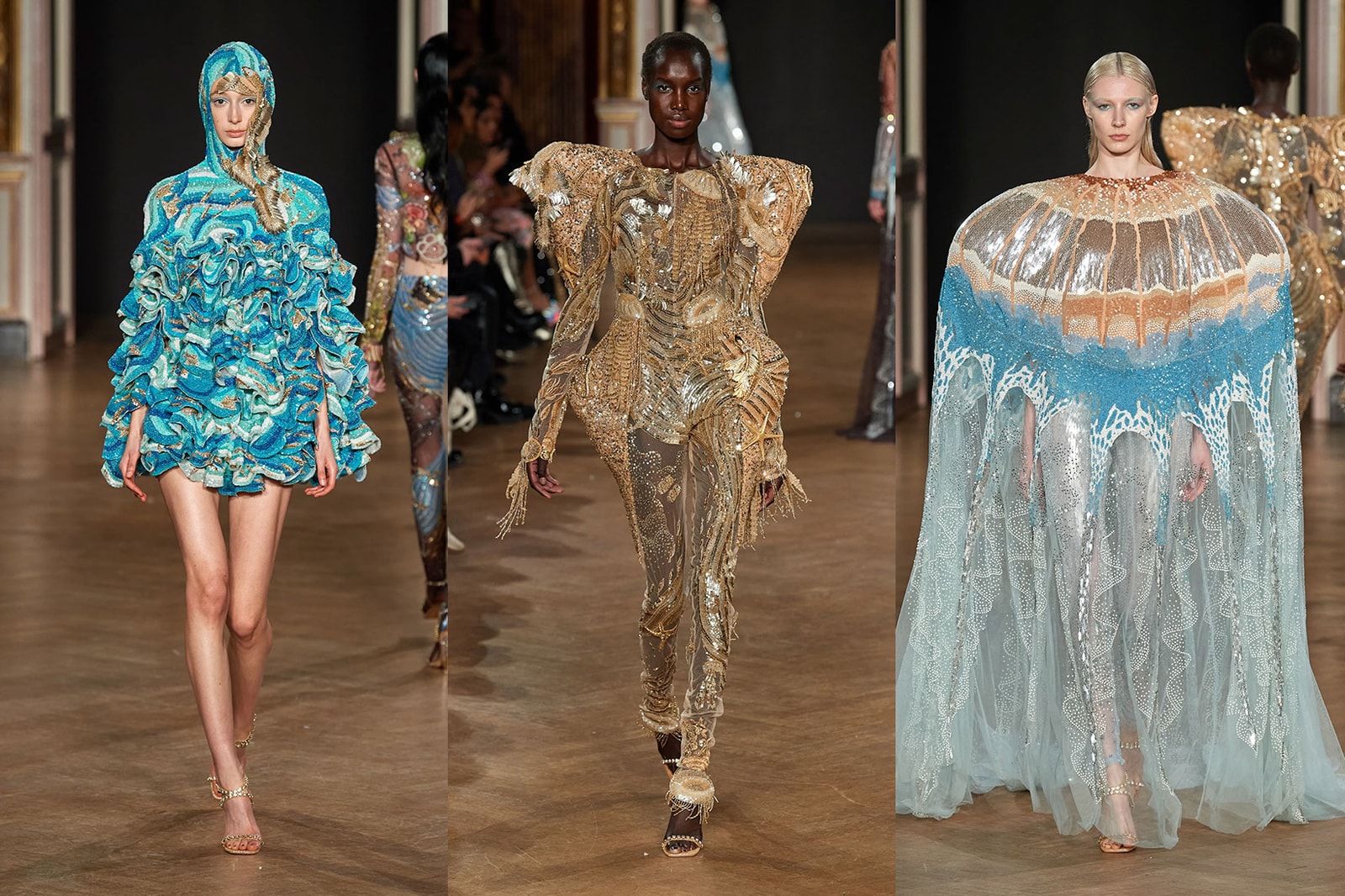 Indian designer Rahul Mishra is another name who made his Couture Week debut not too long ago, and his return to the calendar did not disappoint. Dubbed "Cosmos," the vibrant collection looks to the seas and beyond for its inspiration. Evidenced through sequinned gowns, jumpsuits and celestial bodysuits adorned with jellyfish, ruffled waves and shimmering mesh, the collection was so decadent that it required the assistance of a dedicated "bronzesmith" alongside over 1,000 artisans from curated craft communities in India.
Robert Wun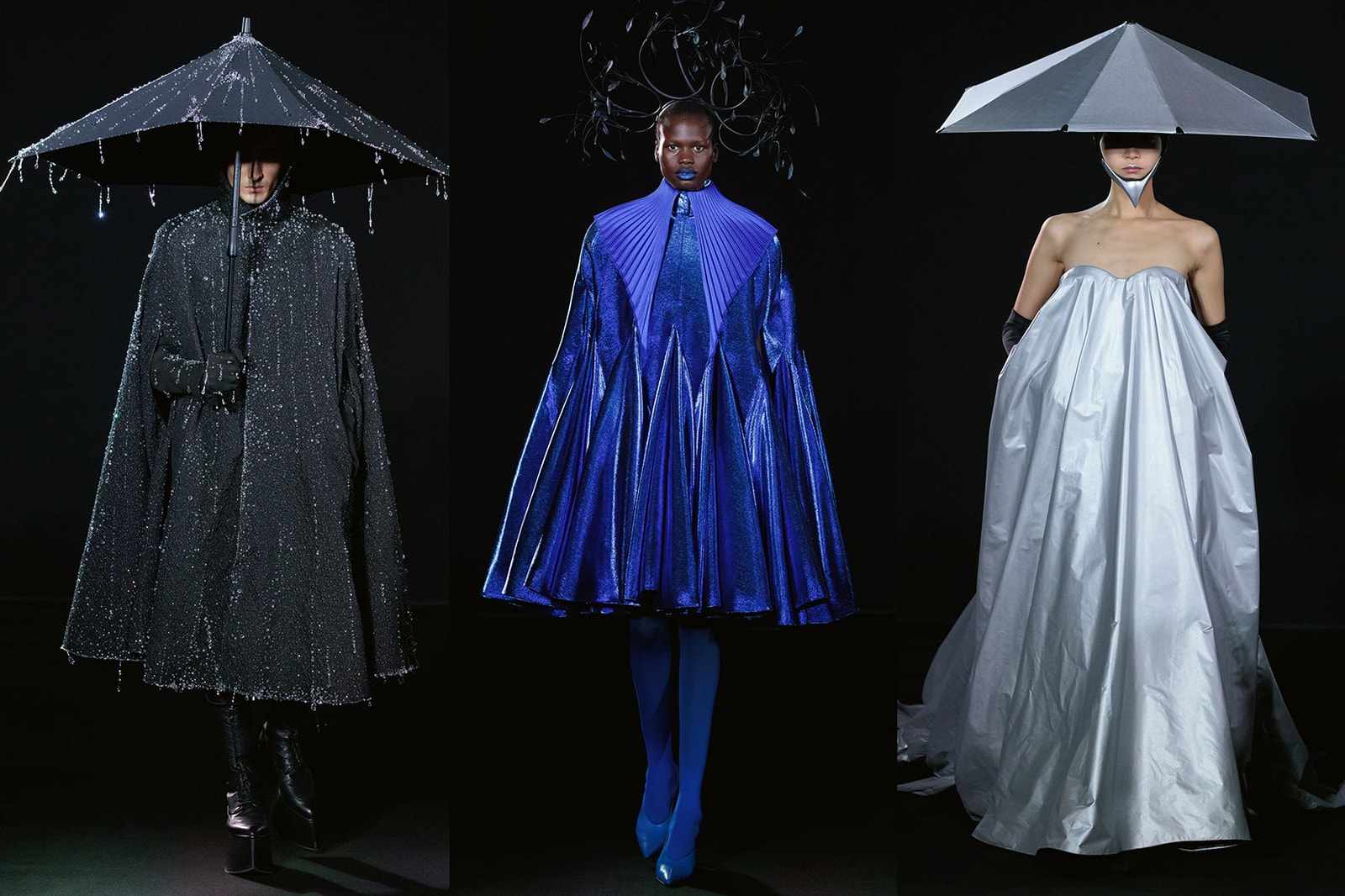 Closing the official Couture Week schedule, Robert Wun's inaugural runway showcase drew inspiration from the concept of fear. Speaking to Vogue about the collection, Wun admitted that the process behind the show caused him to question the very definition of Haute Couture, with a fear of staining his crisp white gowns transformed instead into a risque design choice. The collection featured striking hues of electric blue, metallic silver and bold red, with sweeping A-line silhouettes embellished with crystal dew drops, sultry sheens and intentional blemishes.
Dior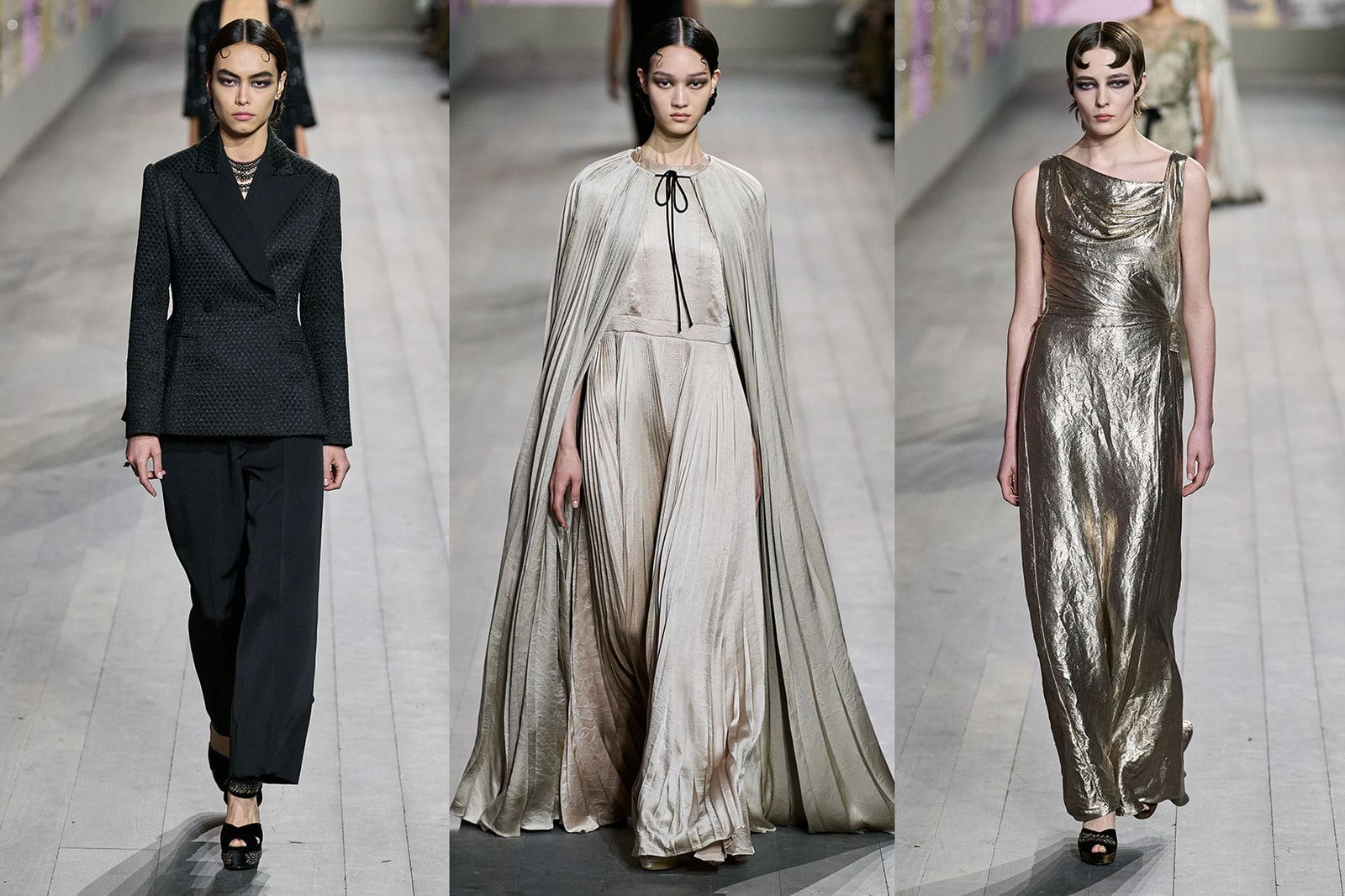 Dior's SS23 showcase offered a classic approach to couture, whilst paying tribute to French star and civil rights activist, Josephine Baker. Taking cues from her cabaret style and classic day suits, the quietly confident offering arrived in hues of champagne, black and gold, proving that outlandish designs aren't the only thing that can hold the attention of an audience and that sometimes, simplicity is key.
---
Share this article