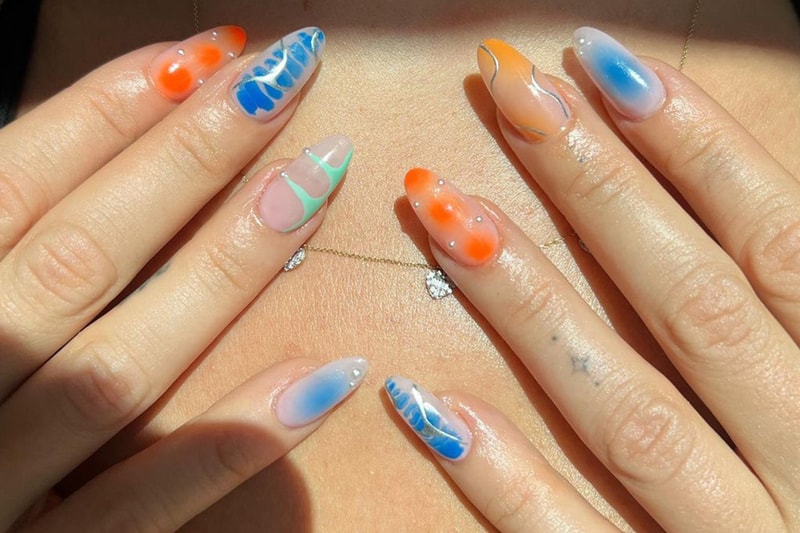 The Top 3 Nail Trends to Bookmark That Will Slay the Rest of 2023
Get into it.
Nothing feels more exciting than having your hair, nails and makeup "on fleek." For this beauty editor, a fresh coat of vibrant white or bold red gel nail polish is my statement go-to, but for other ladies, eye-catching nail art is their "I've arrived" moment. Also, with the abundance of celebrity manicure inspo readily available thanks to TikTok and Instagram, you can never say you're short of new nail designs or trends to try.
Celebrity nail technicians Zola Ganzorigt and Tom Bachik have played a pivotal role in shaping the nail industry in recent years. Their exceptional artistry and expertise have attracted a high-profile clientele, including the likes of Jennifer Lopez, Hailey Bieber, Selena Gomez and many others. Their visionary creations and trendsetting nail styles have not only captivated their clients but have also taken social media by storm, dominating our feeds from 2021 to 2023.
As we approach the final months of the year, the Hypebae Beauty team stands confidently in our top three predictions for the nail trends that will continue to captivate and reign supreme throughout the remainder of 2023.
Almond Nails
View this post on Instagram
View this post on Instagram

Almond nails are definitely one of the most attractive nail shapes. They have a sleek and fashionable look, which is why they are favored by many. The almond shape is known for being gentle on natural nails and less prone to breaking compared to other shapes. It also gives the impression of longer fingers, making it even more appealing.
Short nails
View this post on Instagram
View this post on Instagram

Making quite the return in 2023, short nails are more practical and realistic. Many are laying to rest their lipstick and coffin nails and going for short, square nails or if you're a nail biter, you could have your nail tech shape them into a squoval shape.
Wine-Stained Hues
View this post on Instagram
View this post on Instagram

Dark colors rule for fall each year, but try going for those bordeaux, wine-colored hues. If you want to make the manicure pop, opt for a bordeaux, deep plum, matte nail color to make the ultimate statement.
---
Share this article