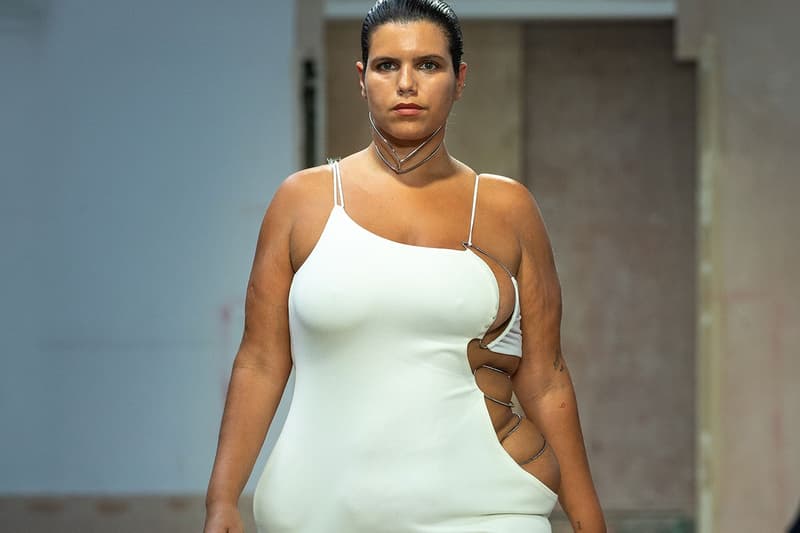 Fashion
Why Does Fashion Week Still Hate Big Boobs?
Ahead of FW23, we spoke to the designers behind the most chest-inclusive runway shows from last season to find out more.
Why Does Fashion Week Still Hate Big Boobs?
Ahead of FW23, we spoke to the designers behind the most chest-inclusive runway shows from last season to find out more.
The fashion industry, at large, has a problem with bigger chest sizes being showcased and celebrated on the runway. It's a fact and one that continues to make itself known season after season. Unsurprisingly, following last season's slew of fashion week showcases in New York, London, Milan and Paris, only a handful of designers' showcases featured a true variety of chest sizes.
Traditionally, bigger chests have never been considered "cool" in fashion, and after SS23's presentations, it feels like they never will. We've come a long way with representing different bodies and ethnicities on the runway, but the fuller bust still seems to be the one that gets left behind. Despite the fact that the average breast size in the U.K. is a 36D, the fashion industry still seems to cling to the idea that small boobs are the only boobs, even when all evidence points to the contrary.  
Fashion East designer Karoline Vitto believes that the over-sexualization of bigger chests is a big part of the problem and that for things to change, it's our perception of bigger breasts and their proximity to "coolness" that needs to first. Vitto's showcase was one of the most chest-inclusive shows at London Fashion Week last year. With a distinct focus on designing clothes that were made to fit the female form and not the other way around, the designer's runway was a breath of fresh air, proving that fashion can not only be breast-inclusive but can look good doing it, too. So why aren't more brands and designers doing it?
"When a woman with small breasts wears a runway piece, she is associated with words like 'cool,' 'fresh' and 'edgy'. However, when a woman with fuller breasts wears the same piece she is often seen as 'sexy,' which is not always the message that they might want to convey, simply by existing in their body. It's important to question that narrative and bring [further] representation around form and shape," the designer tells Hypebae. Vitto adds that, within her work, she'd "love to dismantle the idea that a fuller chest or a curvier body needs to necessarily carry an element of sensuality."
View this post on Instagram
One designer exploring the idea of sensuality in a new way is Sinead O'Dwyer, the person behind another of SS23's most-talked-about showcases. Her show featured a range of models of different ethnicities, body types and abilities, with bigger chest shapes and sizes taking center stage throughout the runway, encouraging the audience to question its perception of sexuality and freedom. Excluding such bodies was never an option for O'Dwyer, who believes that luxury fashion "is the most contemporary form of garment-making" and as a result, thinks that "it feels very strange to ignore the majority of people" within it. For her shows, "casting is about interesting characters, that's really important to me, and to be able to tell a story," she continues.
Alongside LFW, few designers made a size-inclusive splash in Paris — a city once synonymous with its chic "cool girl" aesthetic, which, naturally, only applied to less curvier women. One of the more bust-inclusive shows at PFW took place thanks to Ester Manas, founded by designers Ester Manas and Balthazar Delepierre. The Belgium-based label seeks to design for everyone, and actually mean it. "It's ingrained in fashion culture that a beautiful woman is a skinny woman, that's very difficult to unbolt," Manas explains. "A fuller bust is generally associated with a generous body and generous shape and the idea of generous flesh, whether for the chest or the body area in general, has never pleased the luxury industry," she adds. Similarly, Delepierre believes that "plus size people have never been the target of luxury, for no good reason."
For Ester Manas, acknowledging that more complex designs and fabrics might be required to accommodate fuller busts is a key part of its success. "What is important for us is to be positive, to find solutions and to show that we can bring all types of women on a runway. Our ultimate goal when we are designing is that the garment can accommodate as many different sizes as possible," Manas continues. "For example, the fabrics are taken into account and they are chosen with a large proportion of elastane. There's extensive research around gathers and pleats, too," she confirms. 
View this post on Instagram
Similarly, Curvy Kate is a shapewear and lingerie brand that recently hosted its own catwalk show for its sister label, Scantilly, offering fuller bust styles in a wider range as its core aim. Curvy Kate's head designer, Alex Thomas, believes that the exclusion of fuller bust designs often comes down to a perceived difficulty in how to make them. "Fuller bust lingerie works hard, and every single component matters. Every detail has been informed by reason, from the width of a strap or a hook and eye to the composition of a fabric," Thomas explains. Yes, it takes more work and research to create chest-inclusive clothing, but clearly, it can be done and is currently being done — by designers both on and off the official schedules.
What's more, the brand believes that a big part of the problem is a misconception of bra sizing. "There's a lack of awareness in the fashion industry around bra fitting, bust fluctuations and creating high fashion looks which work for the fuller bust," the brand's PR Manager, Katie Weir explains, which is likely due to the fact that sizes of bras and sample sizes of bodies often don't match up. "Fuller busts are rarely included as 'sample size' and models who have the 'sample size' of 34B are often in the wrong size. If they were bra fitted professionally, they would change their bra size dramatically to perhaps a 28E or 30DD and beyond," Weir tells us, which only adds to the perceived difficulty. 
The fact is, body size isn't directly linked to breast size. It never has been, and it never will be. There are plenty of plus-sized models with smaller chests and plenty of sample size models with bigger ones. True inclusivity is featuring them all — not just the ones who have a body-to-bust ratio that makes sense.
View this post on Instagram
As we look ahead to the FW23 season, we can only hope that the work of emerging designers like Vitto, O'Dwyer and Manas has sparked inspiration amongst the industry's bigger players and that the perception of fuller busts where things like sensuality, difficult design and resources are concerned — begins to shift and evolve as much as our bodies have.
---
Share this article