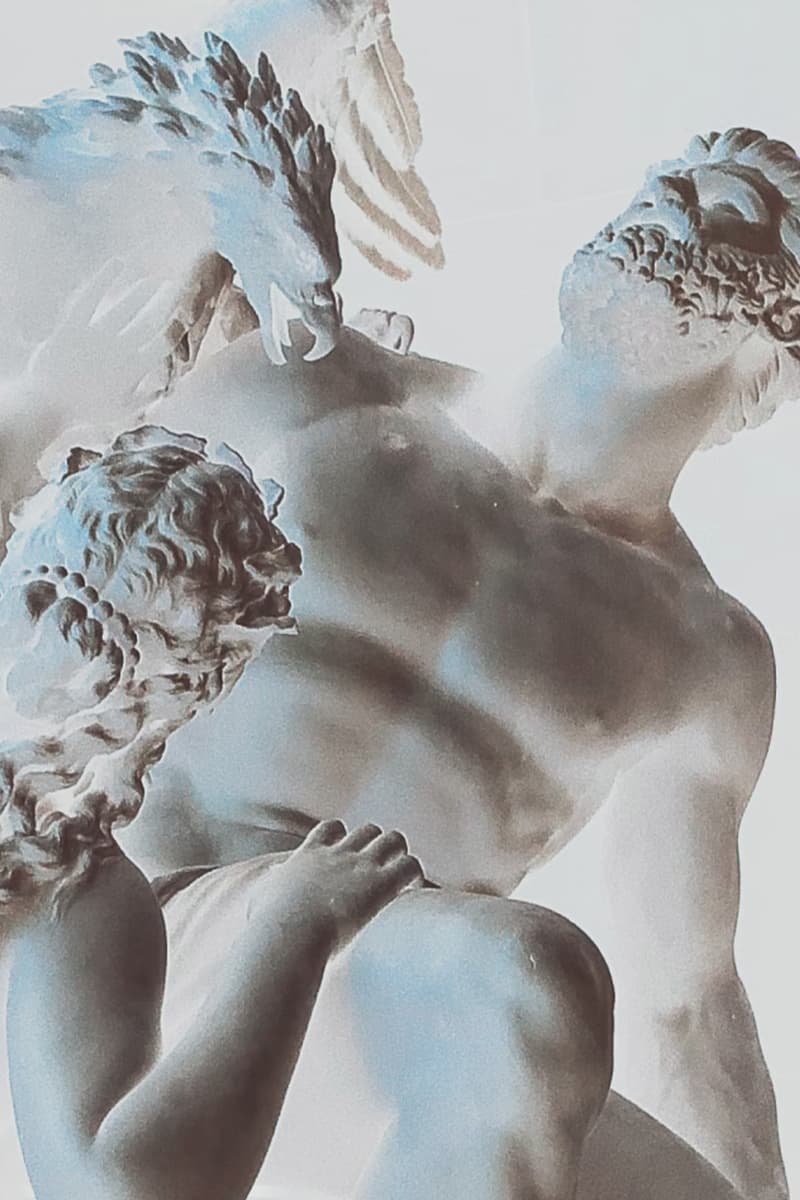 INTERVIEW: Tom McLeod on Making Art an Open and Decentralized Conversation
Hypebae speaks to Arkive's founder about bringing exclusivity to the 99% and acquiring a Rick Owens' iconic furniture piece.
Art & Design
INTERVIEW: Tom McLeod on Making Art an Open and Decentralized Conversation
Hypebae speaks to Arkive's founder about bringing exclusivity to the 99% and acquiring a Rick Owens' iconic furniture piece.
Who would have thought that museums (one of the most exclusive institutions ever created) would one day prefer choosing a community that curates and evaluates over having a monopoly in these decisions? Historically, the public has had little to do with defining historical significance, most of the time only being able to admire art behind a barrier. And even so, 90% of artworks are frequently locked away in private collections.
For Arkive, a blockchain-powered museum, culture is a conversation. As a decentralized autonomous organization (also known as DAO), the platform is building the most expansive and representative collection of culturally relevant art and artifacts through its members, who vote on which items they want to acquire.
The grounding of it all is making art accessible to everyone — from paintings and patents to pateks and prototypes. "We believe anyone should be able to help define what's culturally meaningful, regardless of age, race, occupation or socioeconomic status," told Tom McLeod, co-founder and Executive Director of Arkive, Hypebae.
Thanks to the rise and development of Web3, Arkive has conceived an innovative way of replacing, storing and managing all historical provenance, authentication, quality and condition of artworks on the blockchain. But whether you're a metaverse newbie, a degen, a fine artist or a hobbyist collector, Arkive is simply a home for the culturally curious.
For 2023, the platform's first curatorial theme is drawn from another core ethos of Web3 technologies: transparency. McLeod realized the world of art and design has been gatekept by the 1% of society for far too long, hence striving to use modern technology to give the 99% a say in what is culturally relevant.
In its latest acquisition round, "Making the Invisible Visible," the Arkive community selected to acquire Rick Owens' Half Box Ox Bone Chair (2012), an expression of the artist's reverence for Minimalism and Brutalism, combined with his taste for rare and unconventional materials. The chair distills the collaborators' avant-garde reductionism, which combines references to minimal, gothic and punk aesthetics.
The Half Box Ox Bone Chair is an innovative work that pushes the boundaries of traditional and contemporaneity through the selection of materials (traditional) and minimalistic design (modernity)," said an Arkive member. "The work is a testament to the artists' ability to bridge traditional and modern techniques and to create something that is both timeless and thought-provoking.
Hypebae had the chance to talk to McLeod about the Arkive's beginnings, bringing exclusivity to the 99% and acquiring a Rick Owens' iconic furniture piece.
Keep scrolling to read the full interview.
At what point did you realize how little we get to see of the fascinating art world?
The limited scope of curation and curatorial groups is something that I think many of us are aware of but don't often talk about. Of course, it's easier to let the system continue functioning as it has for hundreds, if not thousands, of years. Besides, the art world is pretty opaque and often intimidating for most. There are so many people in my life actively creating culture as artists, curators and writers, yet they still feel like they're on the periphery of the "Art world." I'm always learning from them and every new artist that joins Arkive reminds me how much there is to explore and how important it is to help increase visibility and support for the field.
How did the idea of decentralizing art ownership and the industry through a platform emerge?
At my previous venture, Omni, my team and I were developing a "Dropbox for physical items" — think bikes and tents — to catalog and store people's low-touch, high-utility items. One day, we received one of the original Macintosh computers still in its box. Unique items like this kept appearing and suddenly, we found ourselves trying to figure out how to safely store people's valuable collectibles. We had a Rembrandt etching, vintage comic books, sports cards in sealed slab cases and many other incredible objects.
The solution we landed on was to create private, secure vault areas for these artifacts, and each vault became a mini museum. The main difference was they were curated by and represented the interests of everyday people. That's when I started to think, "What if we built a museum from the ground up?" The rise of Web3 in the months following this revelation further developed the seed idea that would eventually turn into Arkive.
What was the initial reaction of people? Does the public easily understand the idea of a location-less museum?
Surprisingly, yes. The elevator pitch is a little longer than some, but as soon as people realize we're not collecting NFTs in the metaverse, that we're acquiring real, physical works and displaying them all over the world, it clicks. I think the strength of our community has also helped in this process. Even when visiting a museum IRL, you don't typically have immediate access to a group of people interested in discussing the works. With tools like Discord and Arkive's Atrium, our community members are empowered to propose art pieces for our collection at any time and in any place.
Tell us about the Half Box Ox Bone chair, the latest addition to the range.
Our community-acquired Half Box Ox Bone Chair (2012) in our "Totems for the Present" acquisition round. Created by designer Rick Owens, the chair is an ideal expression of our theme and distills the collaborators' avant-garde reductionism. For those unfamiliar with Owens and Lamy's work, the Half Box chair demonstrates their shared reverence for Minimalism, combined with their taste for rare and incomparable materials. In this instance, Ox bones have served as amulets and memento mori across different cultural traditions, from the divinatory practices of Shang Dynasty China to contemporary syncretism. Arkive members even had the privilege of hearing more about the work from Lamy herself during the curatorial call.
What do you think makes Rick Owens and Michèle Lamy's furniture a symbol of American Modernism?
Among a generation's most influential and beloved fashion designers, Rick Owens and Michèle Lamy's practice is as hard to summarize as it is easy to recognize. Since 2005, the couple has co-created, under the Rick Owens brand, an opulent and eccentric furniture collection inspired by the ambiance of their own private homes, producing a limited number of typically-very-large objects crafted from marble, concrete, foam, leather and alabaster, as well as various metals and woods. At first glance, the signature chairs and tables draw from pre-war Modernism, post-war Minimalism and Brutalism, but a closer look reveals fascinations that transcend the frankly limited scope of the Western art historical canon and consider the ways human civilization has long used materials and objects to marcate the sacred and to conjure the divine.
Modernism itself is a repository of influences. Owens has previously stated, "Making clothes and making furniture is kinda the same thing," he says. "In order to be honest, it has to be autobiographical." A reflection of their lives and artist thesis, Owens and Lamy's furniture references thousands of years of art and translates them into tokens of American Modernism.
Was it a dream of yours to own something from their furniture design practice, or was it the community's desire? What was it like having a house tour by Michèle Lamy herself?
Our curatorial team secured the opportunity to work with Rick Owens, which I was excited about — he's such an iconic designer. I share our community's desire to explore different genres and themes for our collection, and I enjoyed the discussions, debate and discovery of this design focused round.
Incredible. It was an honor to meet Michèle and having the additional opportunity to tour her house was an experience I never expected. This impromptu house tour is an example of the unique opportunities Arkive is opening up to everyday people that previously would have been inaccessible.
What's one of your favorite pieces in Arkive's collection? Anything you have your eye on and would like to add to the portfolio?
My favorite acquisition is always changing as I often find new things to love about old items we have acquired while my excitement builds for new items in the collection. However, Electromagnetic Field (2022) by Jennifer Allora and Guillermo Calzadilla has been my favorite for a while because of its sheer beauty and underlying representation of the Puerto Rican government and their response (or lack thereof) to the damage caused by Hurricane Maria in 2018.
Thanks to the Arkive community, I am constantly learning about new artists, researching their practices and becoming fans of their work. However, I'd love to see a work by Gwen O'Neil in our collection.
Will Arkive ever take a physical form?
We are definitely IRL almost as much as we are digital. In the past year, we've hosted over 40 events in 15+ cities globally. We unveiled our collection "When Technology Was a Game Changer" for the first time as a host partner of Art Basel Miami Beach 2022. At the event, Arkive members, Art Basel attendees, artists, journalists, influencers and more were able to enjoy our collection alongside unique activations. We also exhibited two of our works during the World Economic Forum in Davos, Switzerland and are about to exhibit a few items during SXSW in Austin next week.
For our next phase, we strive to find homes for all our acquisitions in culturally relevant locations. Currently, we have placed them on the chain using our bespoke blockchain protocol, which allows anyone to scan a work in person to view its provenance and contribute to the on-chain record by verifying the item's location and condition. Once these items are on display publicly, people will be able to experience Arkive's collection in person all across the world.
What's next for Arkive?
Pretty soon, we will be launching our mobile app which will allow Arkive members to interact with our community on the go. Simultaneously, we are working to augment the Arkive Atrium experience so members can do everything Arkive related in one place. We currently rely on Discord as our main source of communication, but we recognize that a lot of our members aren't monitoring their Discord all day, so updates and conversations can easily be missed. To fix this, we are building out the Arkive Atrium to offer more of a "Web2.5 experience" that offers a simpler way to sync your wallet, vote on acquisitions, learn about proposed works, etc. We'll also be releasing a more broad Arkive Protocol as our collection expands. Finally, we anticipate ramping up the number of acquisitions significantly this year and aim to have 10,000 members in 2023.
This interview has been condensed and edited for clarity.
---
Share this article