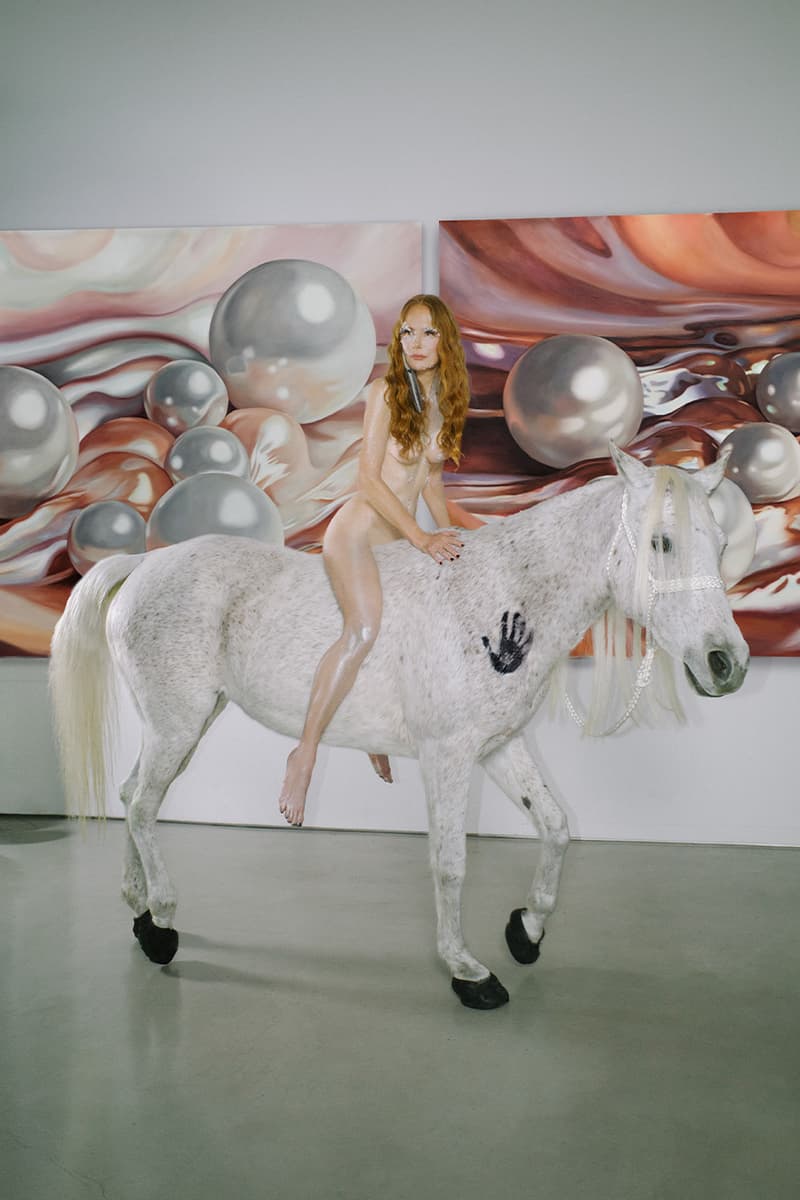 INTERVIEW: Fawn Rogers on Extinction, Eroticism and Nature's Raw Vulnerability
Meet the Los Angeles-based artist behind the p-ssy Buddha sculptures, orgy pillow installations and sensual oyster paintings.
Art & Design
INTERVIEW: Fawn Rogers on Extinction, Eroticism and Nature's Raw Vulnerability
Meet the Los Angeles-based artist behind the p-ssy Buddha sculptures, orgy pillow installations and sensual oyster paintings.
In Fawn Rogers' universe, art recognizes a full range of existence, including the most uncomfortable truths of human nature, such as violence, innocence, and invention. When standing in front of her intimate, yet blunt creative practice, Rogers invites us — the viewers — to investigate and scrutinize the hybridity and experience of being.
In essence, Rogers' work alludes to the notion of power as the currency of human nature and the discord with the natural world. Through a social constructionism lens, her distinctive aesthetic incorporates realism, conceptualism, and the synthesis of text and image. The Oregon-born, Los Angeles-based contemporary artist has notably shown her paintings, photographs, and conceptual installations across all five continents in both traditional and non-traditional locations.
Rogers' first public installation, a three-story site-specific installation titled "Jewels, Gods, and Dust," occurred in Puna, India, back in 1993. Since this moment, the artist has continued to translate human's inherent eroticism through larger-than-life canvases depicting nature's raw vulnerability and majesty infused with a darkly humorous stance. Most recently, Fawn Rogers has exhibited in Miami during Art Basel, Wilding Cran Gallery, Nicodim Gallery and Eric Firestone Gallery.
Hypebae recently spoke with the creative about her work using pearls and oysters as symbols of extinction and eroticism. Rogers also opened up about her use of sensuality, sanctity and invasion as a vehicle to offer a witty commentary on the decadence and sustainability of our current time. Scroll down below to read our interview with Fawn Rogers.
"Our current geological era is one giant crime scene and we're all personally involved. It's overwhelming at times, human nature in conflict with the natural world, a complex thrill and sorrow. I'm interested in harmony, has it ever existed?" — Fawn Rogers
I've read that you found yourself living on your own at an early age and decided to travel and go to all the museums you could get into. I'm interested to know at a deeper level how your love for art emerged — was it a medium you were always interested in?
Art was my first form of communication. I was expressing myself through little mud sculptures and painting odd shapes and forms before I learned to speak, which was around when I was five years old. I don't know if anyone understood what I was saying then or even now, but it seems fair to say the interest or need to create art has always been there.
Your work examines human nature in conflict with the natural world through paintings, photography, video and sculptural installations. How did you hone your creative practice and what inspires you as an artist?
What inspires me is the potential for harmony within myself and diving deeper into the ongoing geological crime scene we're all actively contributing towards. With all the suffering and conflict happening in the world, I try to appreciate being here, even if it means I am part of our violent garden. Honing my practice is akin to keeping my oyster knife sharp. It's all a big complex thrill and sorrow.
I love how your extensive portfolio holds no boundaries, from your Orgy Pillows installation to your Pussy Buddha sculptures, which re-envisioned sex, power and the female form. Has your art always felt this liberated, or was it a question of time?
Throughout my work, there is a musing of purgatory. I can't escape the burden of perception one is born with. I don't want to put brutality that creates more violence out into the world; I'm trying to work through that brutality and violence to create something beautiful from it. I have no interest in creating work without a sense of freedom and play. Working with sex and death feels liberating.
How do you feel about internet censorship, and what's the most detrimental thing about it? Do you think artists can make society more humanity inclusive?
There are good things, bad things, and everything in-between out there. To hide something (to censor it) sometimes gives it more power. However, the internet censorship I've encountered has been a bit ridiculous. For instance, I wish someone would tell Instagram my oyster paintings are just oysters and not giant pussies. By censoring them, you are essentially making people feel guilty about the human body. I believe artists can bring more humanity, or at least harmony, to society through the direct expression of their ideas without fear of repression. Society, as a whole, would be much more inclusive if sexuality and the human body were not treated with the shame of censorship.
For your work The Nail, you developed artifacts of a brutalist nature that aimed to represent human invention as a concept rooted in destruction and creation. However, your most recent compositions feel a little bit more romantic and seductive, even though they conjure the uncomfortable. How would you say your art has evolved with time?
I still make Nail Shrines. That body of work is ongoing and evolving in its own right. Human invention is defined by the intrinsic conflict and confluence of destruction and creation. The nail exemplifies this paradox, as does the pearl. Both objects are derived from nature and used to redefine it in their application. Both are broader icons of evolution and invention. There are also minimalistic similarities between the shrines and oyster paintings.
I am a multi-dimensional person, as we all are. I have several obsessions, and what you see in my most recent compositions is simply another side of life I feel is relevant to share.
Tell me about your recent sensual and gooey exhibition, "Your Perfect Plastic Heart." Are the paintings a reflection of the exotic and erotic, a nuanced view of ecofeminism? What do you seek to transmit?
All of the above. I'd like for the work to exist in a place where it can't be contained, so the blending of inextricably linked but very different ideas provides a flow of thought and sensation that can't be captured and explained away. Much like the nails, with the pearls, there is a tension between nature and industry with humanity at the center, emblemized through every phase of a pearl's existence, from its sourcing and production to its usage and eventual deterioration.
The pearl is both an elemental extension of nature and a device by which it is subjugated and transformed. In this sense, the pearl functions not merely as an indicator of human technologies, histories, and ideals but as a broader icon of evolution and invention. It is also an irritant that produces something precious.
What, in your mind, makes the female form so divine and ethereal?
It's the elusive mystery of there being no specific answer to that question that makes it so. You could say it has something to do with the woman's ability to bring life into the world, that she is divine or any other common conceptions about biology or mysticism. What I know is that if you put a feminine form in front of me, I'm entranced, much like art. The female form is timeless and portrays power, independence, and dignity in any embodied manifestation of gender.
Finally, what does the future hold for you?
I've read that in 25 years, there will be more plastic in the sea than sea life. Thus, I'm unsure what the future within my lifetime holds. What I know is that during my time on earth, I was able to create some super huge, bronze, humanized oyster/pussy buddhas — I honestly wish I could see the expressions on the faces of whoever finds them in the future.
These sculptures are reimagining what the world could be, picturing less repressed sexuality and what the social development of that could be. In them, we are viewed as our sex. The idea of this series, GODOG, is the absence of shame. There is no hiding. The gender-fluid sculptures are broken, playful, arrogant, and harmonious. They are future artifacts in the present.
---
Share this article