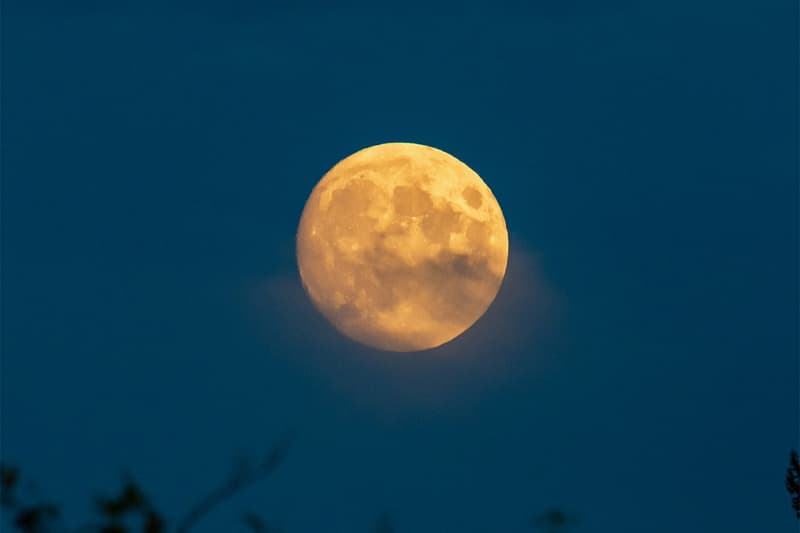 Culture
March's Full Moon in Virgo Pushes You To Let Go of the Past
Brace yourself for major growth.
March's Full Moon in Virgo Pushes You To Let Go of the Past
Brace yourself for major growth.
March is proving to be a game-changing month as the full moon in Virgo is delivering a whopping dose of "get your s–t" done energy.
On Tuesday, March 7, la luna shines her brightest in the driven earth sign, but because this lunation takes place during Pisces season, a notoriously emotional and intuitive water sign, the theme of the cosmically charged evening is balance. Virgo and Pisces are opposing signs, resulting in a yin-yang energy. While Virgos are deeply solution-oriented and regimented in most areas of their lives, the fish of the zodiac are much more sensitive and imaginative.
This atmosphere of juxtaposition will inspire you to unburden yourself of the past, making room for your life to blossom abundantly. On the same night as the full moon, Saturn moves into Pisces, where it'll reside for the next three years. Saturn is known as the daddy planet as it represents responsibility, maturing and authority — basically, all things related to adulting. This placement will undoubtedly play a role in how you approach your daily routine. While the seven-ringed planet is a bit strict, Pisces are more fluid and creative. This conjunction will inspire you to imagine how you might structure your more mundane tasks to invoke joy and a sense of fulfillment. The only way to stay engaged in your life and continue showing up is to romanticize the filler episodes — the crucial periods and stepping stones to success.
Continue scrolling to read what March's full moon in Virgo has in store for you.
Your sixth house of well-being comes into full view next Tuesday. While you tend to fire on all cylinders, the full moon is asking you to slow it down and give yourself an opportunity to identify what your true needs and desires are. Fight the urge to do everything at once and tackle on issue at a time.
The full moon takes up space in your fifth house of pleasure and creativity, urging you to indulge in a healthy supply of self-love. With engagements and weddings filling your feed, it may feel like you're missing out if you're not in a relationship or aren't in the place you thought you might be by now. While it's natural to feel this way, remember — you are the love of your life and taking care of yourself should always come first.
Falling in your fourth house of domesticity, the full moon is shining a light in your internal home. As the twins of the zodiac, you are known for your complexity, making you one of the most mysterious signs as you change from moment to moment. Honor your multiplicity, holding those who see your many sides close.
The full moon is in your third house of communication, clearing up your throat chakra and allowing you to express what's truly on your mind. Think about the feelings you've been holding back to "keep the peace" and determine how much you've been disturbing your own in an effort to do so. You deserve to feel heard and the people who truly care about you will want to hear what you have to say.
It's looking like money season as the full moon in Virgo could potentially make it rain in your second house of income. Don't be afraid to brutally honest with yourself about your finances. Leos love to surround themselves with nice things and while balling out is warranted here and there, stay focused on saving for the future.
The full moon is in your first house of self, giving you permission to be selfish and do you. Carve out some time on March 8 to treat yourself. You normally run a tight ship, so don't be afraid to take the night off put your feet up.
Sitting in your twelfth house of subconscious, the full moon in Virgo is calling attention to your spirit. Portrayed by the scales, you love to play mediator and restore balance, but this could come at a cost. Take a cue from Earth's satellite and set boundaries on who you're throwing yourself into the fire for as you must always put on your own life mask first.
The full moon is in your eleventh house of networking, reminding you it's okay to lean on your friends and ask for help. It's in your nature to isolate when times get rough, but don't be afraid to reach out to your community when you're feeling overwhelmed.
Resting in your tenth house of career, the moon is tapping you on the shoulder and turning your gaze towards your work-life balance. While it may seem like a luxury to have your personal values align with your income, the Virgo full moon is giving you the courage you need to pursue more fulfilling work, whether its through a side hustle or your 9-5.
March 7 is the perfect time to expand your mind as the moon is in your ninth house of philosophy and travel. It's okay if you don't have any upcoming international travel planned as the objective is to step out of your comfort zone. Find small ways to break up the monotony and shift your perspective.
The full moon in Virgo is in your eighth house of legacy and inheritance, pushing you to examine how you're setting yourself up for the future through your daily present actions. Three months into 2023, you have a grasp on your goals, but it's necessary to let go of old habits to move onwards and upwards.
Making itself at home in your seventh house of partnership, the Virgo full moon is in favor of your introverted side While you tend to wear rose-colored glasses making it easy to throw yourself into relationships, la luna lets you know its alright to stand on your own two feet. Bask in your solitude on March 7 and take pride in knowing that you can do bad all by yourself.
---
Share this article