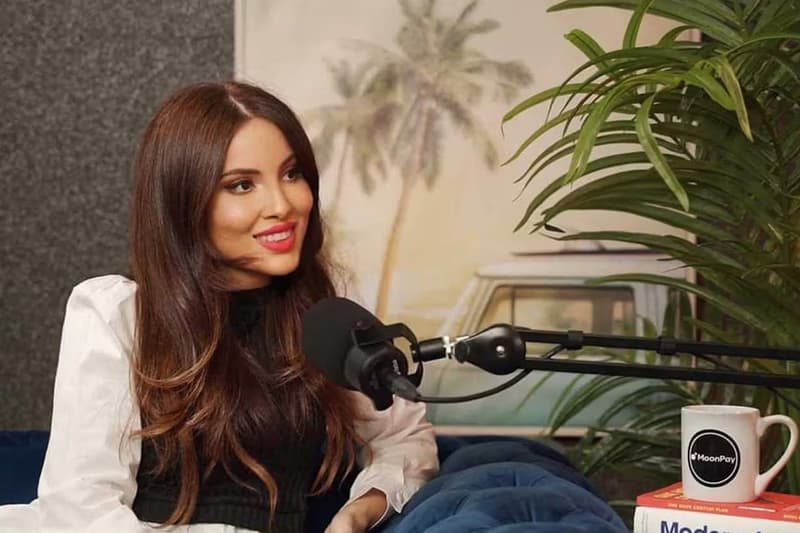 Culture
Nicole Behnam: Pushing Boundaries With Beyond Media and Her New Podcast
Powered by MoonPay, the show pushes the boundaries of traditional conversation and discourse.
Nicole Behnam: Pushing Boundaries With Beyond Media and Her New Podcast
Powered by MoonPay, the show pushes the boundaries of traditional conversation and discourse.
Whether you work in tech, run a startup or just enjoy participating in meaningful conversations, Nicole Behnam has made it her everyday mission to showcase solution-seeking, collaboration and the power of connection over click-bait news and fear-based content.
Behnam, who you may know from the early days of Clubhouse and her attendance heavy Twitter Spaces, is the founder and producer of Beyond Media, a platform that actively celebrates discussion, problem-solving, art, comedy and community.
Those in Web3 often associate Behnam as the go-to-person when it comes to pointing them in the right direction or getting closer to that prospective opportunity, which is why her hosted Spaces are always an immediate ROI on whatever that day's conversation brings.
On all counts, she is a curator of brilliant people, conversations and words – always looking for answers, solutions and new voices/opinions on what shapes our digital culture today.
We caught up with Behnam during SXSW, who also was just announced as a speaker to this year's VeeCon 2023.
"In a world that encourages superficial consumption and media that constantly identifies problems, instead of looking for problem-solvers and helpers – I find people with answers and critical thinking ability. These are people who have struggled, but who have also achieved and triumphed," Behnam told Hypemoon.
Prior to launching Beyond Media, Behnam spent four years in media journalism reporting live from the Red Carpet at The Golden Globes and Oscars, in addition to writing for A-list outlets like The Hollywood Reporter.
While that experience taught her how to keep her viewers/readers actively engaged, she eventually moved on hoping to advance the types of conversations she wanted to have with today's biggest innovators.
"The conversations were vapid and short on the red carpet and I wanted to make a concrete impact and have more meaningful conversations with people that often involve inevitable human experiences like grief, separation, hardships, tragedies and overcoming challenges," Behnam recalled.

"I realized that it would take me a long time to write the types of articles that I wanted to write, so I decided that I had to start my own outlet," she emphasized.
Since early 2018, Behnam has grown Beyond Media's most popular vertical, Beyond the Interview (BTI), a curated social media feed that facilitates discussion about a variety of topics that are trending across Instagram and Twitter.
With over 180K followers on Instagram, BTI brings what isn't being discussed, front-and-center for anyone and everyone to contribute their own thoughts and perspectives on.
Now, Behnam adds the podcast component as the latest extension of the Beyond the Interview brand.
Launched in January, Beyond With Nicole pushes the boundaries of traditional conversation, discourse, observation, analysis and discovery across current events, politics, media and culture – all while asking the question: what can be learned from someone you may think you have nothing in common with?
Powered by MoonPay, the podcast's two-month debut has already featured conversations that peel back the layers of education, entrepreneurship, negotiation, relationships, Iran's political unrest, success/manifestation and mental health.
Each episode features a high-profile talent, including, but not limited to former FBI hostage negotiator Chris Voss, Impact Theory founder Tom Bilyeu, Iranian actress/playwright Tara Grammy, professional dancer Cheryl Burke (Dancing With The Stars), comedian Leah Lamarr, DJ Georgia Sinclair, Amy Chan (Breakup Bootcamp), Luca Netz (Pudgy Penguins) and Scott Lips (Lipps Service).
"Beyond prioritizes problem solving over click-bait news, while maintaining cultural relevance and bringing forth people with solutions to modern problems – rather than simply those who are quick to point fingers and showcase what's wrong with the world we live in," Behnam told Hypemoon. "That produces fear and negativity. I want to manufacture hope that life can be better than it is, that everything people deal with can be overcome. That life can be better despite what we all struggle with."
From high-level debates and explorations to sharing success stories, affirmations, dating and relationship advice, to current events and even challenging other people's world views, Behnam brings an entirely new genre of content to the stage that evolves today's creator economy.
Behnam also shared her enthusiasm behind her partnership with MoonPay, highlighting MoonPay's desire to make crypto more accessible and helping newcomers into Web3 learn more about the space.
"I was drawn to MoonPay's willingness to make it easier for people to join this space," she said.
For Behnam, one of the bigger challenges in launching Beyond with Nicole was showcasing her own vulnerability in her storytelling journey.
"It's about making the people I speak with feel very comfortable being on set," Behnam emphasizes, which requires "creating a non-judgmental space and asking the right questions at the right time to ensure they feel comfortable."
With a total of 14 full episodes currently out, episodes will continue to be released 1-2 times a week and will be made available on YouTube, Spotify, Apple Podcasts and Google Podcasts.
There are short form components as well as full length components to Beyond with Nicole, with more exclusive short form content on Instagram, TikTok and YouTube Shorts.
With curiosity and problem-solving at its heart, Beyond With Nicole appeals to those who are looking to expand their worldview and to young adults who are at the incipient stages of their careers and lives.
When it comes to Behnam-hosted Spaces, she loves interviewing thought leaders, comedians, authors and up-and-coming talent in the Web3 space.
She revealed that she's in the process of expanding and bringing more people onto the platform to do interviews, in addition to her regular hosting of Beyond Media Spaces and DeFi Spaces for Hashflow.
Last week, Behnam was named as a speaker at this year's VeeCon 2023, which runs from May 18-20 in Indianapolis.
Nicole Behnam (@nicolebehnam)
Founder | Beyond Media pic.twitter.com/beJkSYmmno

— VeeCon (@veecon) March 17, 2023
You can tune into Beyond with Nicole on YouTube, Spotify, Apple, Instagram, Twitter and TikTok.
Source
Writer

Andrew Rossow
---
Share this article