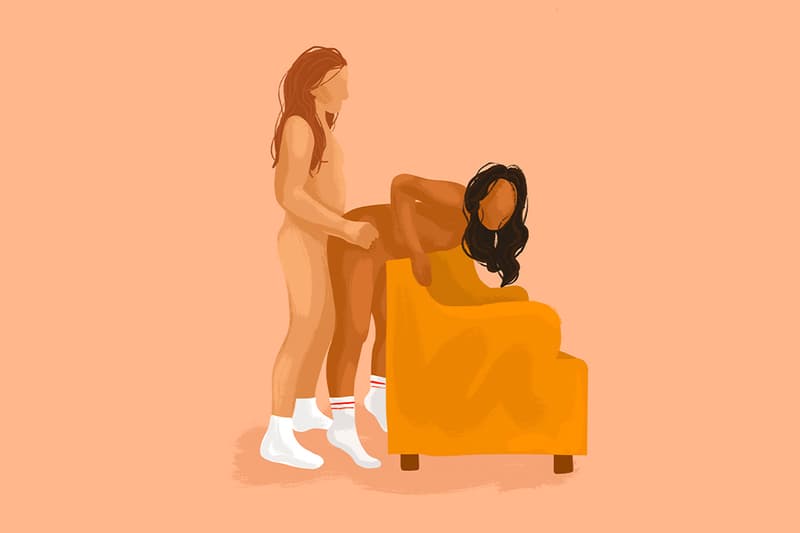 Sex & Dating
How To Have Sex With Endometriosis: The Best Sex Positions, Wellness Products for Pain and More
In collaboration with Ohnut founder, Emily Sauer.
How To Have Sex With Endometriosis: The Best Sex Positions, Wellness Products for Pain and More
In collaboration with Ohnut founder, Emily Sauer.
Founder of sexual wellness company Ohnut, Emily Sauer, dishes her best tips for elevating sexual pleasure, despite endometriosis.
Endometriosis, the growth of the endometrium or lining of the uterus outside of the uterus, can be extremely painful — add sex in the equation, and suddenly pleasure doesn't feel so good.
As Sauer shared in her interview with Hypebae, "75% of vulva owners experience pain during sex at some point in their life," and like many young women, she was gaslit by doctors who minimized her pain. With excuses like "maybe your partner is too big," many women gear up and endure painful sex in the name of pleasing their partners. To resolve this, Sauer took matters into her own hands and created a handy tool, Ohnut rings.
As Origin group's pelvic health physical therapist, Dr. Ashley Rawlins says, "Endometriosis is complicated," and "Ohnut is always a go-to in these situations." The device is doughnut-shaped and acts as a buffer that moderates penetration depth. "Because people with endometriosis often suffer from that deep pelvic pain, Ohnut is a great solution for pain-free penetrative sex," the brand shares.
To use Ohnut, Sauer recommends adding rings to "make penetration more shallow," and subtracting rings for deeper pleasure — "but not too deep!" she jokes. The Ohnut Vibrating Rings are another great option as vibrations can feel therapeutic for endometriosis-induced pain. For those wondering, these rings are compatible with biological penises and strap-ons.
Keep scrolling for the best endo-friendly sex positions, hacks and more.
Consult your doctor first.
Visit a pelvic physical therapist first as "sex from endometriosis can present in different ways," Sauer states. Consulting your doctor will allow you to make the most informed decisions as you begin to elevate your sex life.
Have open communication with your partner.
"For folks with endo that are experiencing painful sex, communication with your partner is key," Sauer says. "Talk to your partner in a neutral, non-sexual moment first to explain how your pain during sex feels, and what positions are more comfortable and less comfortable for you." Also, make sure to discuss verbal and non-verbal cues "you might give at the moment when you're feeling pain, so they know to slow down, pause or stop."
Explore Endometriosis-friendly sex positions:
"Doggy Over the Couch" pictured in the main gallery above is a great go-to for more explorative lovers. For the partner with endometriosis, bend over the sofa and receive penetration from your partner behind you. With full body support, Dr. Rawlins reveals that your pelvic muscles will be relaxed, reducing pain. She also shares a foolproof tip: adding pillows to any of your favorite sex positions for support.
Lube is your bestie.
Lack of lubrication will only intensify pain so Sauer recommends "using lots of lube."
Vibrations >
Vibrations during sex have several benefits such as elongating the vaginal canal, increasing lubrication, relaxing pelvic floor muscles and decreasing vulvar pain. Ohnut's Vibrating Ring combines the benefits of the standard buffer rings and vibrators, creating the ultimate hack for relieving painful sex.
Shop below.
---
Share this article