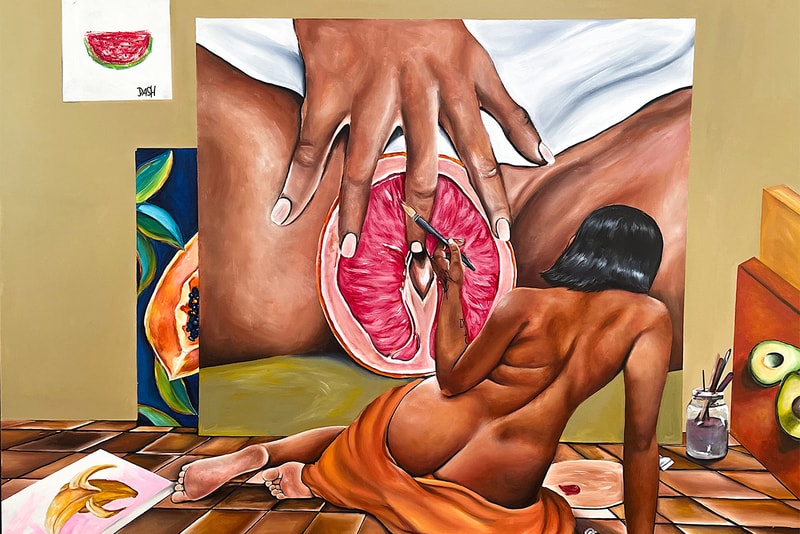 Sex & Dating
Erotic Artist Maiya Mulan on Capturing the Essence of Black Pleasure
"It's okay to be soft and live a life based on creativity and liberation."
Erotic Artist Maiya Mulan on Capturing the Essence of Black Pleasure
"It's okay to be soft and live a life based on creativity and liberation."
Erotic artist Maiya Mulan has somehow flown under the radar since 2017 — despite the breathtaking nature of her work. Where some find a massive canvas intimidating, Mulan revels in the idea of Black expression and effortlessly rewrites the script of Black pleasure.
Inspired by the likes of Jean-Michel Basquiat and Tracy Erin, Mulan's artistry was an inevitable journey, but her desire to accurately portray Black women is the vehicle bringing it to life. "Whenever we are represented, we are these strong or over-strained women who have endured so much," Mulan told Hypebae. As a result, "It's important to [her] to instill confidence and self love in women, and teach them that it's okay to be sexually liberated beings. Looking back," she says, "my work began with the female essence and continues to do so."
The result is boundary-pushing, realistic and seductive paintings that captivate the viewer. The softness and pleasure radiating through her work is an essence many fail to execute. In short, where the world is obsessed with our pain, Mulan's vision draws us into the world of Black pleasure.
Continue reading for an intimate look into the artistry of Maiya Mulan.
What inspired you to begin painting the nude, feminine form? 
I always painted nude women but it was only recently that I discovered it was what my heart needed me to create.
A common theme in your work is using flowers and sometimes butterflies to replace the head. What inspires this?
The flower represents growth. It depicts, blooming, blossoming, becoming a new every day, every minute and every second. It shows that growth is in our control and we have the ability to change whenever we please. It is a safe space for elevating in transparency.
I only depict women in this light because we continue to evolve from little girls, to women, to wives, to moms and everything in between. Whether it may be growth of relationships, trauma, or even simply self. Not only does the flower represent florescence, but it signifies us being one. Ultimately seeing myself in you, and you in I.
My ladies do not own identities within my work, but the stories these women hold can be told from every end of this earth. We endure the same struggles and trials despite our differences of ethnicity, bracket, language or location. We are one and I see myself in every woman.
Who are your biggest inspirations?
I am inspired by many things. My work is usually a reflection of my mental state and tells stories of my experiences as a growing woman. I am teaching and learning myself as I continue to create and I love it. Although I am inspired by artists such as Basquiat and Tracy Erin, I derive a lot of inspiration from life itself. Women loving themselves, learning themselves, and accepting themselves will always be a main source of inspo for my work. The way I perceive the female Black body is pushing the envelope with what has been seen in fine art.
"It's important to me to instill confidence and self love in women and teach them that it is okay to be sexual liberated beings."

Women, considerably women of color, are hardly represented as free, raw and sexual — especially by a fellow female artist. Not only that, but I am a woman of color who is presenting such engaging content which further adds to the dynamic. Although my work is often seen as erotic, there is way more than the sexual aspect going on. I hope for society to change how women are viewed by the world and themselves through the way I express the feminine vessel. My mission is to promote liberation all while expressing the true beauty of a woman. The goal is to evoke much needed conversation regarding the essence of a women and who she should or shouldn't be.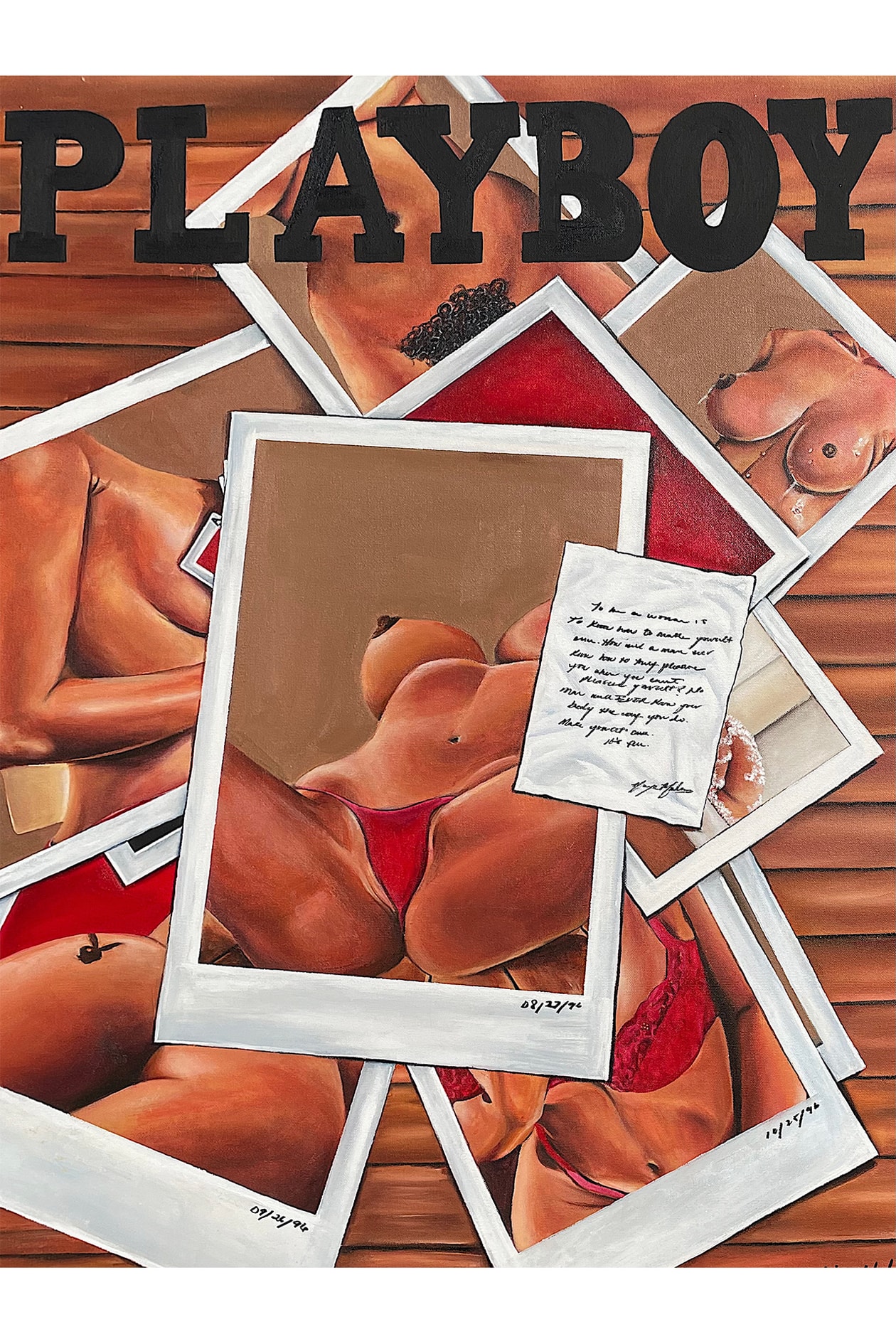 What emotion or thought do you hope to evoke within the viewer?
Through the art I create, I hope to evoke confidence and liberation. My art evokes needed conversations about societal issues which involve the freedom of women, being sexual and flourishing in that state. When my work is seen, I want woman of all shapes, sizes and colors to see themselves and view their flaws as perfection.
In this day of age, us women are so quick to fix what we think is wrong with our appearance. I want my work to dissolve that. I want women to feel loved, sexy and most importantly seen through the paintings I create. My work is breaking barriers. The way I perceive the female black body, is pushing the envelope with what has been seen in fine art.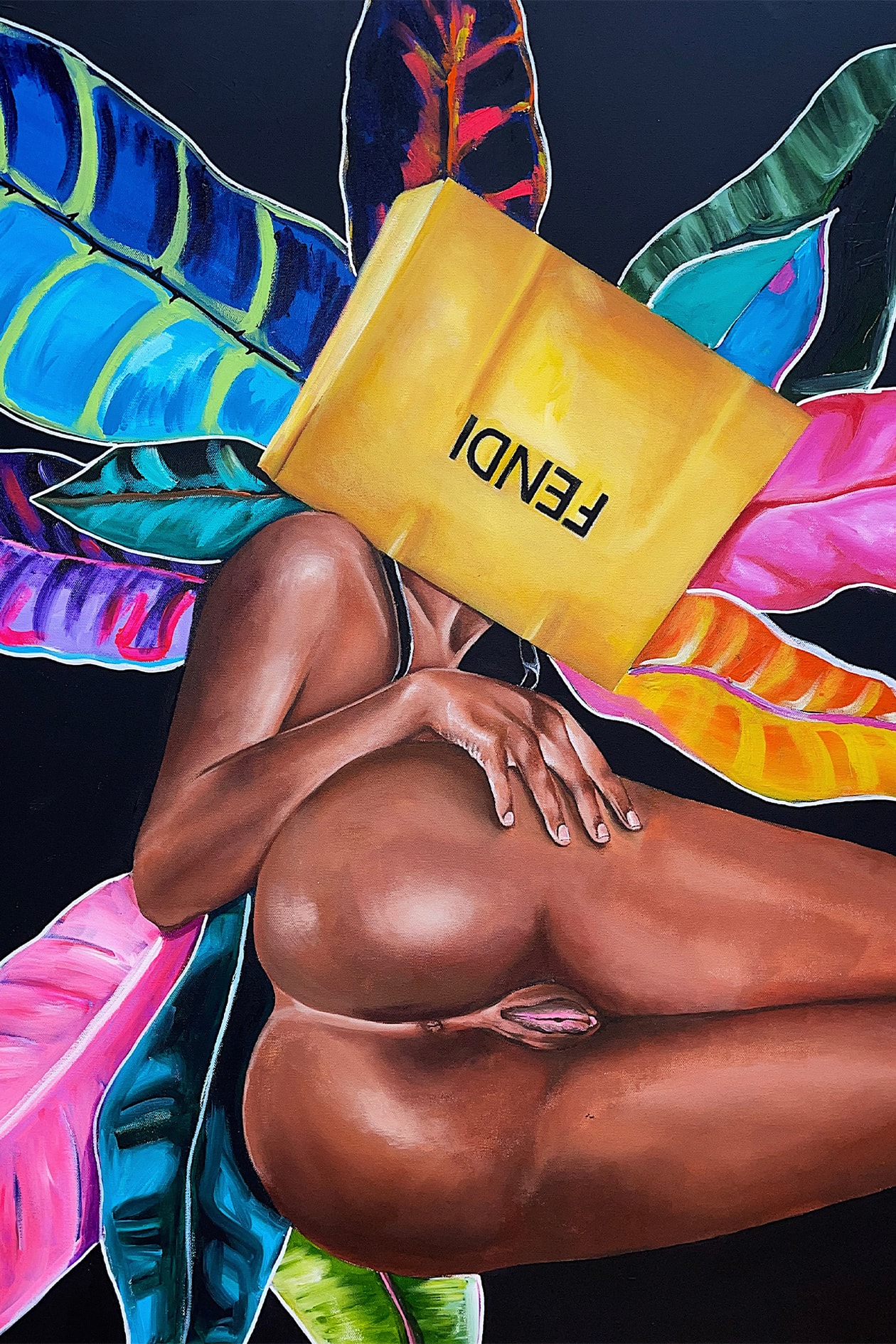 Instagram and other social media platforms were once relied upon to make sales, but now sex-positive artists unwillingly face censorship. How has this affected you?
I have found it extremely hard to promote my work on social media platforms such as Instagram due to censorship. I've even had to take certain paintings down so my page wouldn't be deleted. Since my business is mainly based online, it has made it difficult to get the exposure that I need in order to promote myself to a broader audience.
This deeply saddens me because I feel like I haven't gotten the recognition I deserve, creating the type of art that my heart tells me to make soley because of this. Censorship has left me considering if I should only paint more diverse-friendly art for the sake of growing my audience.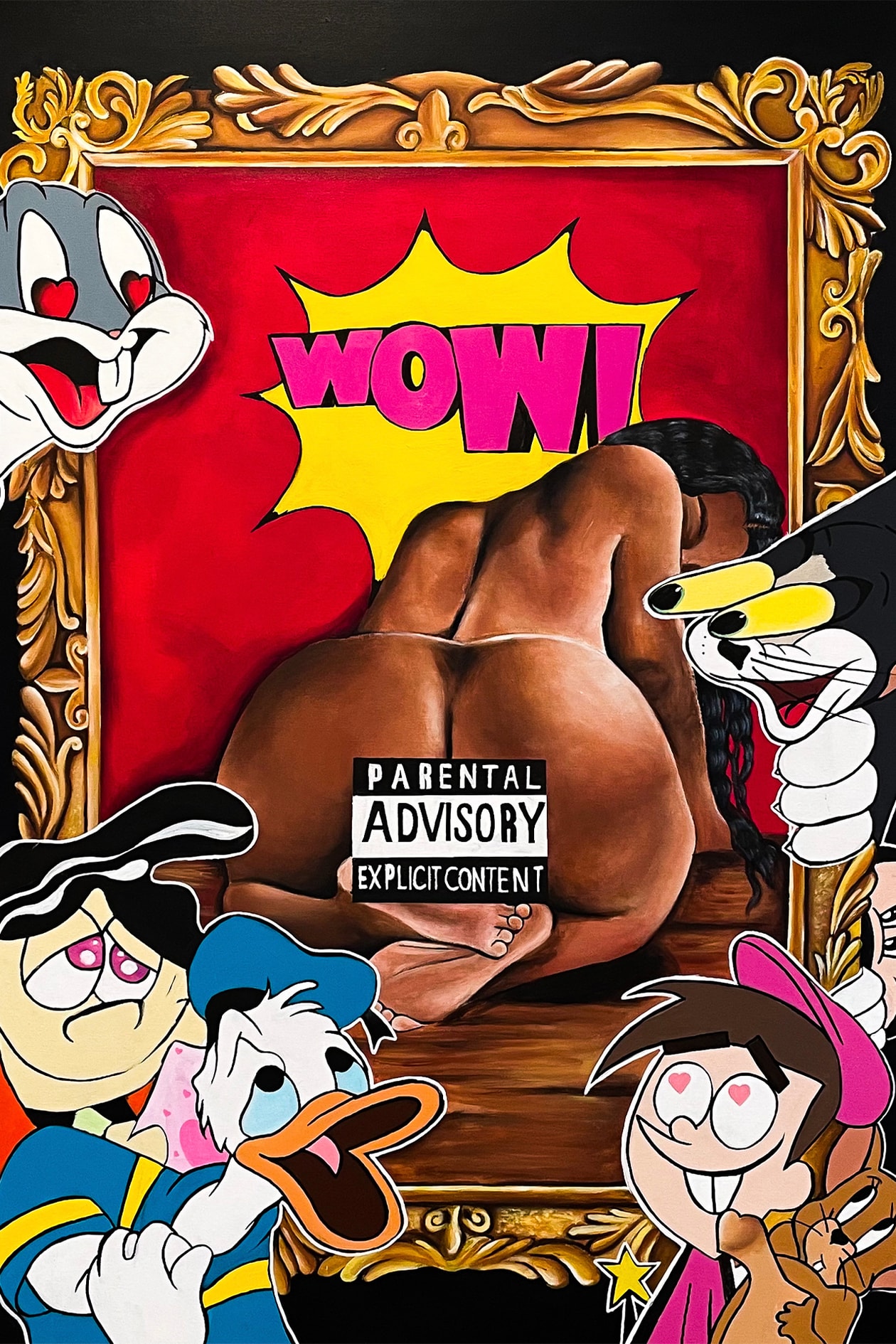 How can we further support Black femme artists as yourself?
You can support black female artists by showing love. You can show love by reposting their work, attending their art shows, telling a friend, buying a print or even purchasing an original. Please give us our flowers, we deserve them.
Any advice for Black women learning to embrace their sex-positive nature and creativity?
As a Black woman who is still learning to embrace their sexuality, I just want Black women to remember we run this. We are the foundation for many things and ways of society. We are the blueprint. Take your time with yourself.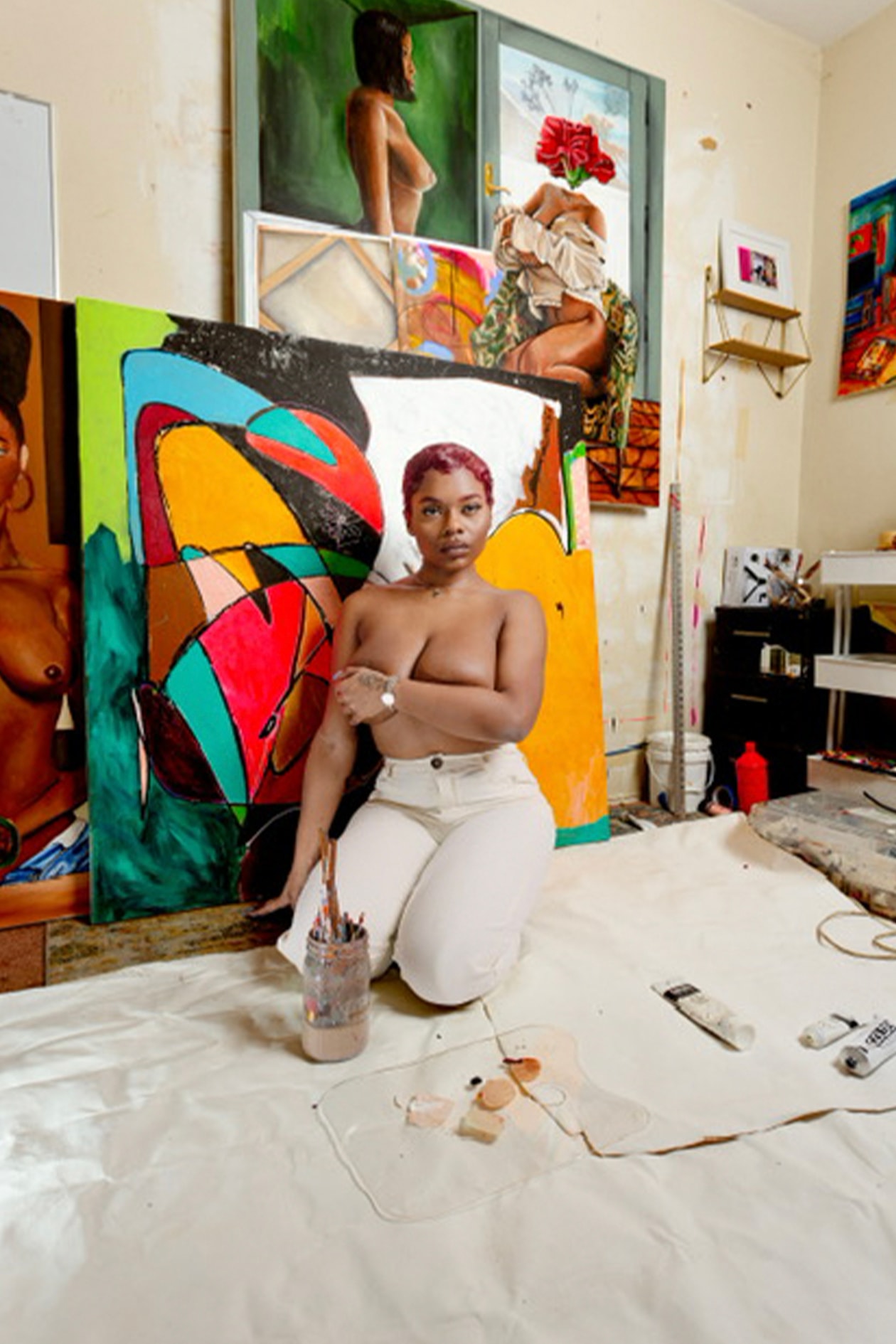 Learning what gets you going out of the bedroom, and in it — hold onto it. When we know our full power and potential, we are unstoppable beings. It's okay to be soft and live a life based on creativity and liberation.
To explore the erotic world of Maiya Mulan, visit her Instagram.
This interview has been condensed for clarity.
---
Share this article