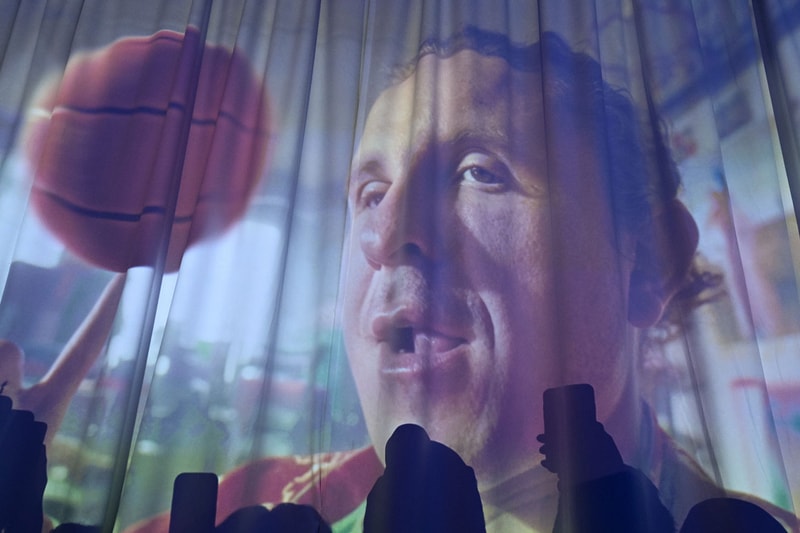 Fashion
INTERVIEW: The Whimsical World of KidSuper
"If you put on KidSuper pants, you should feel like you're about to do something crazy." — Colm Dillane
INTERVIEW: The Whimsical World of KidSuper
"If you put on KidSuper pants, you should feel like you're about to do something crazy." — Colm Dillane
Colm Dillane is nothing if not a wild card. With designs such as the Kissing Bag to collaborations ranging from Louis Vuitton to SpaghettiOs, the KidSuper founder knows how to keep fans guessing, laughing and on the look out for his next move.
In his latest collaboration, the Brooklyn-based artist has teamed up with Meta to launch a new, multi-year campaign dubbed, "It's Your World."
For the launch event, KidSuper's Studio underwent a metamorphosis into Meta's distinctive mixed reality wonderland, offering visitors the opportunity to fully engage with Meta's array of products including a green screen catwalk and an IRL Facebook Marketplace showcasing nostalgic treasures from local sellers. Always keen for co-creation, Dillane tapped his muses and friends including Coi Leray, Jordan Clarkson, Katya Lee, Andrea Love and his own mom to bring the vision of "his world" to life.
In a global premier, Dillane also unveiled a bespoke ivory suit and sneaker adorned with basketball nets in collaboration with 3D creator Joey Khamis that will be featured in his upcoming Paris Fashion Week show.
We chat with the man behind the brand to discuss bucket lists, butt tats and big dreams below.
What can you tell us about the KidSuper world?
The best thing I've done with KidSuper is to brand an ethos, thought process and way of living – a world as you would say. Everyone always asks: "Colm, why don't you make a black simple thing?" But it doesn't make you feel special and that's not what I am. I always try to make clothes that stand out and start conversations. Clothes that lead you to doing something different. I've always said I feel like I'm selling capes. So, if you put on KidSuper pants you should feel like you're about to do something crazy.
What's so cool about the brand is that it kept pushing me to be amazing because the name is amazing. You can't call something KidSuper and be wearing all black smoking cigarettes in the corner. You'd have to call yourself Margiela.
Much of your work is laced with humor, joy and fun, how do you keep that energy up?
I actually really enjoy it and feel like it's my personality. You always see the most famous comedians actually having a really dark side and I genuinely don't have that.
I see life in terms of bucket lists. A lot of the things I'm doing are on my bucket list so you can't be sad about it. I feel like I've worked so hard to get to this point and I'm so amazed that I get to have these opportunities. Some of these moments are things I've always wanted to do. I like the idea that I've branded the "trying" aspect. People don't really care about the final with me because I'm transparent about the journey. So, even if I fail, that's part of it.
Also, the more successful you get, the more opportunities you get. There's a standup comedian called Daniel Tosh that says: "Money doesn't buy happiness, but it's pretty hard to frown on a jet ski."
What's next on your bucket list?
I love soccer so, anything soccer related is on my bucket list. I'm thinking, maybe I'll buy a shitty team. I want to buy a team in Ryan Reynolds' team's league and call it FAUQREXUM and I'd just go "F-ck Wrexham" the whole time and they would have to bring me into the show because I'm the antagonist. Everyone needs a Scar.
If we were to pull up your Explore page, what would we find?
Strictly soccer highlights. It's funny because, for most guys, it will just be butts on their Explore page. When it starts getting not soccer, I just sit my phone down and watch as much soccer as possible so I can get soccer back on the algorithm.
Do you have any tattoos?
I have "Super" on my right butt cheek. Everyone always asks "Where's the Kid?" and I'm like, "I'm the Kid."
How have you felt inspired by New York City in your creative process?
In New York, there's nothing you can't do. The person you want to be, when you're in New York, is within three miles of you. That's a crazy concept to think about. I used to live in Wisconsin and it's hard to dream super big because you've never seen it. Dreaming is dreaming but meeting or seeing someone that's done it makes it feel tangible.
Everyone moved here to make it. Everyone feels in debt to their parents because they have sacrificed something for you to be here. Also, I'm a late night person so, having a 24-hour deli is really good.
What's your ideal New York City day?
This isn't an ideal day, but I'll tell you about a day. I got arrested when I was 17 because we used to climb up on roofs and go exploring. We got caught by the cops and they we're like: "Where's the drugs, where's the paint?" and we were just like: "We just climbed the fire escape to see the stars." I did a billboard years ago for my first art show and I wrote "I climbed the fire escape to see the stars."
Do you remember your first piece of art?
I used to do a lot of art with my mom. So, we would do all these projects together. My mom is really crafty and I think it was a freedom that she taught me at a young age. She never positioned it as art; it was always just a fun project. I remember one time, during Valentine's Day, my mom and I carved hearts out of potato peels and made little cards for everyone. People always ask if I think creativity is nature or nurture and I absolutely think it's nurture. Those are stories that nurtured me to think outside the box. Practice makes perfect.
Practice is actually my next fashion show concept. It's a theater play on how to come up with ideas. It might be horrendous and pretentious but it might be good?
---
Share this article