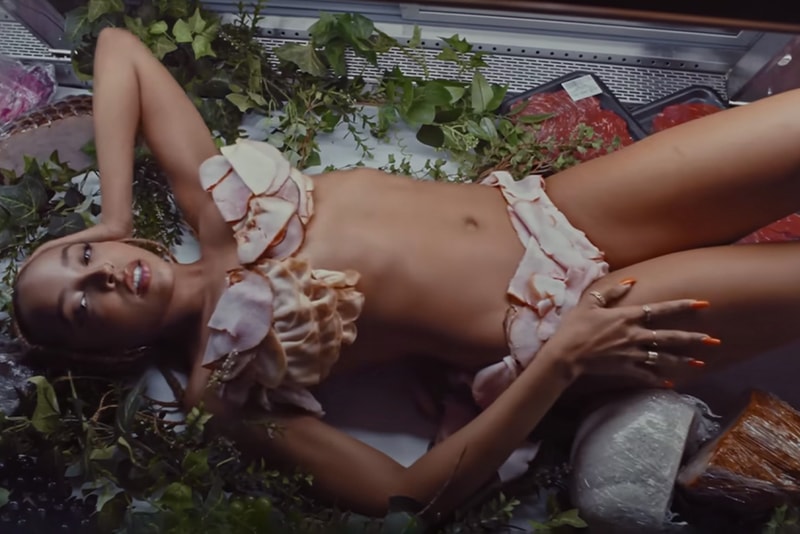 Sex & Dating
Tinashe's "Needs" Taps Iconic NSFW 'Sex and the City' Scene
"Eat my p-ssy boy don't call me."
Tinashe's "Needs" Taps Iconic NSFW 'Sex and the City' Scene
"Eat my p-ssy boy don't call me."
Multi-hyphenate artist Tinashe released a music video for her second single this year, "Needs," tapping everyone's favorite sex-positive show.
The cheeky visual, directed by Sammy Rawal, follows Tinashe and co as they make a grocery shop their playground. Frolicking through the aisles, the criminally underrated R&B artist lists her needs. "Open 24 hours there's no shirt or shoes required / Eat your heart out… my body is buffet / Eat my pussy boy don't call me."
Playing on the song's cheeky lyrics, the visual pans to Tinashe in the deli meats section, with her body covered by an assortment of meats and cheeses — cue "My body is a buffet." The scene makes reference to the 2008 Sex and the City film, where Samantha Jones (played by Kim Cattrall) posed as a nude sushi boat as a Valentine's Day gift for her lover, Smith Jerrod (played by Jason Lewis).
Tinashe's "Needs," takes a different approach: a bop for the girls. View the NSFW moment below.
---
Share this article