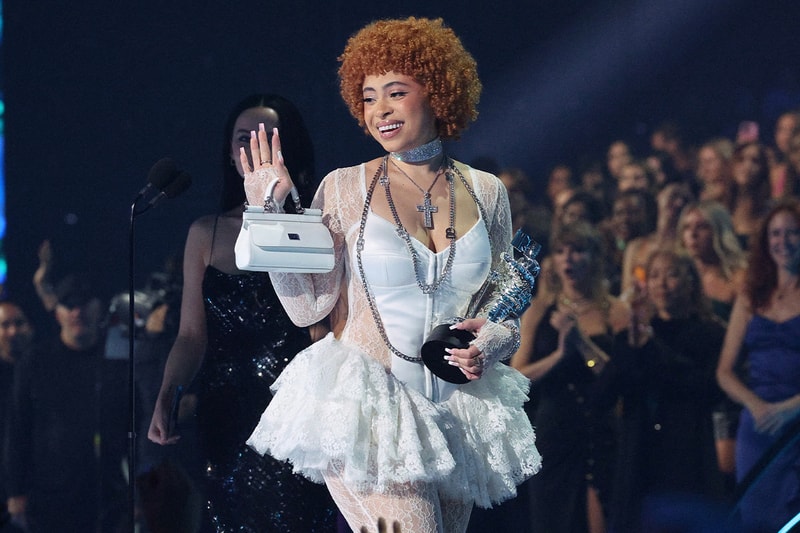 Ice Spice References Iconic VMA's Kiss
Designed by D&G.
Ice Spice makes a fashion reference to an iconic MTV VMA's moment.
Tapping her Munchkin-esque essence, Bronx rapper Ice Spice received her "Best New Artist" Award in a full white, lace babydoll look designed by none other than Dolce and Gabbana. What fans didn't notice at first glance was the iconic reference made by the artist who never puts down her purse. The moment, in particular, was the then-highly controversial onstage makeout sesh between Madonna and Britney Spears. Specifically, Spears' short white dress that served deconstructed wedding gown.
Surprisingly, older viewers were not here for the moment, claiming it was "tired," and also inaccurate, as Spears' dress was meant to reference Madonna's 1984 VMA's dress. However, the "munchkins" quickly flocked to share their thoughts. "I disagree with most of the comments, I think it's amazing that she's referencing possibly two pop icons, it means she has respect for the generation that came before her. it can only be a good thing and I think Miss Ice Spice is here to stay"
Ironically, that iconic moment was meant to be shared between Madonna and Jennifer Lopez. "Yes, that is actually true," Lopez told E! News easier this year. "I was filming a movie in Canada. We had met — me, her and Britney — to do it, at [Madonna's] home. I just couldn't get off the film, so we couldn't do it. Then they got Christina Aguilera, I think, to do it."
In other news, Bebe Rexha literally rocks out with her ass out.
---
Share this article