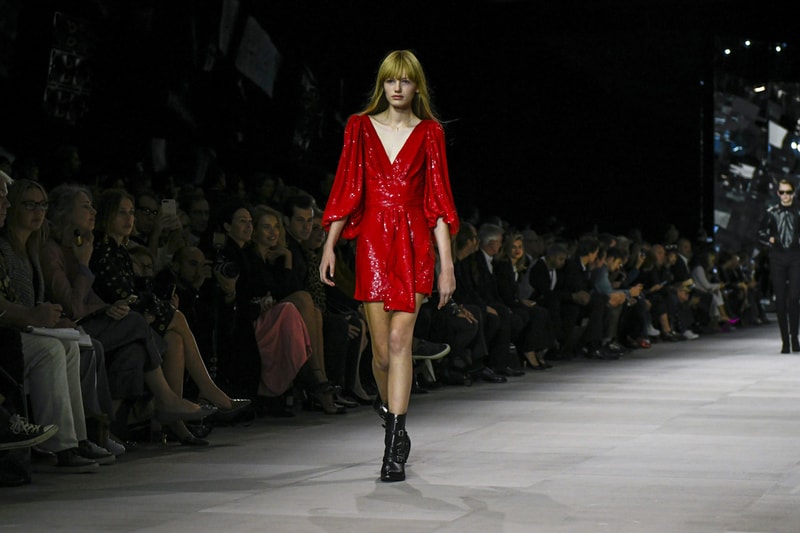 Fashion
Hedi Slimane's Debut Celine Collection Is Still On the Tips of Our Tongues, But Why?
Find out what fashion insiders had to say about the SS19 show.
Hedi Slimane's Debut Celine Collection Is Still On the Tips of Our Tongues, But Why?
Find out what fashion insiders had to say about the SS19 show.
Hedi Slimane's debut Celine collection has been on the tips of everyone's tongues recently. After the designer's appointment as creative, artistic and image director back in February, the luxury fashion house kept mum for quite some time and then revamped key fixtures. Things as significant as the rebranding of the logo, newly designed handbags and striking campaign imagery were glimpses into the new direction Slimane was carving out for the 73-year-old, LVMH-owned Parisian company. Following these changes, critics and onlookers wondered if Slimane's first Celine collection would move away from Phoebo Philo's designs.
Days before the Spring/Summer 2019 runway presentation, French newspaper Le Figaro published Slimane's only interview on Celine. In the feature, he spoke in detail about his vision for Celine and the "lifelong story" of his design work. When speaking of his perception of Celine, he shared: "I've always been really sensitive to this notion of high quality, this inherent savoir-faire of the house. In this context, the idea of playing with the codes of the bourgeoisie is rather interesting. At Celine, the weight of the past is not as strong as at Dior or Saint Laurent. We can break free of it more easily." For the SS19 show, Slimane tapped into his roots and presented a range reminiscent of his time at Saint Laurent.
The responses to the presentation have been split straight down the middle, positive and negative. Vanessa Friedman, fashion director and chief fashion critic of The New York Times felt the collection was "the essence of his YSL." She also noted, "when designers hop from heritage house to heritage house they make some nod to that heritage." Similarly, critic Angelo Flaccavento believes Hedi's show was "Slimane doing the Slimane cliche." Notably, the range highlighted straight leg trousers which pointed to his past at Dior Homme where he worked for seven years as creative director.
Flaccevento further drove home a question of if the revamped fashion house under Slimane is right for the industry right now:
"It's an idea of mock-alternative French chic he has already explored at Saint Laurent. Which poses a problem, since at Saint Laurent Anthony Vaccarello is carrying on the line set by Hedi before him. Now we have two identical brands, with the paradox that the original version is at Celine."
Despite the musings which point to a particular perspective of the SS19 range, data reigns supreme. While Slimane was at Saint Laurent, the fashion house's annual revenue went from $400 million USD to $1 billion USD, according to The Financial Times. The valuation was thanks to the designer's rock'n'roll aesthetic which led to his customer base purchasing specific items like accessories, as reported by Fashionista three years ago. This points to how Celine's revenue could dramatically rise under the direction of Slimane. His fans could ultimately move away from Saint Laurent in favor of Celine.
An interesting viewpoint came from The Fashion Law's founder, Julie Zerbo. During the livestream of the show, Zerbo tweeted, "When you are either as incapable or unwilling to adapt as Hedi Slimane currently is, that is when you launch your own line, no?" These sentiments were also shared by The Financial Times' fashion editor Jo Ellison. In her review, she shared, "why didn't LVMH just give Slimane his own label? He clings on to the dogma of his aesthetic so tenaciously, and his clothes remain the same regardless of the label — why not just put his name on them?"
Now that we've gotten through a bit of the critical ideas surrounding the show, it's time to highlight the lack of diversity on the runway. In this case, Celine enters the diversity conversation due to its casting. Garage's fashion features editor, Rachel Tashijan, wrote that the casting was the show's "true major issue." Notably, she also shared the show was "a disconnect with what fashion wants to stand for right now."
Fashionista's deputy editor Tyler McCall expanded on this notion. In detail, she explored the lack of diversity in her review:
"It is one thing if he wants to propose his particular brand of rock'n'roll, louche fashion vision to a more mature audience, but I cannot comprehend why he insists on showing on models who look prepubescent… are those really the types ready to shell out thousands for another slim-cut suit? I'm not so sure."
Philo's departure as creative director shed light on her seemingly omnipresent following. Her fans who are dubbed Philophiles actually met in Paris before the SS19 show to show solidarity in support of the former director. Notably, these avid fans bought Philo's Celine over and over again due to her tireless vision of what a sophisticated woman should wear. But as mentioned previously, Slimane's fans could take over from here and reel in high revenue for LVMH.
One of the participants of the gathering, blogger Tina Lundin, calls herself a "devoted Philophile." She shared that Philo's Celine designs "don't expect you to be a certain way, you can be whoever you are, whoever you want to be. It feels like Phoebe, the designer, doesn't have her woman on a pedestal. She has complete faith in you and her job is to give you options." As her era ends, over the course of her reign, a slew of high fashion designers have risen and gained fanbases of their own right. The Row is in this number.
Despite the negative clap back, Slimane's debut has also been met with positive feedback. Stylist and fashion consultant Ana Gimeno Brugada noted that the collection was "impeccable" and notably another view of his ongoing "personal vision of all time." The Cut's Emilia Petrarca also pointed out that in this range there were valid improvements. Dazed offered another positive, relevant perspective. Writer-at-large Dean Mayo Davies reported that Hedi's presentation showcased his "historic skill" and highlighted he applauds "a designer who marches to the beat of his own drum."
In the fashion industry, the torch is at times passed onto predictable individuals. At Celine, it's clear that Hedi will continue to shape his own narrative outside of Philo's. After all, as previously mentioned whenever he follows his passions, it proves to be profitable. Flaccavento notes, "it will cater to a younger, cooler audience." Only time will tell.
Share this article