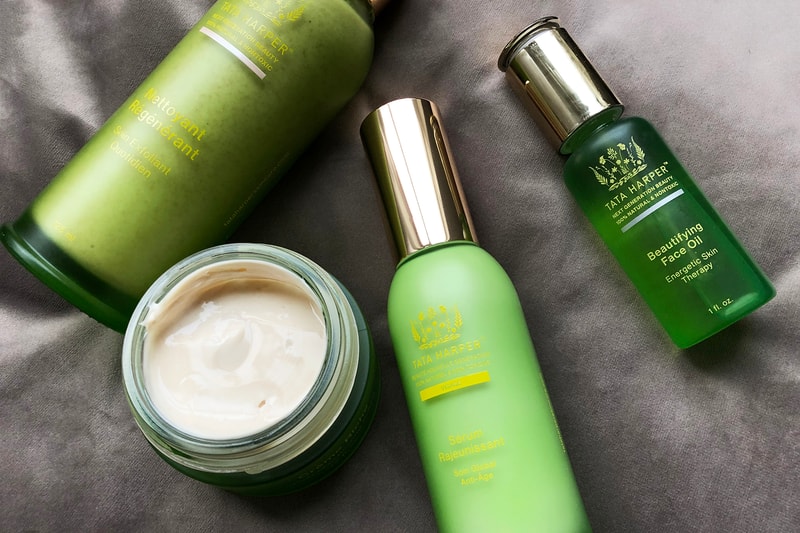 Beauty
Tata Harper on the Benefits of Using All-Natural Skincare Products
The green beauty mogul also shares her best tips to maintain winter skin.
Tata Harper on the Benefits of Using All-Natural Skincare Products
The green beauty mogul also shares her best tips to maintain winter skin.
The beginning of a new year offers an opportunity for us to rethink our daily habits, as small as what we choose to apply onto our skin every day. If you're contemplating switching over to an all-natural skincare regimen but that it feels like an alien territory, our interview with green beauty mogul Tata Harper may address some of your concerns.
As one of the leading figures of the natural beauty movement, Harper has answered a bunch of questions that many have about green beauty products in our interview. From the pros of having a natural skincare routine, to commonly-found toxic ingredients that we should watch out for, continue reading to learn more.
For more skincare tips and tricks, be sure to follow HYPEBAE Beauty on Instagram.
What are the biggest benefits of switching over to a completely natural skincare regimen?
Switching over to a 100-percent natural skincare regimen means you are not exposing yourself (and your body's largest organ, the skin) to any artificial chemicals. Unfortunately, in the beauty industry there are a lot of industrial and artificial chemicals. It's so important to be using natural ingredients that are real and pure.
I find that some people still feel that natural doesn't work. It's actually the opposite — in many cases they are more effective than synthetics since they are biocompatible with your skin. Natural ingredients are actually the most powerful ingredients in the world, and manufacturers of everything from medicine to skincare have always looked to natural ingredients for their benefits. Synthetic ingredients are, in many cases, cheaper and more predictable versions of natural ingredients created in labs to simplify the manufacturing process.
What are some harmful ingredients commonly found in skincare products that we should avoid?
There are so many, but here are a few to avoid. Parabens, cyclomethicone (D4) and cyclopentasiloxane (D5), methylisothiazolinone, BHA, BHT, as well as formaldehyde donating preservatives such as:
DMDM hydantoin
Diazolidinyl urea
Imidazolidinyl urea
Quaternium-15
Hydroxymethylglycinate
2-Bromo-2-nitropropane-1,3-diol
5-Bromo-5-nitro-1,3-dioxane
The terms "natural" and "organic" are often used loosely in the beauty-sphere these day. What are the differences between the two?
This is a question I get a lot — there is so much confusion among customers with terms like "organic" "natural," "clean," "vegan," etc.
The term "organic" has to do with the farming method. When ingredients are farmed organically, they're grown without synthetic fertilizers or pesticides. When a product has 95-percent of its ingredients farmed that way, it is considered organic, and typically has a seal from the USDA certifying that 95-percent of its ingredients has been farmed organically.
"Natural" like we are, means the complete formula is 100-percent synthetic free. This is not necessarily a specific regulating body. There are third party organizations like Ecocert, who we work with, that certify that all of our ingredients are natural, say what percentage is farmed organically, and certify our products with a seal. For us, the organic content varies but all of it is 100-percent natural. It's important to look for a certification that really spells that out, since there's no regulation on using the term natural, and it can mean there are only two natural ingredients. Getting a certification is optional, and it's what we do to give our customers more clarity.
Breakouts are a concern among many beauty enthusiasts. How can people with different skin types incorporate natural skincare products to treat acne?
Acne is a cycle, and there are several factors that are important to address in order to disrupt the cycle and improve the skin, regardless of your skin type.
First, blocked pores create a hospitable environment for acne causing bacteria. These blockages are a result of dead skin cells, pollution, makeup and excess sebum. [I'd recommend] using a cleansing oil, such as Purifying Cleanser or Nourishing Oil Cleanser, to thoroughly remove dirt, debris and oil (remember, like dissolves like!). Then, follow up by cleansing with an exfoliant like Regenerating Cleanser to remove dead skin cells and clean out the pores. Alternate your Regenerating Cleanser with Clarifying Cleanser, which helps reduce sebum and soothe aggravated and inflamed skin.
Secondly, inflamed skin and a compromised skin barrier are part of what keeps the skin in the acneic cycle. Protecting skin barrier lipids from oxidation is critical, and replenishing Omega-3 Fatty Acid, Vitamin C and Vitamin E is a key step to achieving this. We recommend our Retinoic Nutrient Complex and Beautifying Face Oil to replenish skin lipids and boost antioxidant capacity.
What are some tips to maintain great skin during the colder months of the year?
It is a battle for many people to stay hydrated during the winter. It's important to keep as much moisture locked into the skin as possible. I like to use a lot of Hyaluronic Acid in the winter. During colder months, I will drench my skin with our Hydrating Floral Essence and while it is still wet I'll apply Crème Riche, which is our super rich moisturizing creme that instantly leaves skin soft and supple. To finish, I'll add Retinoic Nutrient Face Oil. This complex locks in all the moisture and is a great barrier to help retain all my hydration. My skin is left looking radiant and hydrated through a cold, dry winter day.
What other natural beauty products stocked at Nordstrom Presentation at Space NK are you a fan of?
ILIA Limitless Lash Mascara: I don't wear much makeup, but for a night out I love ILIA's mascara as the finishing touch to my look — the brush is divine.
Rahua Rahua Elixir: I love using Rahua shampoo and conditioner in my hair and also a few times a week applying the brand's elixir. It keeps my hair shiny, bouncy and soft.
Odacité Crystal Contour Gua Sha Rose Quartz Beauty Tool: I love giving myself a facial massage at night with this.
---
Share this article