Fashion
All the Best Fashion Trends and Brands of the 2010s
Everything from hair feathers and wrap dresses, to the rise of luxury streetwear.
All the Best Fashion Trends and Brands of the 2010s
Everything from hair feathers and wrap dresses, to the rise of luxury streetwear.
It seems like it was just yesterday we entered 2010, fresh-faced in our best Vanessa Hudgens-inspired outfit, blasting Lady Gaga and Beyoncé's "Telephone" on full volume on our iPhone 4s. We've gone through a whole decade of fashion, shifting through trends, both good and bad, that shaped fashion as we know it today. In the past 10 years, we have seen brands like Off-White™ and Supreme fundamentally change the fashion landscape, the resurrection of '90s labels like Juicy Couture and Baby Phat, as we've watched as Gucci, Balenciaga, Dior, Fendi and more luxury brands have made their comebacks in full force.
With 2019 coming to an end, we're reminiscing over the past decade, looking back at the biggest and most note-worthy trends and designers that shaped the 2010s. Keep reading below for a blast from the past, and don't miss our previous decade roundups here.

2010
The decade kicked off with the death of Lee Alexander McQueen, who tragically passed away after ending his life on February 11 – a death that shook the fashion community as a whole. At the time, we were wearing leather jackets, designer denim, and Phoebe Philo paved the way for minimalism and what was to become the "Céline Girl" in her first collection for the Parisian label. At the time, the designer described her vision for the collection as "A kind of contemporary minimalism," acting as the catalyst for female power dressing with strong and tailored pieces for the working woman. Philo brought the house of Céline into the spotlight, and became one of the most important names of 2010.

2011
Bandage dresses, hair feathers, dip-dyed hair – 2011 was the year of fashion faux-pas. It was also the year Givenchy designer and creative director Riccardo Tisci debuted his now iconic rottweiler graphic, famously worn by Kanye West. The T-shirt became one of the trendiest pieces of the year, alongside citrus and fruit-printed dresses, bohemian-inspired headbands and feminine suits.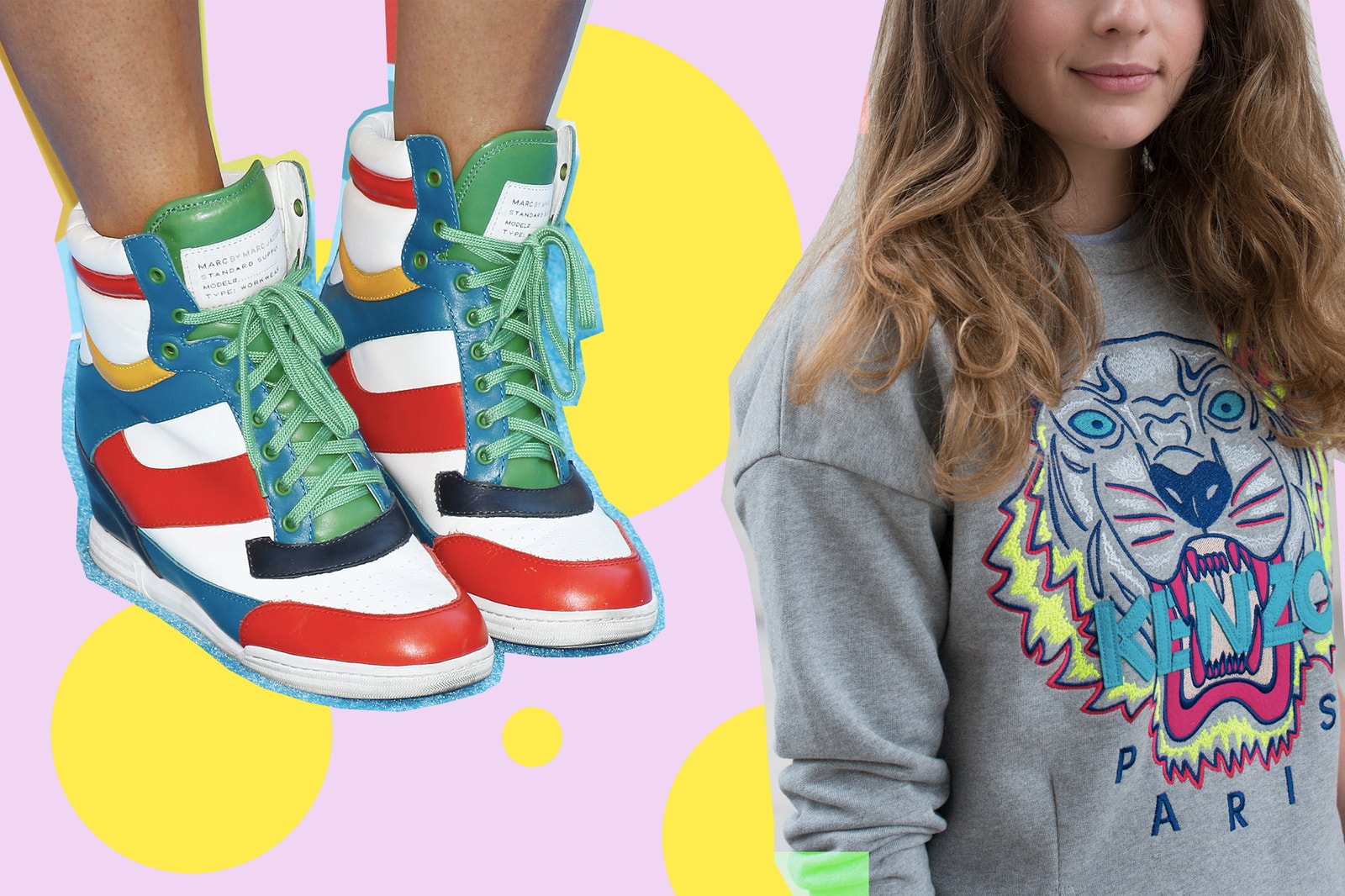 2012
Hello peplum skirts, dresses and everything in-between. The silhouette swept the industry and brought back the feminine aesthetic through eye-catching, yet wearable pieces like those seen on the runway at Jason Wu, Kenzo and more. Isabel Marant's famous wedge sneaker was born, creating a trend and silhouette that was buried almost as quickly as it rose to prominence. Marc Jacobs, Nike and more all jumped on the trend, and the shoes were all that sat at the top of our wish list.
In addition to Isabel Marant, Kenzo designers Carol Lim and Humberto Leon also rose to fame following the iconic tiger and eye graphic sweatshirts and T-shirts. It was a time of bare midriffs, all things American Apparel, head-to-toe prints and gladiator sandals. An eclectic melting pot of fashion's biggest trends, hand in hand. 2012 was also the year that Virgil Abloh launched Off-White™, then called PYREX VISION, which would grow to become one of the biggest brands and a decade-defining story we've closely followed in the eight years since.

2013
The short suit trend was one of the biggest looks in 2013, as well as the boy-ish Bermuda shorts that were present on almost every single runway. Slip dresses, cardigans and beanies made up our wardrobes, and for some reason we were obsessed with designer parody pieces from Homies, COMME des FUCKDOWN and more.
Ann Demeulemeester left her eponymous label, Jil Sander left Jil Sander (again), and Marc Jacobs departed from Louis Vuitton and the French house appointed Nicholas Ghesquiere, marking a new era for the luxury label. LVMH bought a minority stake in Jonathan Anderson's label JW Anderson, and the designer became creative director for Loewe.
Ultimately, 2013 will be remembered as the year Kanye West brought YEEZY to adidas, a defining moment that firmly market his ascension into fashion, marking the beginning of his fashion empire.

2014
Fashion saw a shift in 2014. Kim Kardashian and Kanye West landed their own Vogue cover, and Kendall Jenner officially started her modelling career walking for Marc Jacobs. Jeremy Scott, who was appointed as the creative director for Moschino the year prior, merged the worlds of fashion and fast food, debuting a McDonald's inspired collection that birthed the ever-growing quirky and tongue-in-cheek food trend. Alexander Wang also defined the term "elevated sportswear" through his collaboration with H&M, which featured everything from boxing gloves to athleisure-inspired apparel.
2015
Enter the adidas YEEZY Boost. Kanye West released YEEZY Season 1, which featured the first iterations of the YEEZY Boost sneaker in the "Pirate Black" and "Turtle Dove" colorways, which were worn by West himself at the CFDA Awards the same year. Since the release, we've seen the shoe take on plenty of silhouettes and colorways, still causing chaos among sneakerheads and streetwear lovers all over the world.
In addition to Kanye's spotlight, Raf Simons shocked us by leaving Dior with immediate effect, and Alber Elbaz parted ways with Lanvin. 2015 also marked a big year for Olivier Rousteign, who put Balmain front-and-center through his collaboration with H&M, which starred Kendall Jenner, Gigi Hadid and more.

2016
In March, Demna Gvasalia presented his first collection for Balenciaga, and put the luxury fashion house back on the map. Gvasalia also birthed the $1,050 USD designer hoodie movement through his label Vetements, including the "May The Bridges I Burn Light The Way" hoodie which became an ultimate grail for streetwear lovers. Alessandro Michele won International Fashion Designer of the Year Award at the British Fashion Awards, following his appointment at the famous Italian house the year prior. Michele was the catalyst of logomania, and through his new direction for the label, brought it to the front line of fashion. We also started seeing heritage labels like Louis Vuitton, Dior and Fendi return to the spotlight, bringing back their iconic prints and tapping into the archives.

2017
In January, Kim Jones debuted the now-iconic Supreme x Louis Vuitton collaboration during Paris Fashion Week Men's, marking the shift for the already fluttering luxury streetwear industry's shift into the mainstream. Supreme's cult following was paired with Louis Vuitton's luxury heritage, creating a collection that appealed to both the traditional luxury customer as well as the younger consumer; a business model all heritage brands quickly began adopting.
In 2017, Balenciaga also birthed the biggest trend of the year – the dad sneaker. The now iconic Triple-S shoe released late 2017, sporting a stacked sole that reminisced an over-sized "ugly trainer," and arrived in three colors. The trend caught on, and before we knew it, we were all stomping around in huge sneakers from Louis Vuitton, FILA, Eytys and everything in-between.
2017 also marked Christopher Bailey's departure from Burberry, which had just seen a huge upswing as the vintage trend began growing. Former Givenchy creative director Riccardo Tisci was announced as his successor, and brought a new business model to Burberry that took inspiration from the unique streetwear "drops" system.

2018
2018 was without a doubt the year of Virgil Abloh, who was appointed as Louis Vuitton's first black creative director. With his streetwear background, Abloh was proof that the luxury industry had changed for good, collapsing the pre-established divide between what we consider 'luxury' and 'streetwear.' Abloh succeeded Kim Jones at the Parisian house, and Jones went on to replace Kris Van Assche at Dior Homme. The designer utilized the power of collaboration, and looked to Matthew Williams of streetwear label 1017 ALYX 9SM, as well as Yoon Ahn of Japanese streetwear label AMBUSH to create his collection, which also featured work by famous artist KAWS. It goes without saying that Virgil Abloh and Kim Jones were the biggest names to watch, and they defined the luxury streetwear trend that only continues to grow.

2019
With 2019 coming to a close, we've seen so many trends come and go. Simon Porte Jacquemus' eponymous label Jacquemus became one of the fastest-growing labels, and we saw celebrities like Kim Kardashian, Kylie Jenner and more sport the brand's signature tiny bag, Le Chiquito. The accessory sparked the so-called "tiny bag trend," which proved that fashion isn't always functional, and was the most sought-after piece throughout the year. Bottega Veneta also owned 2019, following Daniel Lee's appointment at the Italian house. The pouch bag became influencer's accessory of choice, and all of a sudden we wanted all things leather.
It would be an understatement to say that 2019 was the year of collaborations, with everything from a collection by Dior and suitcase brand RIMOWA, to KAWS x Uniqlo, JW Anderson x Converse and so many more. In the sneaker world, we've seen more crossovers than we could have ever imagined, with luxury labels like sacai and COMME des GARÇONS teaming up with Nike, and most recently, Prada with adidas.
It remains to see what the new decade has in store, but as we head into 2020, we're getting ready for another decade of memorable trends you won't want to miss.
Share this article