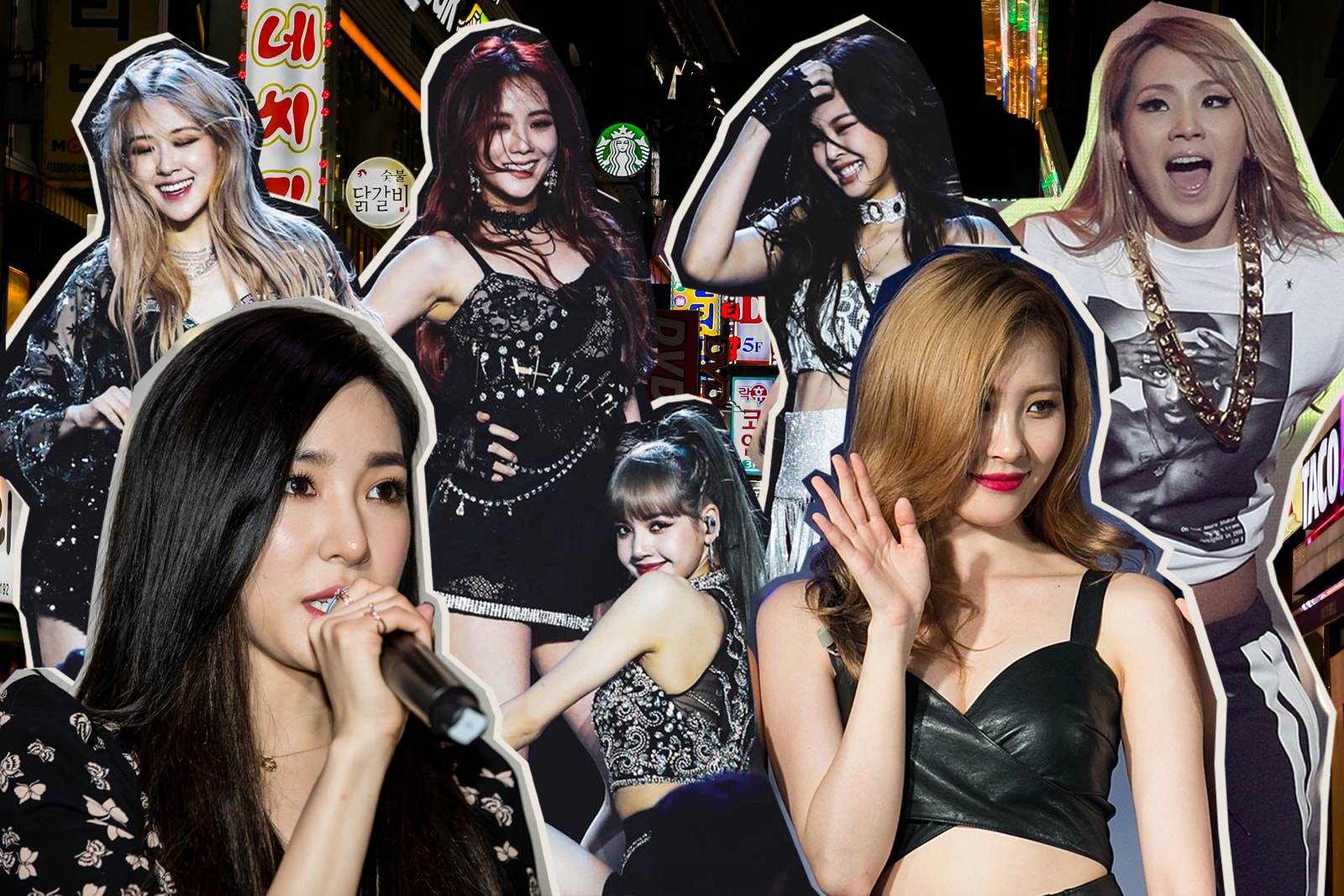 A Timeline of How K-Pop Became a Global Phenomenon in the 2010s
From BLACKPINK to BTS, K-pop acts are dominating the music industry.
The K-pop world has seen phenomenal growth in the 2010s, with artists like BLACKPINK, PSY and BTS reaching milestones in the global music industry. From the massive success of "Gangnam Style" to the introduction of a K-pop award category at the MTV VMAs, what once used to have a smaller, cult following has now become an internationally popular genre.
While K-pop acts made history in music by amassing some of the highest views on YouTube and receiving honors at the Grammys and Billboard Music Awards, a number of scandals and controversies also shook the South Korean entertainment industry in the last decade. Taking fans down memory lane, we've put together a timeline of the key events from this decade in K-pop. Read on to learn how Korean pop music has evolved in the 2010s.
If you're new to K-pop, read about
the biggest entertainment companies
in South Korea. And while you're here, take a tour inside
Tiffany Young's huge tour closet
.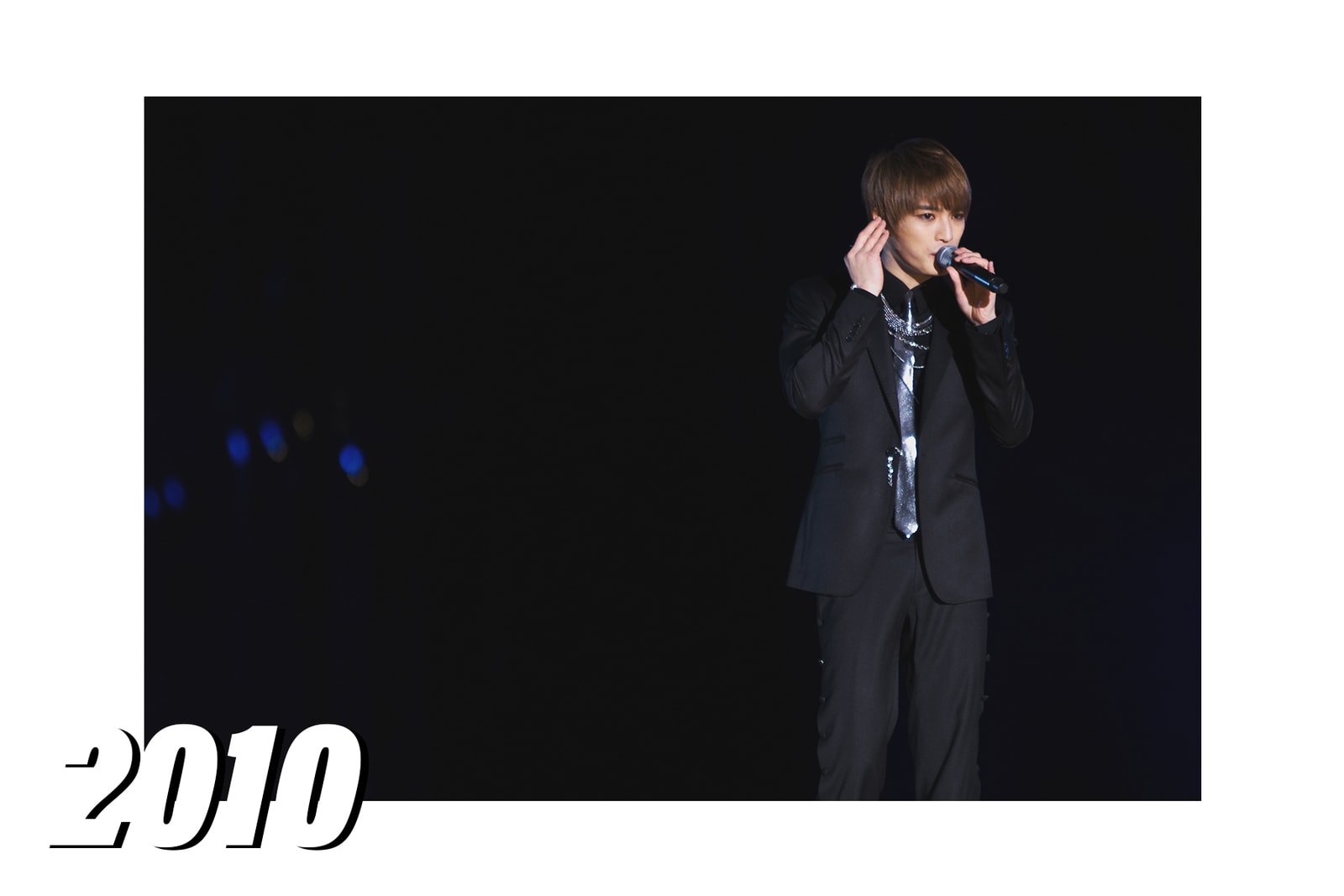 Jay Park officially departs from 2PM.
After his debut with the seven-piece group in 2008, Jay Park faced controversy surrounding a 2005 post on Myspace from his trainee days that contained derogatory comments towards Koreans and the K-pop industry. Following the backlash, JYP confirmed the artist's official departure from the group, leading to fans around the world organizing silent protests and flash mobs calling for his return.
Jaejoong, Yoochun and Junsu leave TVXQ to form JYJ.
Once a five-person group under SM Entertainment, TVXQ parted ways after Jaejoong, Yoochun and Junsu filed a lawsuit against the company in 2009. Following their departure, the three singers signed a new contract with Avex, creating a new group dubbed JYJ, and released their debut Japanese album in 2010. The lawsuit finally came to an end after about two years, with both parties agreeing they would mutually refrain from interfering with each other's activities.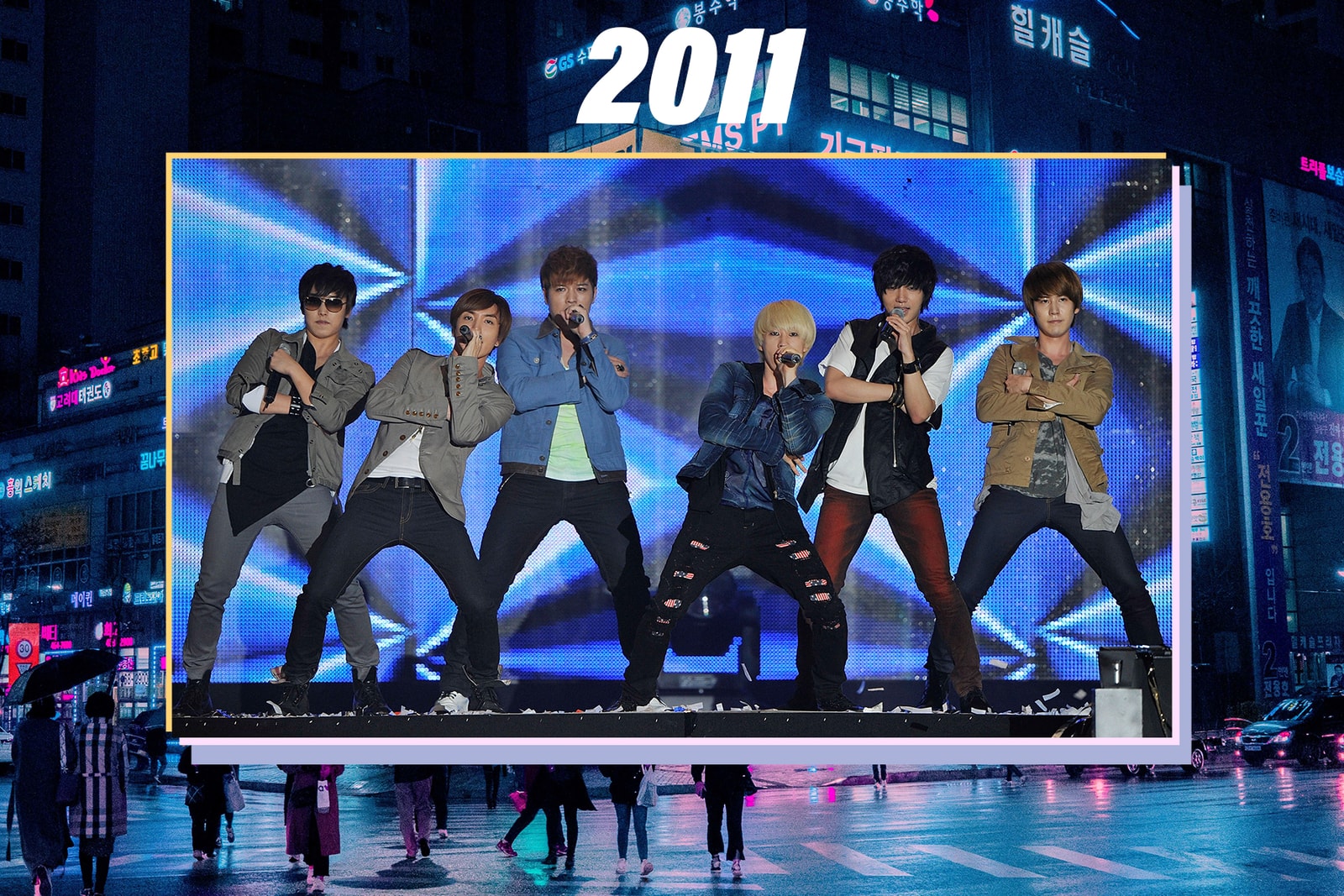 The Hallyu wave thrives, spreading to Europe.
Hallyu, otherwise known as the Korean wave, began to pick up in areas like Europe where SM Entertainment held concerts and tours featuring artists including Girls' Generation, Super Junior, SHINee, TVXQ and f(x). Tickets were sold out in 15 minutes, and fans who weren't able to make the show organized K-pop flash mobs in front of the Louvre Museum.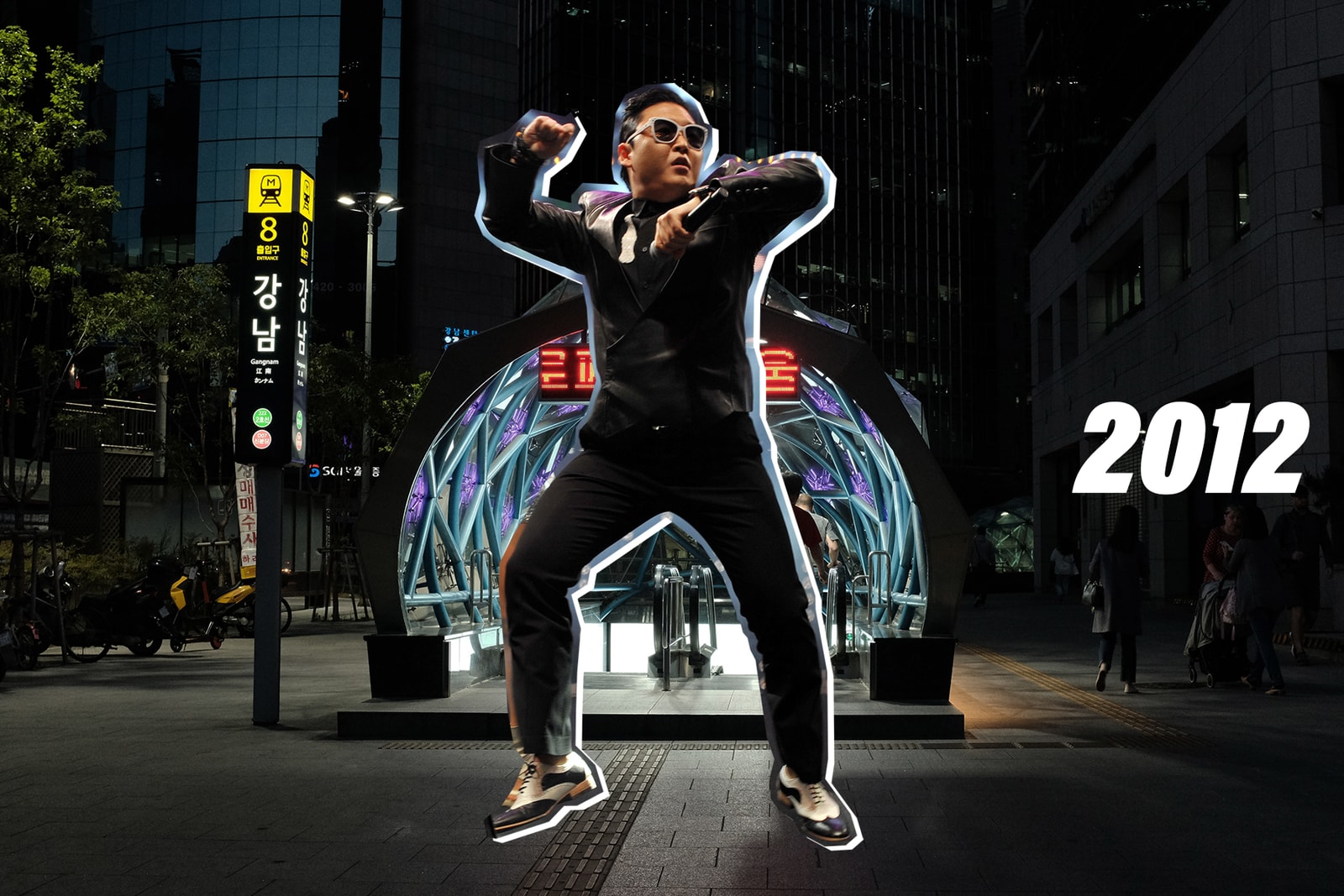 PSY makes his global breakthrough with "Gangnam Style."
Well-known for his energizing stage presence in South Korea ever since his debut in 1999, PSY became one of the biggest breakout stars in 2012 with his catchy track "Gangnam Style." The music video became the first YouTube video to reach one billion views, surpassing Justin Bieber's "Baby" in just four months.
Hip hop becomes a mainstream genre in K-pop with Mnet's rap survival show, Show Me The Money.
With its first season featuring Brown Eyed Girls' Miryo, rap audition show Show Me The Money took a pivotal role in making hip hop a mainstream genre in Korea. The following installments featured the likes of iKON's Bobby, Block B's Zico and WINNER's MINO.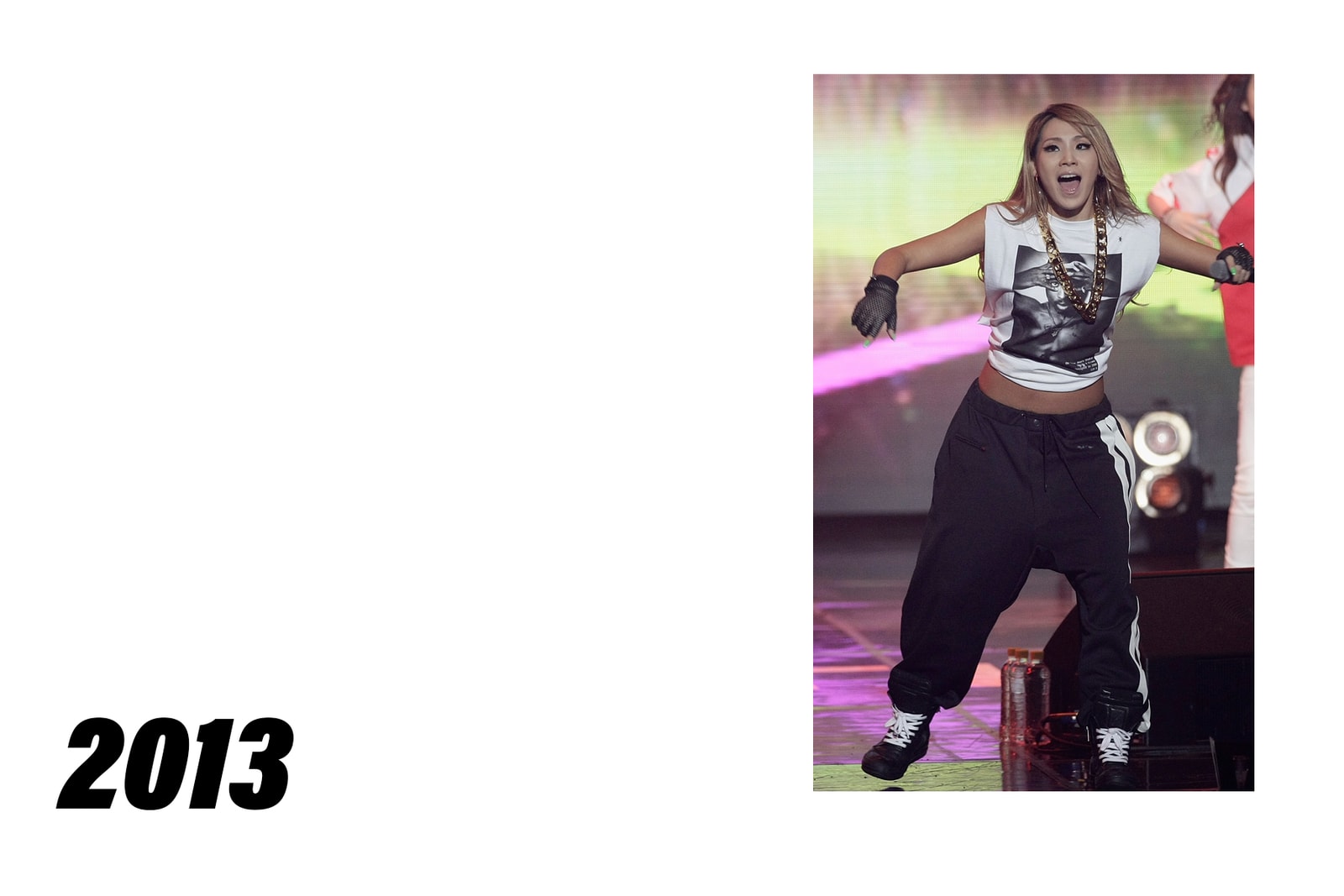 CL makes her solo debut with "The Baddest Female."
Following her debut with 2NE1 in 2009 and releasing a number of hits including "I Don't Care" and "I Am The Best," CL kicked off her solo career with "The Baddest Female" in 2013. The following year, the YG Entertainment announced the artist would be venturing to the global market by debuting in the United States, later collaborating with big names like Diplo.
EXO becomes one of the hottest K-pop groups with first studio album, XOXO.
EXO became one of the biggest K-pop groups following the release of its first studio album titled XOXO. With hit tracks including "Wolf," "Growl" and "Miracles in December," the group won a number of awards including Song of the Year at Melon Music Awards, Rookie Artist of the Year at Golden Disk Awards and Album of the Year at Mnet Asian Music Awards.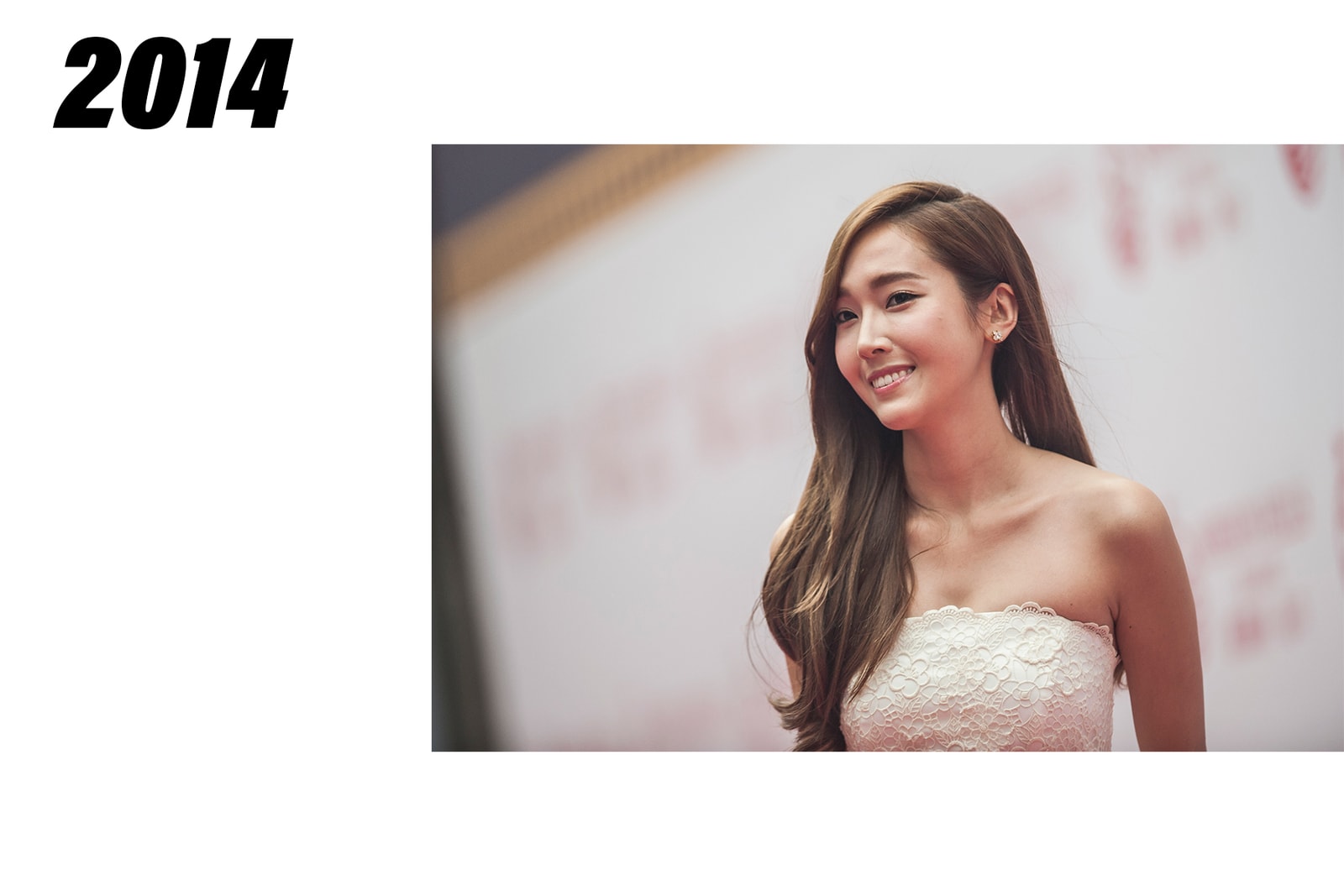 Jessica Jung leaves Girls' Generation.
In September, former SNSD member Jessica Jung revealed via Weibo that she had been unfairly "forced out" of the group, leaving fans shocked. Amid rumors, the star was spotted in New York City with her unofficial boyfriend Tyler Kwon, who backed the launch of her fashion line Blanc & Eclare. Shortly after, SM Entertainment confirmed the news that Girls' Generation would move forward as an eight-member group, and that it would still continue to manage Jessica's solo activities.
More major idol groups from SM, YG and other companies make their debut.
2014 was a big year for the industry, with boy bands like GOT7 and WINNER as well as girl groups Red Velvet and Mamamoo making their debut.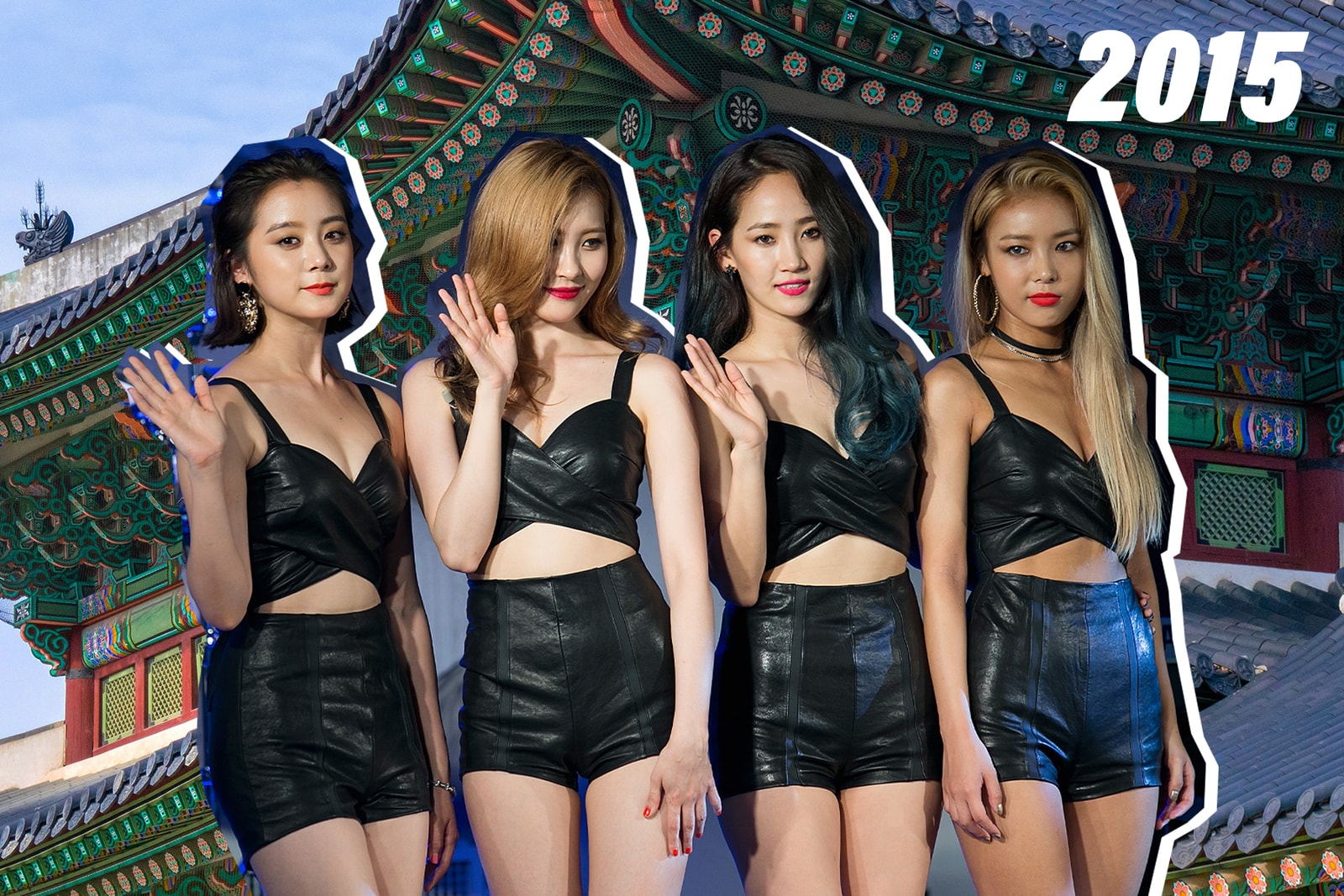 Sunmi returns to Wonder Girls for the group's comeback.
Following a two-year hiatus, JYP announced Wonder Girls' much anticipated comeback. Sunmi, who had left the group in 2010, rejoined the girl band, while Sunye and Sohee who had departed from the company in 2013 and 2014 respectively did not. Moving away from the conventional K-pop girl group style, Wonder Girls became a four-member band with each member playing an instrument — Yubin on the drums, Yeeun on the keyboard, Hyerim playing the guitar and Sunmi playing the bass.
Idol group members including Amber Liu make solo debuts.
While continuously creating new music, a number of members of popular K-pop groups made their solo debut in 2015. SHINee's Jonghyun dropped his first mini album BASE, f(x)'s Amber Liu released her debut EP Beautiful and Girls' Generation's Taeyeon came out with I.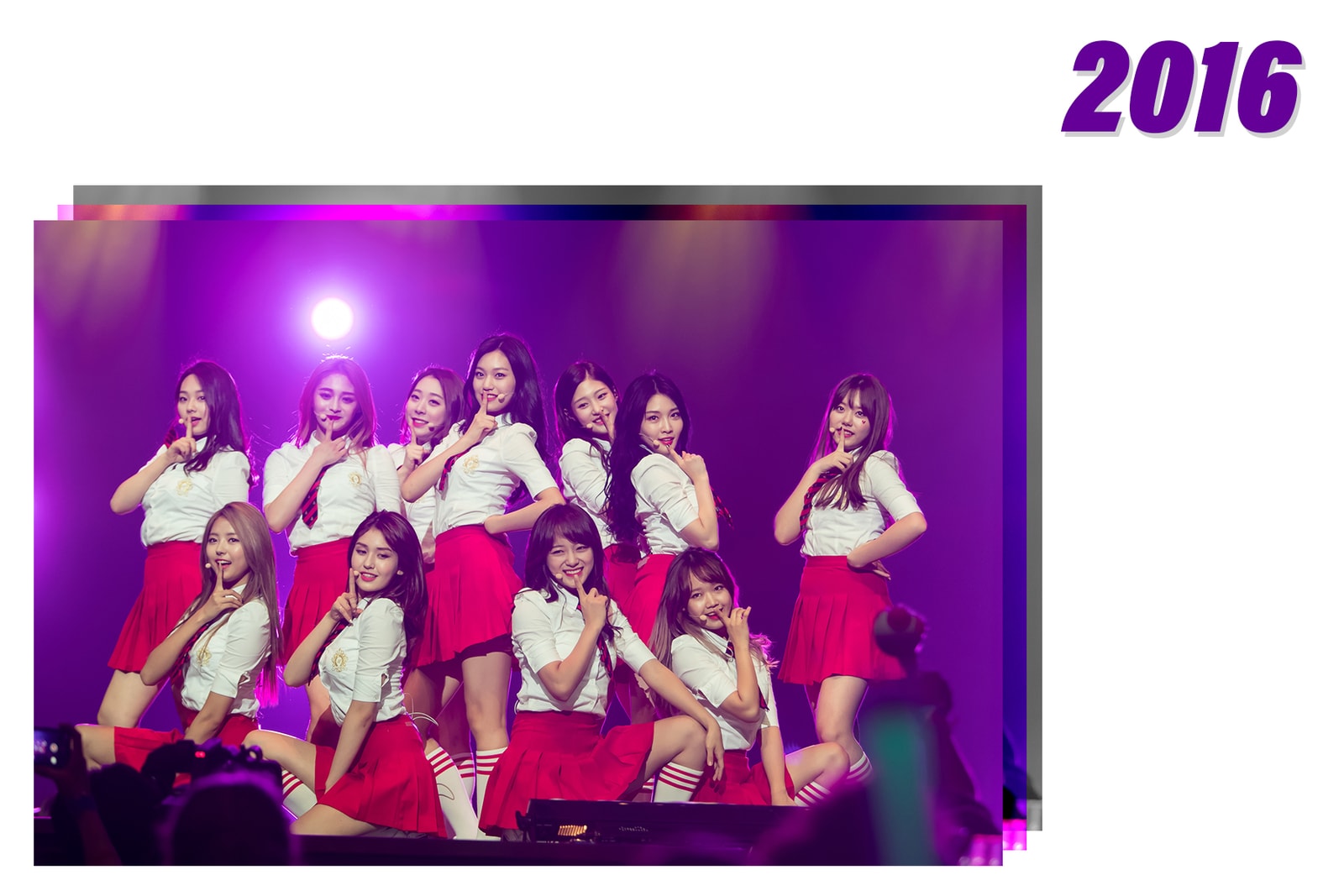 Mnet's K-pop idol survival show Produce 101 takes over Korea.
Mnet's new survival audition show created a sensation in the K-pop industry when 101 girls appeared all in one frame, dancing the exact same moves to the song "Pick Me." 11 members were voted by the public to create a year-long project group dubbed IOI, leading to the discovery of some of the hottest K-pop acts right now including Chungha. The success of this show led to more seasons featuring male idols as well.
BLACKPINK debuts, while CL releases her first solo single "Lifted" in the U.S.
Dubbed the "next 2NE1," BLACKPINK made its powerful debut in August, 2016 with its single album Square One, featuring "Whistle" and "Boombayah." The two tracks reached numbers one and two on the Billboard World Digital Songs chart, making the girl group the third Korean act to hold the top two positions following PSY and Big Bang. Winning first place on KBS' weekly music program Inkigayo just 13 days after their debut, BLACKPINK broke the record for the shortest time for a debuting girl group to win a music program. Meanwhile, CL released her debut single in the U.S. the same month. Titled "Lifted," the song was first performed on-stage on The Late Late Show with James Corden.
2NE1 officially disbands.
With CL focusing on growing her career in the United States, Park Bom on hiatus since 2014 after a controversial drug scandal, Sandara Park focusing on her acting career and Minzy having left the group earlier the same year, YG Entertainment made the official announcement that 2NE1 had disbanded. Following the news, the group released one last song in January, 2017 for fans, titled "Goodbye."
Big Bang releases the final installment of its 10-year anniversary project, MADE Series.
Marking the group's comeback after a three-year hiatus, MADE was preceded by four single albums in 2015. The final installment was dropped in December, 2016. Following the release, four out of five members began their enlistment in the Korean military, starting with G-Dragon, then Taeyang, Daesung and T.O.P. Opening with "Fxxk It" and also featuring hits "Bang Bang Bang" and "Loser," MADE was selected as one of the best Korean albums of 2016 by Billboard.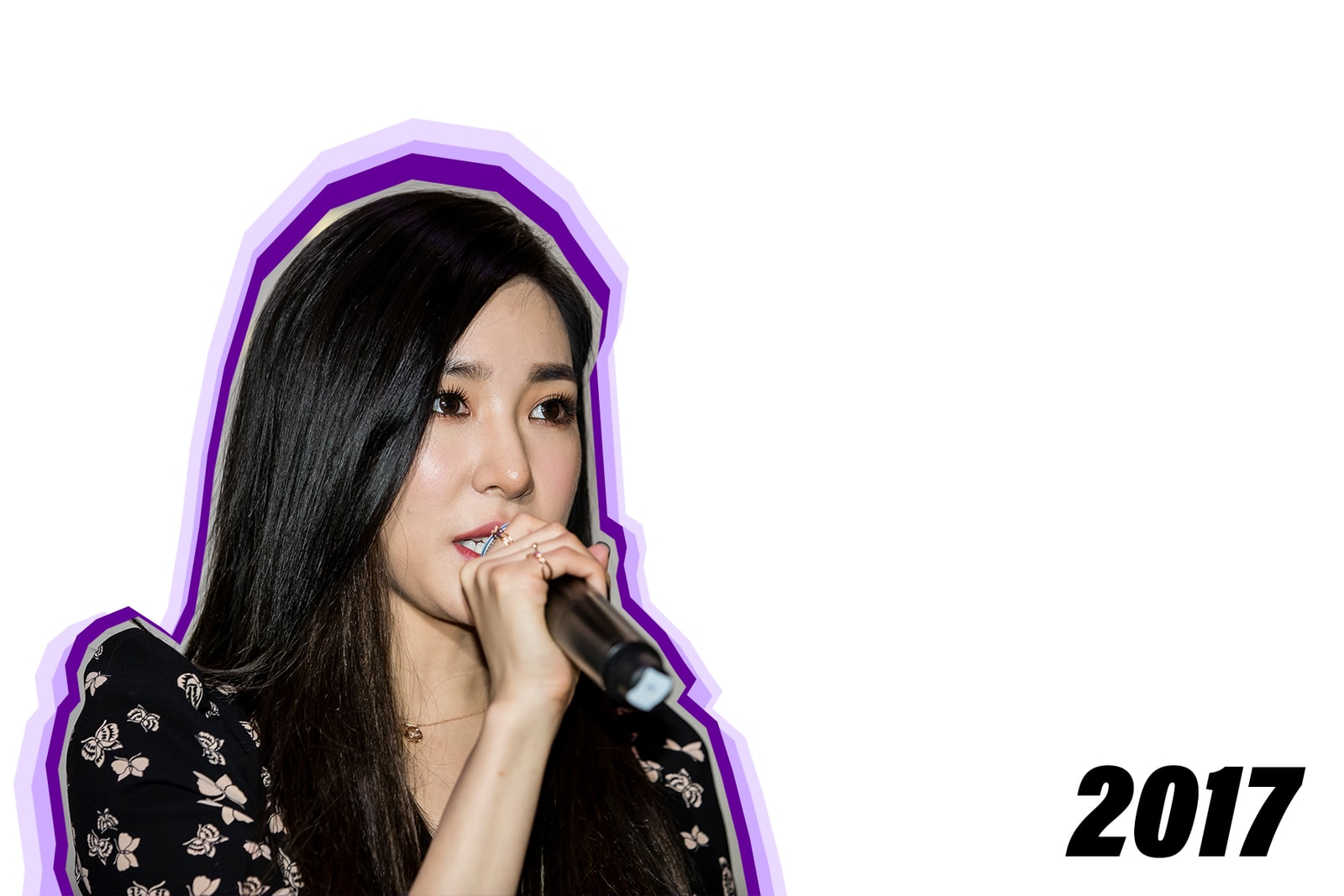 Tiffany, Sooyoung and Seohyun of Girls' Generation leave SM Entertainment.
Just two months after celebrating the first K-pop girl group to stay together for 10 years, SM Entertainment announced that Tiffany, Sooyoung and Seohyun of Girls' Generation would not be renewing their contracts with the label. The three mentioned they would continue to pursue their careers, with Sooyoung and Seohyun in acting and Tiffany for her solo venture as Tiffany Young. "Girls' Generation is a precious and meaningful group for SM and for fans. The members are not thinking of disbandment at all," a representative told Yonhap News. "However, since there are members whose contracts have been terminated, we will discuss the future direction of Girls' Generation with the members and make a careful decision."
SHINee's Jonghyun found dead, leaving fans in shock.
Found unconscious in an apartment in Seoul, SHINee's 27-year-old vocalist Jonghyun was later pronounced dead after being taken to a nearby hospital, according to Yonhap News. The late musician's sister called the police after receiving text messages reading, "Please let me go. Tell me I did well. Final farewell," suggesting he was about to commit suicide. The artist was just months away from celebrating 10 years since his debut with SHINee and a successful career as a solo singer-songwriter. Jonghyun's fans and friends all over the world took to social media to express their condolences.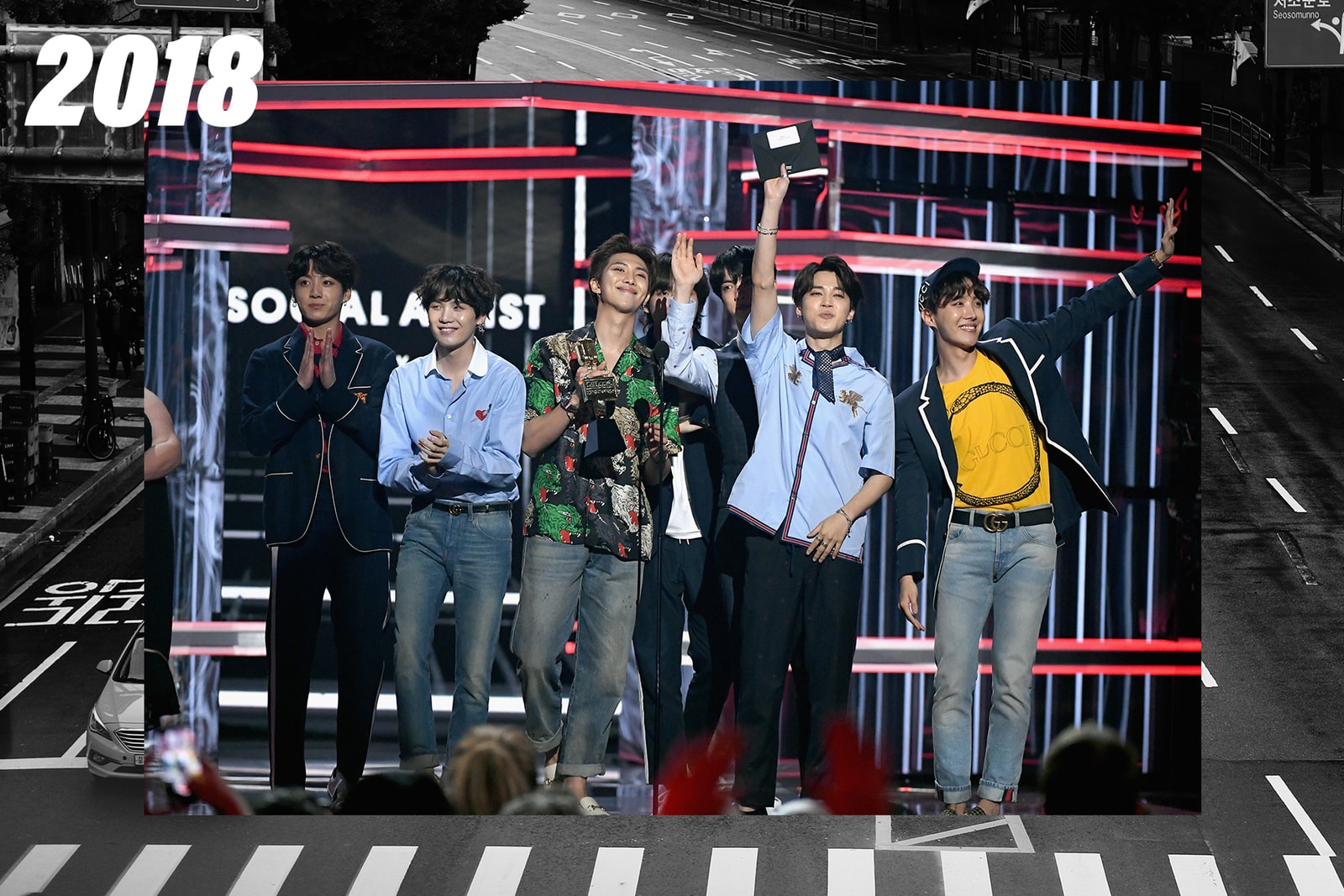 BTS takes over the world.
Following its debut in 2013 with the single "No More Dream," BTS slowly made its way to different parts of the world. The group made their first appearance at Billboard Music Awards in 2017 where they won the Top Social Artist award. In 2018, the group announced the Love Yourself World Tour with stops in regions including the U.S., Canada, the Netherlands, Germany, Japan, Taiwan and more.
In the same year, BTS released its third studio album Love Yourself: Tear which debuted at number one on the Billboard 200, becoming the first Korean album to top U.S. charts. Giving an inspirational speech at the UN headquarters on global efforts against discrimination and poverty, BTS becomes one of the most influential K-pop groups ever.
K-pop becomes increasingly mainstream in North America.
As K-pop grew to become a sensation in the global music industry — mainly in North America — more mainstream crossover songs were released. Collaborations were delivered by unexpected duos including Dua Lipa and BLACKPINK, John Legend and Red Velvet's Wendy, Jhené Aiko and Kris Wu, Nicki Minaj and BTS and more.
PSY starts his own management agency, P NATION.
With a successful career and global presence in the music world, PSY announced the launch of his new entertainment label dubbed P NATION. Following his earlier dream to "establish the biggest entertainment agency in Asia," the artist took a big step to discover the next big talent and create new music. The company revealed it had signed an exclusive contract with HyunA and Dawn, followed by Jessi and Crush.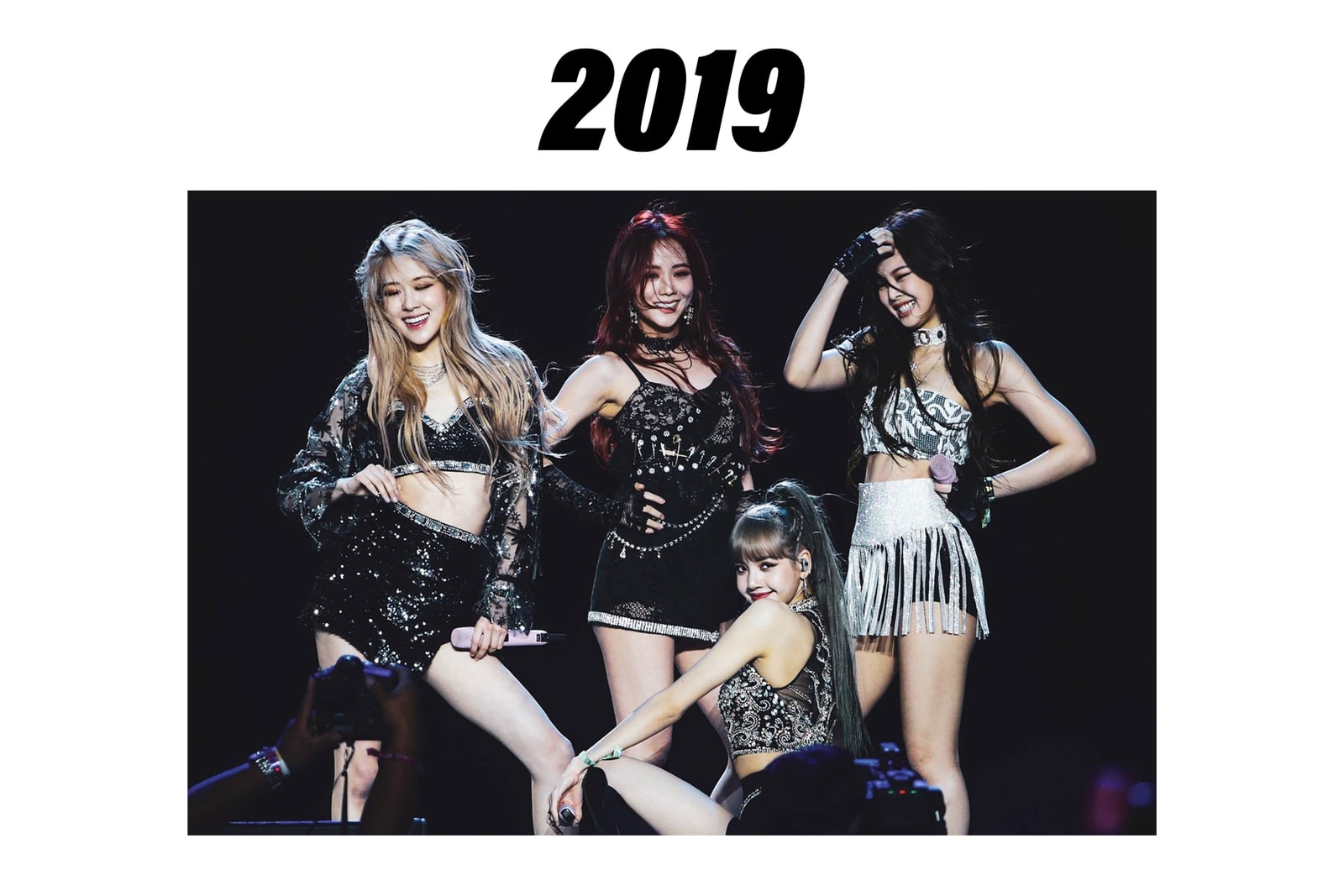 The Burning Sun scandal.
One of K-pop's biggest scandals unraveled in January, 2019, when footage of a man being assaulted by guards at Burning Sun, a club in Seoul owned by Big Bang's Seungri surfaced. A shocking number of criminal activities were later discovered behind the club, involving not only celebrities like Seungri and Jung Joon-young but also the police. Suspects were accused of crimes including prostitution, filming of illegal hidden camera footage, drug usage, bribery, gambling, tax evasion and more. Ever since the scandal, Seungri shared on Instagram that he would be leaving Big Bang, Jung was arrested and founder Yang Hyun-seok resigned from YG Entertainment. With investigations still underway, fans are speculating whether Big Bang will be able to make their comeback as a four-member group, as G-Dragon was discharged from the Korean army in October, 2019.
Tiffany Young wins Best Solo Breakout at iHeartRadio Awards.
After her departure from Girls' Generation, the artist began her solo career as Tiffany Young with "I Just Wanna Dance" in 2016. Three years later, the musician won Best Solo Breakout at iHeartRadio Awards after being nominated alongside the likes of Normani and Ally Brooke. She has continued to build her portfolio with hits including "Magnetic Moon" and "Run For Your Life."
BLACKPINK makes history at Coachella.
Going strong by setting new records with its album Kill This Love, BLACKPINK achieved another career milestone by becoming the first K-pop girl group to perform at Coachella. The performance, which was livestreamed in New York City's Times Square, featured 13 popular tracks including "DDU-DU DDU-DU," "Kiss and Make Up" and Jennie's "Solo," as well as a live premiere of "Kick It."
K-pop reaches new heights in America with MTV introducing Best K-pop Award category.
Another historic moment was marked in the world of K-pop when MTV introduced a new K-pop category for the VMAs, with nominees including fan-favorites like BLACKPINK, BTS, EXO and NCT 127. Not all fans were pleased with the announcement, however, as some believed it would be racist and unfair to keep Korean artists from competing against other pop acts. Hashtags #VMASRacist and #VMAsAreOverParty took over Twitter, with the BTS Army pointing out that the group had not been nominated for categories like "Video of the Year" or "Artist of the Year."