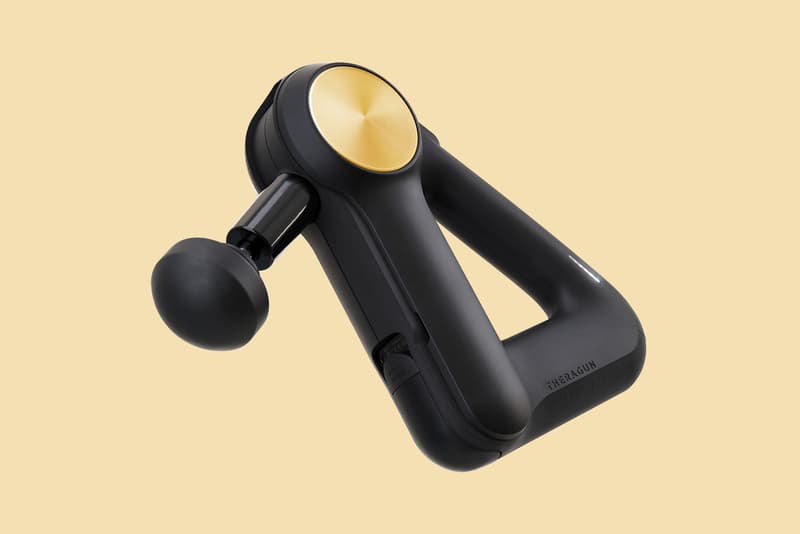 Health
How Does a Theragun Massager Work to Relieve Muscle Pain?
Here are some tips on how to operate the self-massage device.
How Does a Theragun Massager Work to Relieve Muscle Pain?
Here are some tips on how to operate the self-massage device.
Launched back in 2008, Theragun is conceptualized for relieving muscle pain, enhancing performance and speeding up recovery. The unconventional massage tool has helped those who suffer from muscle soreness, tightness, little aches and pains at the comfort of their own home.
The Theragun arrives with six different attachments that you can swap out for alternative sensations and parts of the body. Like the brand's other products, its new, limited-edition 24K Gold G3PRO is designed with the company's signature ergonomic Theragun Triangle multi-grip.
If you've never used one before and are curious to know how the device actually works, we spoke with the company's founder Dr. Jason Wersland on how to properly operate one. Read on for tips on how you can incorporate this tool into your wellness routine.
Can you tell us about the inspiration behind Theragun?
The idea was created out of necessity. I founded Theragun in 2008 after a severe motorcycle accident, as I was left in constant and debilitative pain. In order to treat my injuries, I searched for a handheld device to provide deep muscle relief, but I was unable to find anything on the market. As a result, I made something for myself and it worked. It worked better than I could have ever imagined. I then spent the next eight years developing and refining five different versions which led to our first consumer launch of the G1 in 2016.
What was the process like in terms of finding the right material for this machine? Did you go through a lot of trials prior to your first launch?
The main challenge was to create a mechanical structure that could deliver our scientifically-calibrated treatment with the quality required by our professional users. We worked closely with MIT engineers to solve this engineering challenge and sourced from the best industrial manufacturers worldwide. This was the only way we could build such a high-performance product with unmatched design and ergonomics. Our G3PRO can be used by professionals for several hours a day, every day and is also perfect for the everyday user.
Another material that took some time and experimenting were the attachments. The first versions of our attachments were great at the time but we learned a lot over the years. As a chiropractor, I wanted to make sure the materials we now offer in our attachments are closed cell foam, designed to address different body parts while being effective for the user. They are also all easy to use with lotions, creams and sweat. I went through five different prototypes prior to the launch of the G1 in 2016.
A lot of other brands are coming up with their own version of the Theragun, what do you think differentiates your brand from its competitors?
Theragun is the original, gold-standard handheld percussive therapy device. We created this space in 2008 and grew it over the last 10 years to what it is now. It's important for people to know there's a difference between vibration and percussion. The body responds differently to each. Theragun pioneered percussive therapy which is a deeper, more effective mode of recovery and body activation. We pride ourselves on having the highest quality standards and years of constant innovation and research, in addition to our ergonomics and easy to use features. Our unique combination of amplitude, frequency and torque makes the Theragun more effective at improving movement and aiding in recovery than any other device available.
Theragun was born out of a necessity to fix my issues after a motorcycle accident. I was the first patient to use this product to address my pain and then my rehab needs, and eventually in my daily routine, from waking up to working out. I eventually took the Theragun to my clinic and started using it on my clients. I was able to see some drastic changes and the effect this new modality had on the everyday person. It grew inside my office and became a requested treatment by nearly every patient. In 2012, I started using Theragun on athletes and discovered its performance-enhancing effects and how much these professional athletes loved using Theragun. The demand for Theragun really started to take off in 2013.
Through the years this product has helped me connect with my patients and more importantly, as I shared the product with my patients, facilitated a deeper connection my patients had with their own bodies. Our true desire is to relieve your pain and decrease the tension in your body.
For those who have never used a Theragun before, what results and benefits can they expect from using this unconventional massage tool?
Theragun Percussive Therapy has a variety of benefits from aiding in preventing body aches and pains, greatly reducing muscle tension in seconds, increasing mobility and range of motion. It also increases blood flow to the area to reduce soreness, tightness and pain, and can assist with accelerating the repair and growth of tissues. Our mission at Theragun is to help people reconnect with their bodies. Our devices literally put recovery and tension relief in the hands of those who use it. Whether you're a stay at home mom that deals with back pain, a nine-to-fiver that deals with tech neck, or a professional athlete, Theragun is literally for everybody.
Could you share with us how to use the Theragun in five steps?
1. Purchase a Theragun and download the Theragun app.
2. Identify your problem area using the app.
3. Turn on your Theragun. If you have a G3PRO or G3, press the speed button to toggle between our signature speed and our lighter speed for more sensitive, sore areas.
4. Choose your grip and simply "float" your Theragun on muscles that need the most attention. You can add more pressure as you see fit. For areas that need more love, rest the Theragun on the area and apply light to moderate pressure as needed. The secret is modulating the pressure to get the best therapy.
5. Follow the instructions in our app on how to use the Theragun on your specific problem area.