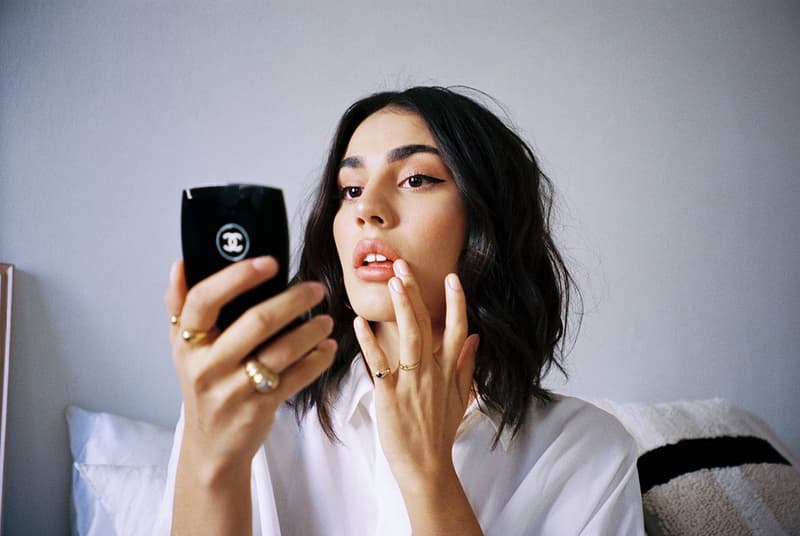 Beauty
How to Sweat-Proof Your Makeup For New Year's Eve, According to Makeup Artists
Skin prep is the key.
How to Sweat-Proof Your Makeup For New Year's Eve, According to Makeup Artists
Skin prep is the key.
Nothing screams New Year's Eve makeup more than glitter-covered lids, dramatic eyeliner and striking red lips, but when the inevitable sweat from eating, dancing and waiting for the countdown creeps through, your makeup is bound to end up in smudges, flakes and greasiness galore. To help combat such makeup mishaps, we've turned to professional makeup artists to get the lowdown on the best practices and products for sweat-proofing every step of the makeup routine. CEO of Veil Cosmetics Sébastien Tardif weighs in on how to prep the skin for a special event and celebrity makeup artist James Vincent tells us everything we need to know about ensuring our makeup lasts. Read on for their tips and take notes.
Skin Prep
It's a known fact in the beauty world that proper skincare equals flawless makeup, and that rings true especially when it comes to makeup for special events like NYE. To start, Tardif recommends avoiding harsh cleansers and tools and instead opting for a gentle cleanser to remove excess oil. He also says that "aggressively brushing skin against any towels, pads or exfoliators can exacerbate oil production and irritation." Bottom line: be gentle with your cleansing.
This botanical formula removes excess dirt and oil and leaves the skin feeling hydrated, balanced and refreshed.
Primer
A base for your foundation is key for ensuring a long-lasting makeup look. "Only use a water-based, oil-free moisturizer to avoid unnecessary oil addition," advises Tardif. Especially important for those with oily skin to begin with, opting for a mattifying primer or moisturizer will keep oils at bay so you can spend less time blotting and more time dancing the night away.
A unique mix of sweat-absorbing powders and skin-refreshing ingredients make up this gelled lotion.
Foundation and Concealer
While it may be tempting to reach for a luminous foundation and concealer combo, it's best to stick with the mattifying ones for New Year's Eve, especially if staying matte is already a struggle. Using shine-free products as your base ensures you have control of what areas you want to glow (with the addition of highlighter). Plus, it'll photograph better. A win-win.
Formulated to look natural for high-definition photography, this foundation and concealer duo boasts a smudge-free, matte finish.
Setting Powder
One of the more important steps of securing sweat-proof makeup is setting it. Vincent notes that "talc-based powders tend to be better for setting makeup while silicone formulas are better for touch-ups." Both Tardif and Vincent recommend using setting powder sparingly, as too much can age the skin and give an unnatural finish. For touch-ups during your outing, keep blotting powder or blotting paper handy.
Keep liquid products in place (and oily skin at bay) with this finely-milled setting powder.
Brows
We've all fallen victim to a smudged brow. Often one of the more difficult makeup problem to fix, it's important to choose a brow formula that's made for longer wear times. Vincent advises avoiding brow pencils as it can melt with your body temperature as the night goes on. Instead, opt for a cream or gel — not only will it stay in place longer but it's easier to create hair-like, natural strokes.
Keep your brows in place with this smudge-free, brush-tip brow cream.
Eyeshadow
Before you reach for the eyeshadow primer, you'll be thrilled to know you may not need it. "Often times the addition of an eyeshadow primer on an eyelid leaves makeup looking hard," notes Vincent. "Instead, if you choose well-pigmented shadows and the right brushes to apply, it should be enough." Both pro's recommend cream eyeshadow formulas for long-wear.
High-impact pigments and a festive shimmering finish make up this dreamy, long-lasting liquid eyeshadow formula.
Eyeliner
Pencil eyeliner has the tendency to run and gels can be difficult to apply, so for a long-lasting formula that's easy to apply, we love a liquid eyeliner. Unlike bronzer and blush (where a buildable formula is ideal), finding a highly-pigmented, non-shimmery eyeliner is what will take your look to the next level in the longevity department.
A precise tip and an up to 10-hour wear promise makes this eyeliner ideal for both defined application and all-night events.
Mascara
There's no room for runny mascara on New Year's Eve (or any time, for that matter). Go for a waterproof or sweat-proof formula and avoid applying on lower lashes. Vincent's mascara hack? Paint some setting spray into the lashes with a small fan brush to put it in place. Genius.
Made to last up to 24 hours, this volumizing mascara brings the drama while keeping clumps and flakes away.
Bronzer and Blush
Often one of the first things to fade, we know how difficult it is to find a bronzer and blush that stay put. The key is to find products that have a buildable formula (yet don't look heavy) so that as one layer fades, you'll have other layers underneath peeking through.
This all-in-one face palette features bronzer, blush and highlight shades with a buildable, wearable formula.
Lips
Whether you go for a subtle neutral or a classic red, the finish of your lip product of the night is just as important. Opt for a matte liquid lipstick to ensure your pout lasts through eating, drinking and smooching.
With its smudge-free, waterproof formula, this lip whip delivers high pigment and a wide selection of colors.
Editor

Teresa Lam/Hypebae
Share this article