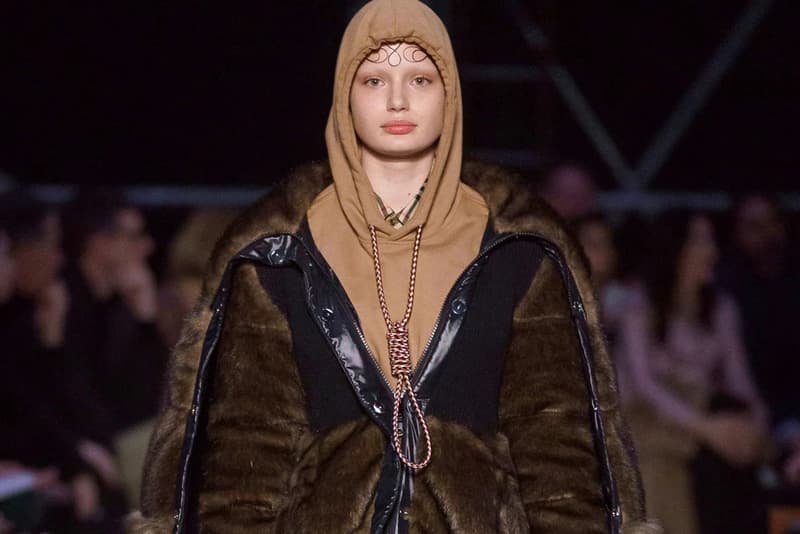 Fashion
Burberry Issues Apology Following Controversial Noose Hoodie
The problematic piece is now out of production.
Burberry Issues Apology Following Controversial Noose Hoodie
The problematic piece is now out of production.
Following the debut of its Fall/Winter 2019 collection presented at London Fashion Week, Burberry has received criticism for unveiling a problematic design. The piece in question is a hoodie which was constructed with strings along the front resembling a noose. Since the entire look went down the runway, the British fashion house has released an official apology.
In a statement shared with CNN, Marco Garbetti, Burberry CEO stated the following:
"We are deeply sorry for the distress caused by one of the products that featured in our A/W 2019 runway collection. Though the design was inspired by the marine theme that ran throughout the collection, it was insensitive and we made a mistake."
The hoodie first was thrust into the public eye after model Liz Kennedy, who also walked in the show posted an image of the design on her Instagram. In the caption which followed, she expanded on how the look was "ignorantly put together," she also shared that upon seeing it she was "extremely triggered."
The Instagram caption went on to read:
"How could anyone overlook this and think it would be okay to do this especially in a line dedicated to young girls and youth. The impressionable youth. Not to mention the rising suicide rates world wide. Let's not forget about the horrifying history of lynching either."
After attempting to speak with someone about the look after seeing the piece, she allegedly was told to "write a letter." She also alleges she was told: "It's fashion. Nobody cares about what's going on in your personal life so just keep it to yourself."
Following Liz's Instagram post and social media commentary, Burberry immediately pulled the hoodie from production and removed the imagery associated with it.
Burberry joins the ranks of luxury fashion houses that are currently looking to speak out about pieces which have been viewed as problematic. Gucci's balaclava incident and Prada's distasteful monkey keychain are two incidents which have been pushed into the forefront of social media and real-life conversations.
So one of the models from my agency was the one who broke the story regarding @Burberry and the noose jumper on @lappthebrand as she complained to them before walking the show. Her brother sadly committed suicide, do you know how triggering that is? https://t.co/I5KaaGHBDa

— l. anderson (@Leomie_Anderson) February 20, 2019
This shit is for attention.

There's no fathomable way that fashion pulls from art and culture, yet is completely oblivious to triggering symbols. When will this mess end?https://t.co/8ZLHx2e4vf

— Dani Kwateng-Clark (@danikwateng) February 19, 2019
Gucci last week.

Now Burberry this week.

All of these racist fashion trends during #BlackHistoryMonth isn't a coincidence.

They are begging for relevance.

Ask yourself when was the last time Burberry trended worldwide?

I'll wait.

Just shop from talented Black designers.

— Ernest Owens (@MrErnestOwens) February 19, 2019