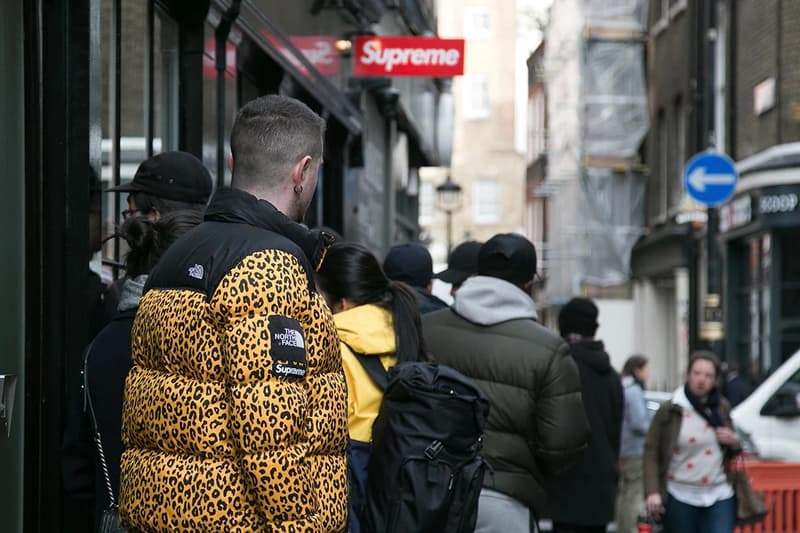 Supreme Is Allegedly Opening a Flagship in Milan
Everything we know about the rumors.
Supreme reportedly is opening a flagship storefront in Milan, according to reports by Milan publication NSS Magazine. In an article, specific details point to a possible boutique launch. One being an item that was revealed on Monday as part of Supreme's forthcoming Spring/Summer 2019 collection: a "Metallic Jacquard" crewneck. Constructed on the piece are lines of text featuring the label's current physical locations — Paris, London, New York and Tokyo. With a closer look, you'll be able to make out Milan on the article of clothing as well.
An additional detail highlighted by NSS is the Italian-made Mocha Maker, also a part of the SS19 accessory lineup, and the label's collab with Castelli Cycling, a major Italian cycling brand. Lastly, the article touches upon Supreme's current legal battle with Supreme Italia. NYC DJ Funkmaster Flex addressed the "fakes" in Supreme's teaser video posted to Instagram earlier this week. This clip led up to the full reveal of the brand's SS19 collection. It could be wise to battle Supreme Italia's illegal use of the Boxlogo by opening a physical storefront.
The Supreme Milan flagship is slated to open between Fall/Winter 2019 and Spring 2020. Notably, the rumors have reportedly been confirmed by experts within the Milan streetwear scene. Stay tuned here as additional details become avaialable.
While you're here, take a look at Supreme x Nike's forthcoming Air Max Tailwind 4 design.