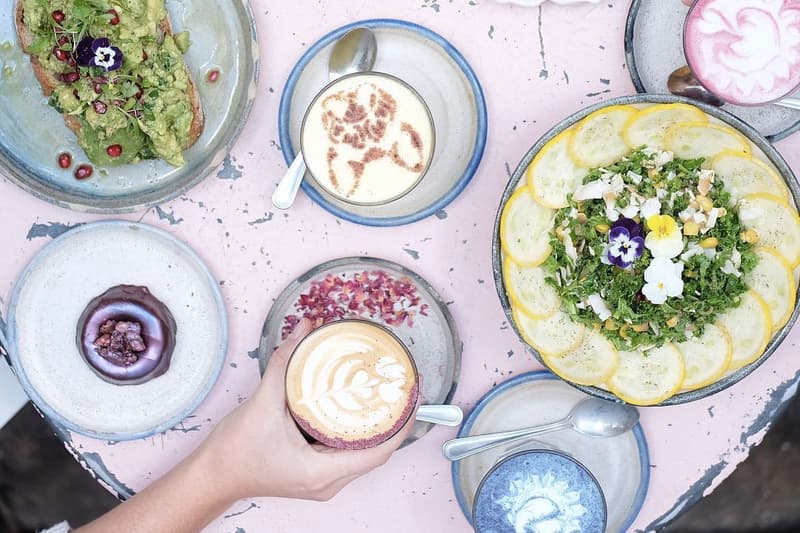 Here Are 5 of the Best Coffee Shops in London
Get your caffeine fix in the capital.
The London Coffee Festival is just a couple of days away, so what better way to mark the occasion than round up our own favorite coffee spots in the capital. Whether you're a commuter after a quick fix on your way to work, a local looking for a caffeine hit south of the river or a tourist that needs a pick-me-up in Soho, Shoreditch or Notting Hill, we've got something to suit everyones needs.
Scroll below to check out everything from trendy Instagram-friendly lattes to coffees with a side dish of skate decks and exclusive merch and while you're here, check out our favorite London cocktail bars, too.
Where: 213 Old St, EC1V 9NR and other locations
What: Grind is somewhat of a London institution and as such it has outposts in Shoreditch, Soho, Greenwich, Clerkenwell, Covent Garden and many more. Known for its cool, photogenic interior, cold-pressed juices and great brunch offering, Grind is also a favorite for anyone who values quality coffee. Pick up a classic flat white or on those warmer days, an iced coffee and if you're a fan of the blend you can grab a bag of whole been coffee or compostable coffee pods for Nespresso® machines to get your fix at home.
Where: 36 Camberwell Church St, Camberwell, SE5 8QZ
What: Transforming from a Soho-based pop-up to a fully-fledged standalone destination in bustling Camberwell, independent shop Daily Goods serves up some of the best coffee in South London. Specializing in offering a weekly roster of unique blends to its customers, it's the perfect place to test out some subtle new flavors and pick up well-made classic drinks – just be sure to grab a window seat for people watching. Don't forget to treat yourself to a Pastel de nata or some vegan chocolate brownies and if you're a hardcore fan, nab one of Daily Goods' exclusive "South of the river" T-shirts, too.
Where: 59A Portobello Rd, W11 3DB and other locations
What: This Instagrammable haven was created as a way to bring a touch of Melbourne to London and whilst its favored for its ultra-fresh and nutritious dishes, in true Aussie style the coffee menu is pretty great too. Alongside traditional items like americanos and cappuccinos, it has a stellar selection of trendy beverages too. Choose between the Latte Black (featuring activated charcoal), the Liquid Gold Latte (with turmeric, astragalus, ginger root, ground nutmeg and honey) as well as the Rose Matcha and Butterfly Matcha (organic blue matcha latte & almond milk) for drinks that taste and look good. Just make sure to get a picture of your rainbow-hued lattes for the 'gram before you leave.
Where: 14–16 Leather Lane, EC1N 7SU and other locations
What: Popular with city workers due to its proximity to major train stations like Paddington and Farringdon, this place is a must-stop for anyone who just wants a really, really good coffee. Importantly, Department of Coffee and Social Affairs only uses 100% traceable, grade 1 beans from micro lots, and aims to protect farmers' rights and establish relationships with those same farmers, generation after generation. The incredible success of this enterprise means that not only are there branches across the city, you can also find them in other UK cities like Bristol and Manchester and even further afield – there are three, soon to be four, cafes in Chicago.
Where: 8 Earlham St, WC2H 9RY and other locations
What: This Swedish export has fast become a household name in Stockholm thanks to its fresh bread and other delicious home-baked goods but luckily for us, it has five branches in London too. While the standout items on the menu are without a doubt those delicious cinnamon or cardamom buns (or seasonal treats like traditional semla), the coffee is just as good. Grab a no-frills black coffee to complement your bun and pick up a tasty loaf of sourdough to take home with you and enjoy.
---
Share this article