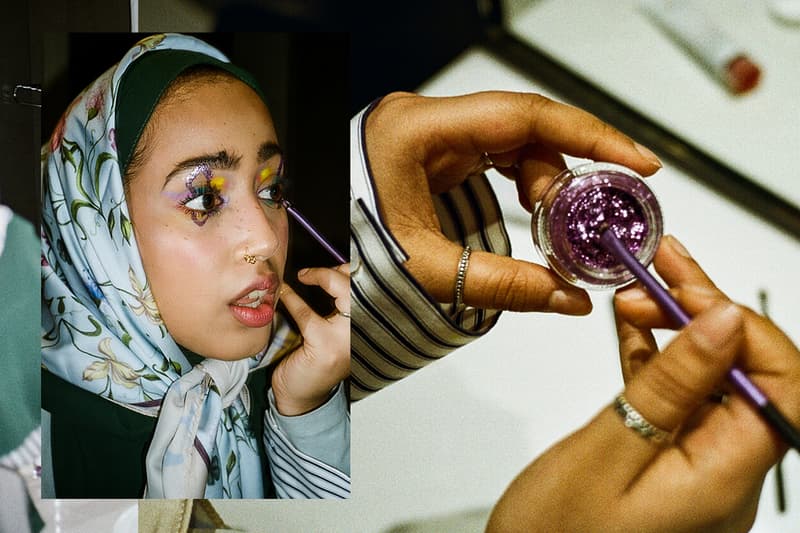 Beauty
Salwa Rahman Reflects on Her Makeup Journey and the Importance of Muslim Representation in Beauty
The makeup fanatic tells us why more Muslim women need to be included in all corners of the industry.
Salwa Rahman Reflects on Her Makeup Journey and the Importance of Muslim Representation in Beauty
The makeup fanatic tells us why more Muslim women need to be included in all corners of the industry.
Salwa Rahman refers to herself as a "self-love consultant" that happens to have a knack of doing makeup. While she's incredibly talented at drawing graphic eyeliners and a statement, outlined lip — just take a glimpse at her artful Instagram account and you'll agree — the London-based creative isn't one to utilize makeup for conventional reasons of beautifying one's appearance. "[The] ideas of beauty and what is deemed as ugly are actually interchangeable and, well, ugly is beautiful, too," Rahman tells us. Her style of makeup, often playing with unexpected shapes, textures and color combinations, is highly experimental and truly delightful to look at.
Beauty can sometimes be dismissed as a superficial matter, but with someone like Rahman, who understands that beauty is really what you make of it, the topic can inspire a stimulating conversation. Besides sharing her go-to cosmetics products, she also touches upon how her relationship with makeup has changed over the years, as well as why it is important for the beauty industry to be more inclusive of Muslim women in our interview — read on to learn more.
Salwa Rahman's Beauty Essentials
Skincare
Elizabeth Arden Eight Hour Cream: This product was actually introduced to me recently by a mate who's also a makeup artist. It's thick and glorious and when she first applied it on my lips I was converted. I'm all about long lasting multi-moisturization and this is something I use on my lips, under eyes, hands and as a highlighter.
Glossier Moisturizing Moon Mask: I'm lucky in the sense that I don't have many problems with my skin. Usually from the cold London weather I can get dry and gross, so I love to use this mask twice a week just to give it some hydrating love and myself 20 minutes downtime.
Weleda Skin Food: Introduced to me by the amazing Katie Jane Hughes, this is one of my favorite moisturizers for grease that I can feel. It's long-lasting and works so well as a makeup primer — because good skin is the best foundation to all makeup.
Glossier Invisible Shield: A gel SPF that doesn't leave a streaky white or grey hue for those of the brown or black persuasion is always a winner for me. For too long had I donned "grey-face" when using cream-based SPF, but with the gel approach it melts into the skin leaving a nice bouncy complexion.
Estée Lauder Advanced Night Repair Serum: I like the duality of this serum. I use it before I go to bed, under my night cream. I also mix it with various foundations as it thins it out and makes it dewy — but you have to move quick because as it dries it has that tacky serum effect, and once dried it essentially locks your foundation to your face for a sheer, dewy base.
Makeup
NYX Vivid Brights Liner: This is actually my OG experimentation tool. It came in a range of colors and the brush is actually quite delicate for a product so affordable. A lot of the looks on my Instagram, especially with regards to dots and lines are just free-hand from these itty bitty products.
Milk Makeup Blush Oil: I'm like 98-percent sure that this product is discontinued which is a real shame because it's a really cute blush — it's oil-based so it's sheer but buildable and gives natural colour to the skin. Plus, the rollerball applicator is quite fun and makes me think about the £1 GBP lip gloss I used to buy. I found this poor guy in a TK Maxx in a half open packet so I rescued it and gave it a nice home.
INGLOT Duraline: A mixing medium that makes pretty much anything into a liquid, so eyeliner for days!
Paintbrushes: I think the more I started venturing into shapes and certain styles, I realized that these couldn't be created by the standard beauty tools. Art brushes are actually a lot more concise and gives you more control over your look.
Glossier Cloud Paint: So I have a saying, I don't know if it's already been trademarked but literally — when in doubt, blush it out. I love all the Cloud Paint colors but I think my favorites are "Haze," "Storm" and "Dawn." All pigments look beautiful on melanin skin tones.
Trinny London LIP2CHEEK: This is a nifty little product that is multi-use for lips and cheeks. They have some beautifully pigmented shades and it has a fun stacking mechanism, so if you're in a rush you can just create a stack and jump out (which I have done many a times). This stack holds "Pia" and "Freddie" and also the Trinny Just a Touch Concealer in "Liv," which is also a fave complexion product.
Stila Magnificent Metals Foil Finish Eyeshadow: Big title promising big things that do come through. The shade pictured is "Metallic Violet" and it's the best product for hyper shine on lids, and it even comes with it's own mixing medium so you can do a dry shine or a slick glitter lid.
Stargazer Neon Eye Dust: Who doesn't want their eyelids looking like Stabilo highlighters? Serving secondary school realness, it's messy and cheap and that's just the way I like to live my life.
Obsession Prime & Bake Baking Oil: I love to have a hydrated base and I find this works really well in keeping some shine regardless of the foundation. Plus it's cheap and smells nice. Yum.
Lemonhead.LA SPACEPASTE: You need to buy SPACEPASTE in "Houdini," a glitter that is an ultraviolet trick of the light. It is just mind-blowing. So deliciously edgy, you won't regret it.
Glossier Boy Brow "Clear": I saved the best for last. Ask anyone – I am a stan. This product changed my whole brow game. South Asian brows tend to be thick and stubborn, yet this tiny little thing fluffs them into shape and keeps them there. Hallelujah!
Fragrance
Glossier You: I love floral scents and I wear this so much that literally people say "that smell is so 'you'" — so I don't know if they are saying I smell great because I wear You so much, or they know that the perfume's name is You? Maybe that was the point? What a mystery.
Have you always been a creative person growing up?
I think everyone is creative growing up. The difference I suppose, is how you let society affect your personal creativity and your perception of what society is. I was always regarded as the trouble, the wild child, the kid that had middle child syndrome and was an Aquarius, and therefore I was a weirdo and championed "otherness." And I guess those perceptions of me strengthened me in accepting my differences. It allowed me to remain on the outside and through my actions encouraged me to be creative in combining the weirdo with society.
So, I guess you could say I was creative — I loved the arts, I loved the idea of using a medium to express yourself, to change yourself and to present to the world an image of you that you chose to present.
You don't really call yourself a makeup artist, do you? How would you describe what it is that you do?
The core of it is simply to outline that beauty is not as intimidating as it is made to be. I would like to think of myself as a self-titled face doodler, self-love consultant that specializes in makeup, who just wants to emphasize that what we believe beauty to be is something that has been twisted and turned into a tool to make us consume and be consumed. Makeup is not meant to be hard nor is it meant to be perfect, and so it's just presenting the alternative on a platform.

How did you initially get into makeup?
Unfortunately I don't have any funny anecdotes of stealing my mum's YSL lipstick and rubbing it all over my face in an attempt to copy her. The first thing I remember rubbing on my lips to mimic lipstick was melted ice lollies and ice cream, and even then it was momentary and it was food.
As my environment changed so did my relationship with makeup. Being friends with people who were conventionally feminine and wore makeup to make-up (pun intended) for the fact that they had oversized blazers and a horrible school tie… My sister was in sixth form so she was purchasing more makeup, so I had access and my imagination, and from there I suppose I started experimenting with different styles and colors. I'm always trying to get a reaction but also trying to find my own unique style of makeup.
Equally playful and artistic, your makeup looks are always experimental. Where do you tend to draw inspiration from?
It's quite a broad spectrum but without going into anything specific, it usually is sparked by a color, shape or texture. It can be as simple as yellow flowers in a vase, yet I can see the yellow from the flower and the green from the stalk and want to translate that onto my face. Through this visual process, it's allowed me to see more beauty in my everyday surroundings, which is cliché but the truth.
I love going to art galleries and that's another huge influence on my process, because at the end of the day all art is recycled and reimagined, so it's a fun challenge to try and translate that from one canvas to another.
What was your understanding of beauty when you're a little girl? And how do you define it now as a young woman?
It was always a distant privilege, My mum had high-end beauty products like Chanel and YSL lipsticks, but I don't have any distinct memory of watching my mum get ready or wearing makeup. I had decided that it wasn't for me as a kid. I was a tomboy who was much more interested in being outside, and moving and exploring rather than staying still for too long. It just never seemed for me as I always thought I was too boyish and wasn't "girly" enough for it. I think I always saw it as an utterly feminine thing that was there to ultra-glamorize women, and I never really got with that.
… Now you realize that ideas of beauty and what is deemed as ugly are actually interchangeable and, well, ugly is beautiful, too. So is asymmetrical liner, so is creasing and smudging and all the other beauty blunders you could possibly make.
Now, I suppose the glamor side still exists, but I think the biggest thing that changed was my autonomy in choosing what beauty meant for me and how I would want to project that to the world. I never thought I had a choice. It was perfect skin, lips and eyes — that was the norm and it made you look better, so it should never be questioned because who would want to look ugly? Whereas now you realize that ideas of beauty and what is deemed as ugly are actually interchangeable and, well, ugly is beautiful, too. So is asymmetrical liner, so is creasing and smudging and all the other beauty blunders you could possibly make. That's probably changed my makeup game, just not giving a sh*t.

When it comes to representation of Muslim women in beauty, what changes do you wish to see in the industry?
I want to see more inclusivity of visible Muslims. It's amazing to see an increase in Muslim models wearing hijab on the runway, but I want more. I would love to see more creatives, like photographers and art directors working with Muslim women because it gives a platform for people to interact with someone from a different narrative. I would love to see visible Muslims being used in more conceptual projects like the infamous MAC Cosmetics makeup shoots, just to push the limit on our range and how we can present ourselves as we tend to get typecast as timid, submissive or just simply passive.
I also need to see Muslim women working behind the scenes of beauty… Without that inclusivity, a true understanding of how to cast or even interact with Muslim women doesn't exist.
I also need to see Muslim women working behind the scenes of beauty. It's one thing to change things from in front of the camera but there has to be change from within, and I have yet to see that in the experiences I have had with various beauty teams. Without that inclusivity, a true understanding of how to cast or even interact with Muslim women doesn't exist and I have many experiences that are testament to that.
A lot of people describe makeup as a tool of empowerment. Do you feel the same way?
It's a tough question. It's kind of yes but it also reminds me of the quote Audre Lorde says, which is "the master's tools will never dismantle the master's house." I say that because I think the male gaze is something that is rooted in beauty. A lot of the creation of beauty and the support of it was so that women would look pleasant for the other sex, and it is such an ingrained belief that it will inherently always have that notion attached to it. However, I would also say that the unlearning has slowly begun, and that to break away from normative beauty, and to embrace the mistakes can be treated as a sort of "f*ck you" to the "man" who tries to make you feel like you need to consume beauty in order to aesthetically succeed in life.
Who are some of your biggest beauty icons? 
Pat McGrath, because she is a self-made woman of color who put in work to become one of the most famous makeup artists.
Jazzelle Zanaughtti (UGLYWORLDWIDE), because her energy is just out of this world. She champions being the other and looking funny, and she has such a unique aura.
Tracee Ellis Ross is such a champion for inner beauty and an icon for showing that any and all colors look beautiful on melanin skin.

Everyone overcomes insecurities a little differently from others. How have you learned to be comfortable in your own skin?
I keep good company who can support my growth positively. I think society can overwhelm you especially in beauty, and most especially when you regard yourself as a creative — so I try to have people around me that give me courage that stems from something that is more than just skin deep.
I also try to verbally remind myself that I am me and that is perfect — you have to be your own cheerleader, team and coach always before expecting from anyone else. If I ever feel my insecurities starting to creep in, I like to talk to myself and remind myself that I'm good and that nothing should faze me, because as long as I'm doing good then everything else is inconsequential.
Lastly, when people ask me how I can be so secure in the makeup styles I do, it's pretty simple — I experiment all sorts of ideas on my face at night before I'm about to wash my makeup off. It allows me to try things out but also gets me used to looking crazy. And so when it's daytime and I'm doing something weird, I just think, "eh, you could look worse right?" and leave the house.
Location

Ace Hotel London Shoreditch