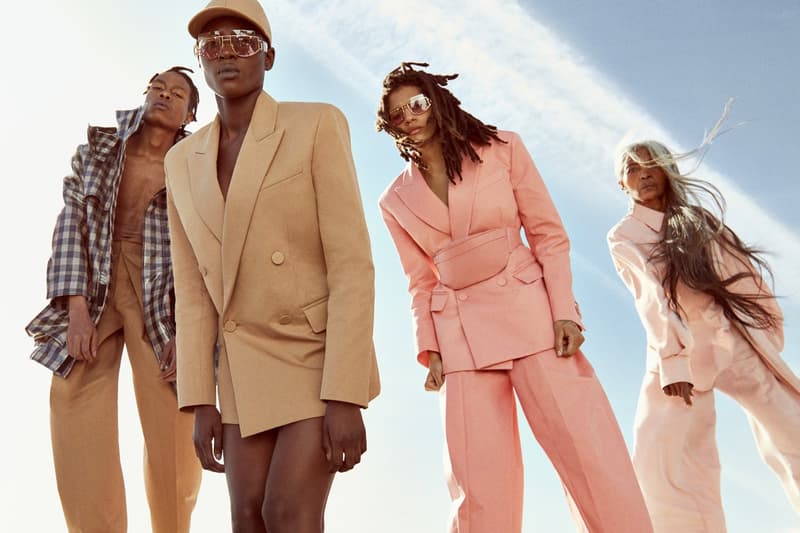 Fashion
Rihanna Casts 67-Year-Old Model JoAni Johnson in Her First FENTY Campaign
The new luxury maison celebrates beauty in all its forms — and at all ages, too.
Rihanna Casts 67-Year-Old Model JoAni Johnson in Her First FENTY Campaign
The new luxury maison celebrates beauty in all its forms — and at all ages, too.
With every opportunity to launch a cosmetics or fashion business, Rihanna has continued to challenge the traditional notion of beauty, giving it much-needed new definitions that even well-established brands have failed to identify.
With her eponymous makeup line Fenty Beauty, rewriting the meaning of beauty meant releasing 40 different foundation shades that cater to a spectrum of skin tones. Upon its launch in 2017, Fenty Beauty has set an unprecedented standard of inclusivity in the beauty-sphere now known as the "Fenty Effect."
The singer-turned-entrepreneur's lingerie brand, Savage X Fenty, is another venture of hers that has shaken up the undergarment industry. An antidote to the unrealistic body image that companies like Victoria's Secret have promoted heavily in the media, Rihanna's take on underwear champions body diversity. Every design is available in a wide size range, while on the brand's runway, women of all body types including plus-size and pregnant models strutted down the catwalk with confidence.
Rihanna's recent move into luxury fashion with FENTY maison (thanks to a prestigious partnership with LVMH) will likely inspire more conversations about the importance of inclusivity in the industry. That isn't merely because she is the first woman of color at the helm of a European luxury house — "I do know that the reason I'm here is not because I'm black. It's because of what I have to offer. That's what they're invested in. And the fact that I'm black is just that: a fact," she tells The New York Times' T Magazine — but for the boundary-pushing decisions she makes as the artistic director of FENTY.
If the brand's first campaign images and promotional video are any indication, FENTY is for everyone who's in pursuit of a fashion-forward way of dressing, regardless of one's gender or age. Among the diverse group of models of different races and ethnicities, there's a male model rocking a checkered anorak, while standing next to him is 67-year-old model JoAni Johnson, whose gorgeous, gray hair blows in the wind as she poses in a pastel pink shirt-dress and matching pants. Johnson is also spotted in the teaser video, where she looks as effortlessly cool as ever in a white, hooded jacket.
While it may not be the first time a fashion label taps a man or a sexagenarian to front a womenswear campaign, the casting is undeniably one that will help change the narrative around inclusion and representation in the luxury sector of fashion, as it celebrates beauty in its various forms — and at all ages, too.
If women can borrow from the men's wardrobe — "I've always loved shopping in the men's department. I like the swag, the fit of it," Rihanna tells Vogue at her FENTY pop-up preview in Paris — then FENTY is here to defy the distinction between "feminine" and "masculine" sartorial codes. From the corset-lined blazers to the Japanese raw denim jacket-meets-dress, anyone can make FENTY their own.
Jahleel Weaver, Rihanna's stylist and FENTY's style director, puts it best in the T Magazine interview:
"We're thinking about each release as a different facet to a woman's wardrobe and how she approaches dressing. Luxury has been defined in the past as one woman, one brand: You know who the Saint Laurent woman is, you understood who the Céline woman was when it was Phoebe. Which is fine, but you think about how that relates to the modern woman. I don't think she is just one thing, Rih being the perfect example of that."
What about sizing? Currently, FENTY goes up to a French size 46 (American size 14). "I'm thick and curvy right now, and so if I can't wear my own stuff then, I mean, that's not gonna work, right?" Rihanna says in her T profile. FENTY's size range isn't necessarily the most extensive at its debut, but it certainly steers the luxury fashion world in a direction towards size inclusivity.
After all, this week only marks the first page of FENTY. But with such an enthralling introduction, we cannot wait to dive into the next chapters of a brand that only a fashion trailblazer like Rihanna can dream up.
---
Share this article