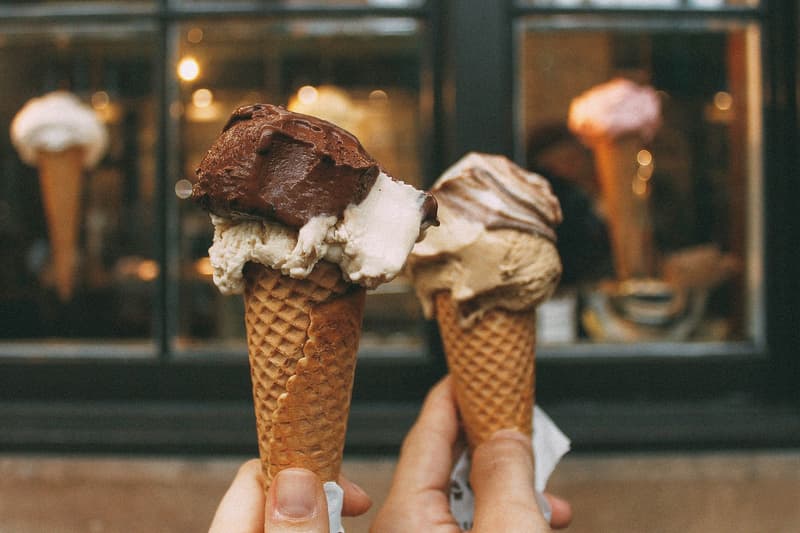 These Are the Best Ice Cream Spots in London
Combat the winter blues with a sweet treat.
It may be January, and winter is in full swing, but that doesn't mean that it isn't time for ice cream. Combat the cold and the gloomy weather blues with a sweet treat. Whether you're a fan of humble classics like vanilla and chocolate, or an adventurous eater looking to explore flavors like matcha, chili and more, we've put together all the best ice cream spots you need to try in London.
Take a look at all our favorite places in London that are serving up ice cream and other desserts you can't miss, and if you're looking for more London food options, check out all the best pasta places here.
Yolkin Ice Cream
Combining the ice cream sandwich concept with macaroons, Yolkin Ice Cream has found a life-changing way of making dessert. Serving up a handful of different flavors and designs, the sweet treat is both incredibly Instagrammable as well as delicious. A must for anyone looking for an elevated take on ice cream.
Black Milq Ice Cream
Black Milq Ice Cream serves up a handful of dairy free options that uses homemade alternatives like cashew nut milk, coconut milk and more. On Saturdays, the sweet treats are available at Brockley Market, and tubs of the mouthwatering ice cream are available to order online. Ranging from fruity flavors like peach, raspberry and vanilla, to experimental tastes like black sesame, Black Milq Ice Cream has options for everyone.
Snowflake Gelato
Snowflake Gelato has a total of six locations in London, ranging from the city's luxury department store Selfridges to Soho, South Kensington and Westfield. The gelato is handmade with 100% natural ingredients, and uses organic Jersey milk and cream from Somerset, and all sorbet is made with seasonal fresh fruit. In addition, lactose and gluten-free choices are available as well.
Nonna's Gelato
Inspired by her grandma, Sophia opened Nonna's Gelato, where she produces gelato that is an "Italian/British fusion" that combines the traditional gelato process with produce from both the UK and Italy. All batches are churned and made by hand, with a "whole heap of amore." 10p of all scoops sold also go to charity which means the ice cream not only tastes good, but does good, too.
Chin Chin Ice Cream
With three locations in Soho, Camden and Shoreditch, Chin Chin Ice Cream has become a favorite among Londoners and tourists alike. Their ice cream creations range from delicious sundaes to cakes, and come in a wide variety of colors and flavors. Some unique flavors include pandan leaf, yuzu piña colada and honeycomb, and seasonal flavors are also available.
Lick
If you're looking for authentic Italian gelato, Lick should be on your list. Serving hand made ice cream with no preservatives, the gelato comes in flavors like lemon cheesecake, rose, nutella and more. Every day the store serves up 24 unique flavors, and is located in London's busy Soho neighborhood.
Milk Train Cafe
Soft serve served in cones with cotton candy may sound too good to be true, but Milk Train Cafe has perfected the sweet treat. Their sundaes are served on a cloud-like structure of cotton candy, and decorated with colorful sprinkles, popcorn and everything in-between to create the ultimate instagrammable cone. Located in Covent Garden, the ice cream shop is a must-see if you're passing through London.
Soft Serve Society
With two locations in Shoreditch and Victoria, Soft Serve Society is the best place to visit if you're looking for a sweet dessert on a hot day. Ranging from matcha flavored options to affogato creations, Soft Serve Society is truly taking ice cream to a new level. If soft serve isn't for you, mouthwatering milkshakes are also available, and they're equally as tasty.
Oddonos
With seven locations across London, Oddonos has become a favorite. The artisan gelato is produced in the store's South Kensington laboratory on a daily basis, using in-house recipes from scratch. Made from the finest ingredients, the gelato features no coloring, preservatives or GM products. Oddonos has made over 130 flavors, including cinnamon, chili, basil and more, and also serve classics like coconut, strawberry and chocolate.
Share this article