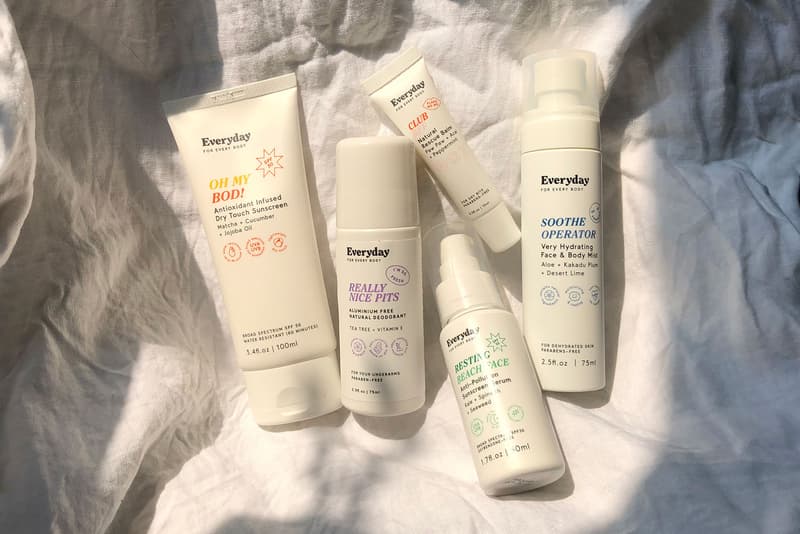 Beauty
Everyday Is My New Favorite SPF Brand and Everything Costs Less Than $30 USD
Produced in Australia, the clean beauty brand is cruelty-free and reef-friendly.
Everyday Is My New Favorite SPF Brand and Everything Costs Less Than $30 USD
Produced in Australia, the clean beauty brand is cruelty-free and reef-friendly.
Contrary to popular belief, the secret to beautiful skin is not a type of acid or oil or even an acronym. The secret to beautiful skin is something far simpler than that: SPF. As women everywhere are already transitioning from Hot Girl Summer to Sad Girl Fall, it may be easy to forget about healthy suncare, which is arguably the most important component of one's skincare routine. With a gentle reminder to always remember to apply SPF when leaving the house, I am now sharing my new favorite SPF brand, Everyday.
The brand carries a simple motto regarding its ingredients: it is BS Free SPF. All of its products have been researched and produced in Australia and contains natural ingredients that are free of "nasties" – this includes harmful elements such as parabens, sulfates and phthalates, to name a few. In addition to its quirky branding (my favorite product is called the Resting Beach Face) and Instagram-worthy packaging, the entire line of core products comes with an affordable price tag that ranges between $15 to $30 USD. Everyday believes that skincare beauty should be multifunctional, no-frill products that solve real problems for everyday humans. This is perhaps one of the best parts of the brand: they are making no-fuss products that work incredibly well and are attainable for everyone.
Read on for reviews on each of Everyday's core products, and find out why this is the SFP brand you need to know.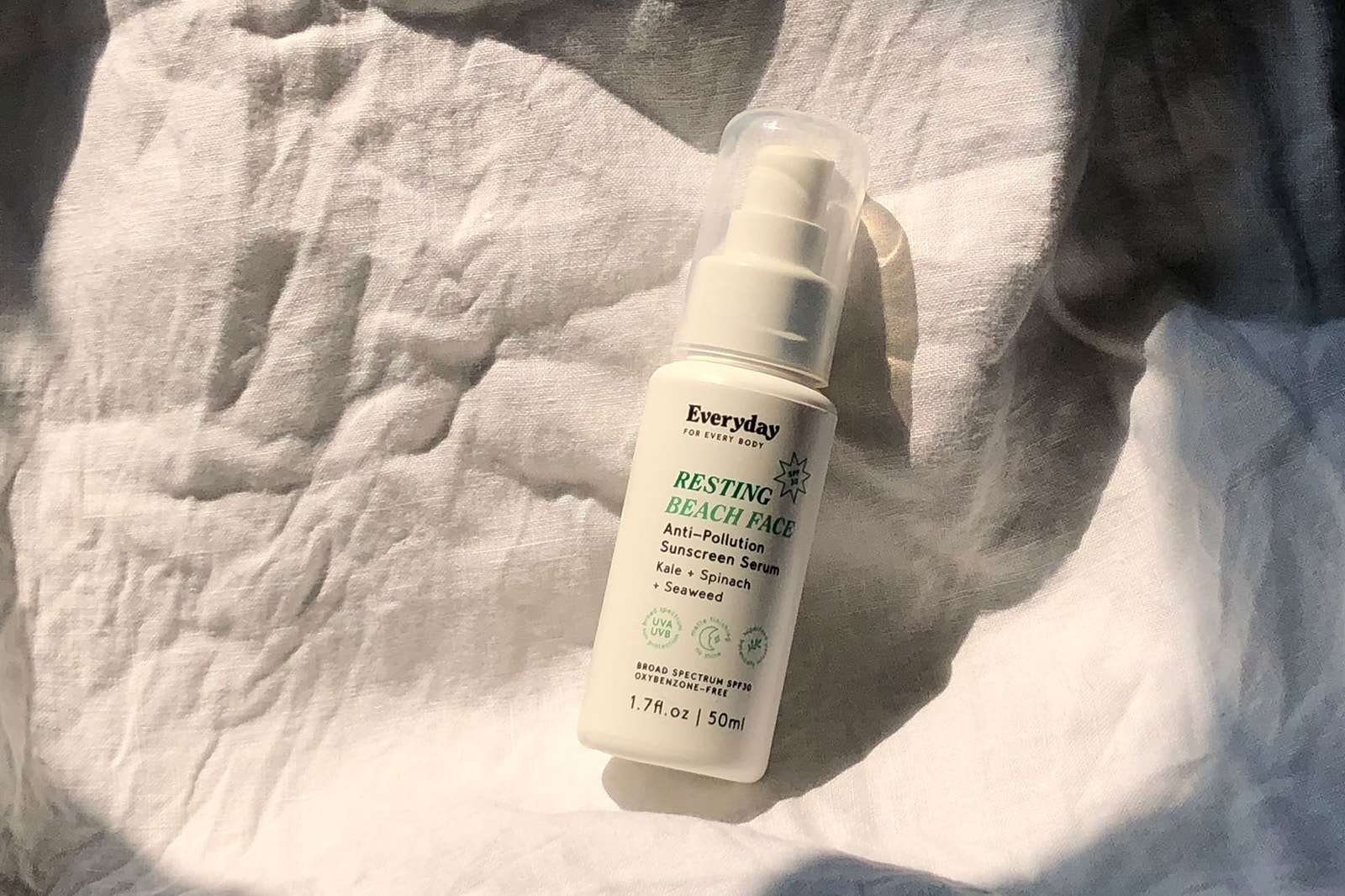 Okay, I'm going to get straight to the chase here and say that this is my absolute favorite SPF product right now. To start, I love anything that is anti-pollution. When you live in an immensely congested city such as Hong Kong, you become very conscious about the high levels of pollution that easily become part of your everyday life. Although little can be done to avoid these potentially harmful pollutants altogether, one can try to combat these harmful effects by investing in some effective skincare products.
I love this sunscreen serum because it's basically a 3-in-1: sunscreen, serum and primer. Thanks to its mattifying formulation, it doesn't leave my face looking shiny at all and also has zero white cast while applying. It has a lightweight composition that allows for easy absorption, and delivers a cocktail of nutrients derived from superfoods such as kale, spinach and an antioxidant-rich bladderwrack extract. Most importantly, it is completely unscented, so it's perfect for sensitive skin. I've been mixing this in with my daily moisturizer for quick application in the mornings – a quick tip for girls on-the-go. The Resting Beach Face serum retails for $30 USD.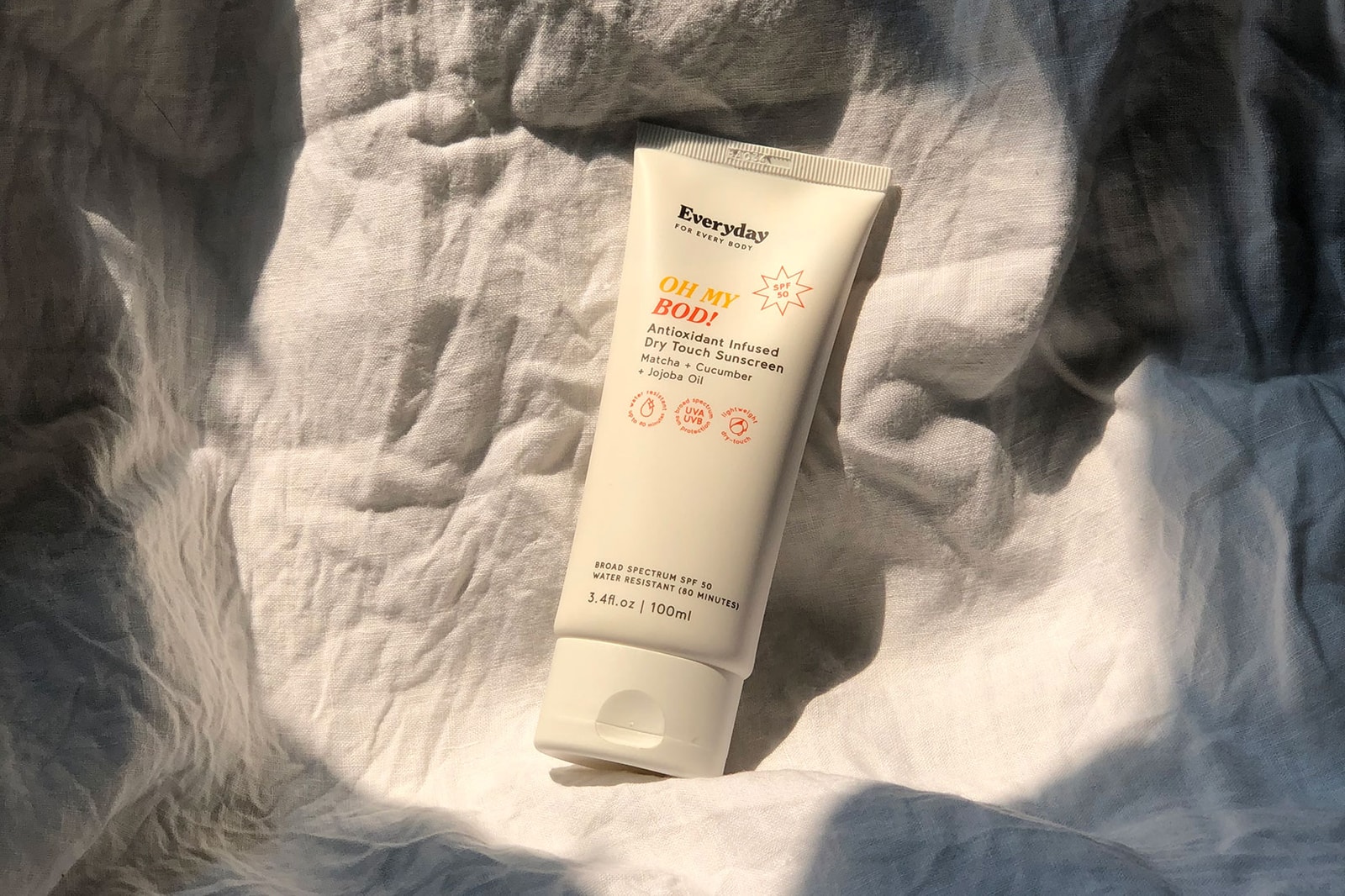 Is there honestly anything worse than greasy sunscreen?  Thankfully, Everyday's body sunscreen offering just might be the savior for grease-fearing sunscreen users such as myself. Along with anti-aging properties within its built-in body moisturizer, OH MY BOD! is also formulated with matcha green tea and cucumber to help hydrate your skin. It also stays water-resistant for up to 80 minutes, making it perfect as a beach or pool companion. This product is also unscented, so sensitive skin owners need not be afraid. Zero white cast guaranteed. OH MY BOD! retails for $25 USD.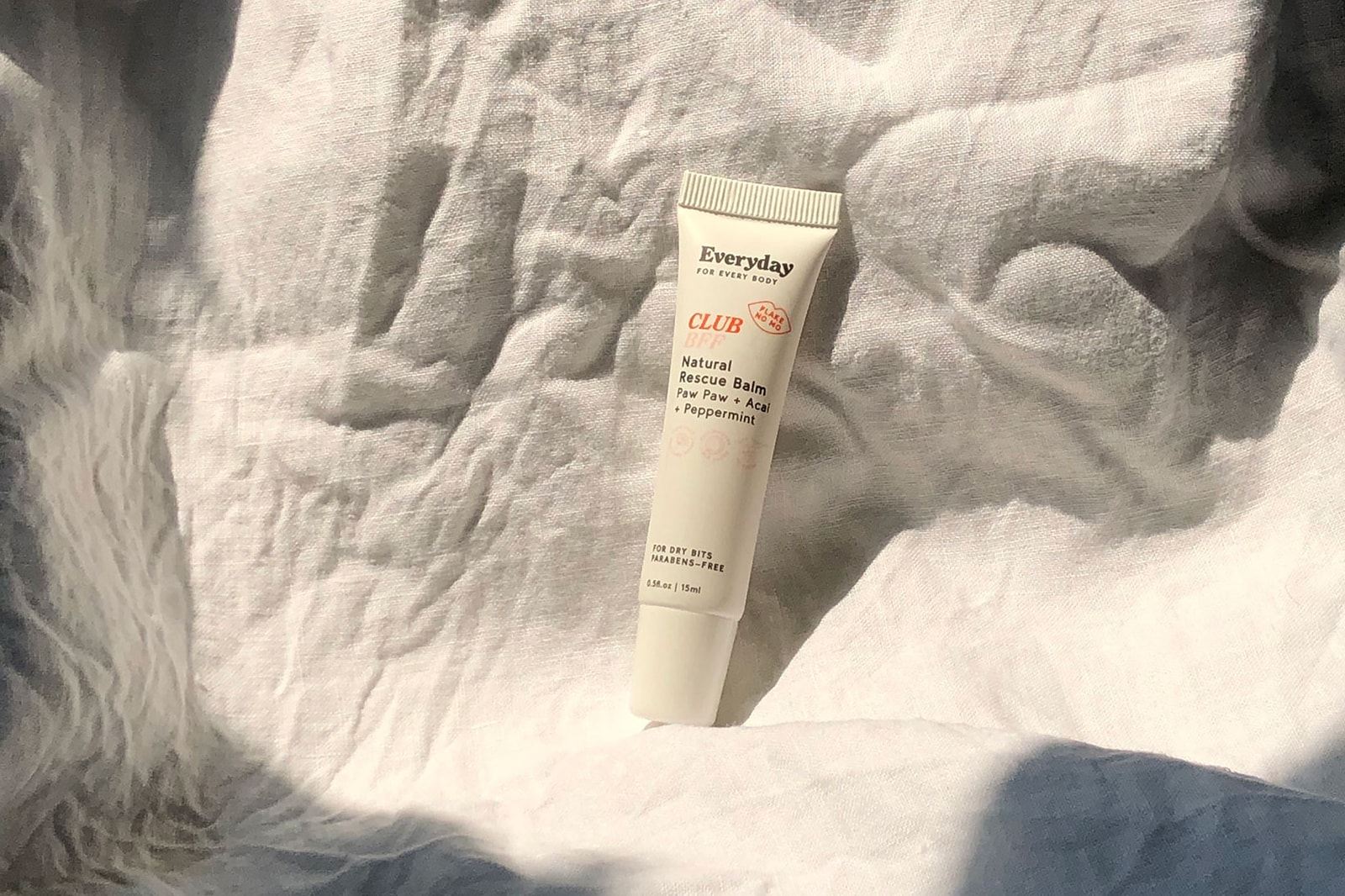 I have a lip balm with me at all times – one in every purse, jacket pocket and nightstand. You may say that I am a lip balm connoisseur of sorts, and Everyday has definitely made a winner here. One of my favorite things about this particular balm is that it is infused with peppermint, making each application refreshing and leaving my lips slightly tingling. It is also petrolatum-free, and is formulated with papaya, antioxidant-rich acai, sunflower seed oil and soybean germ extract. Although the most obvious use is definitely as a lip balm, I've found that this is actually quite effective in relieving bug bites as well. Again, thanks to the peppermint infusion, it has a cooling effect that makes it a versatile essential for all of your skincare needs. This one is unquestionably a new mainstay in my bag. Club BFF retails for $15 USD.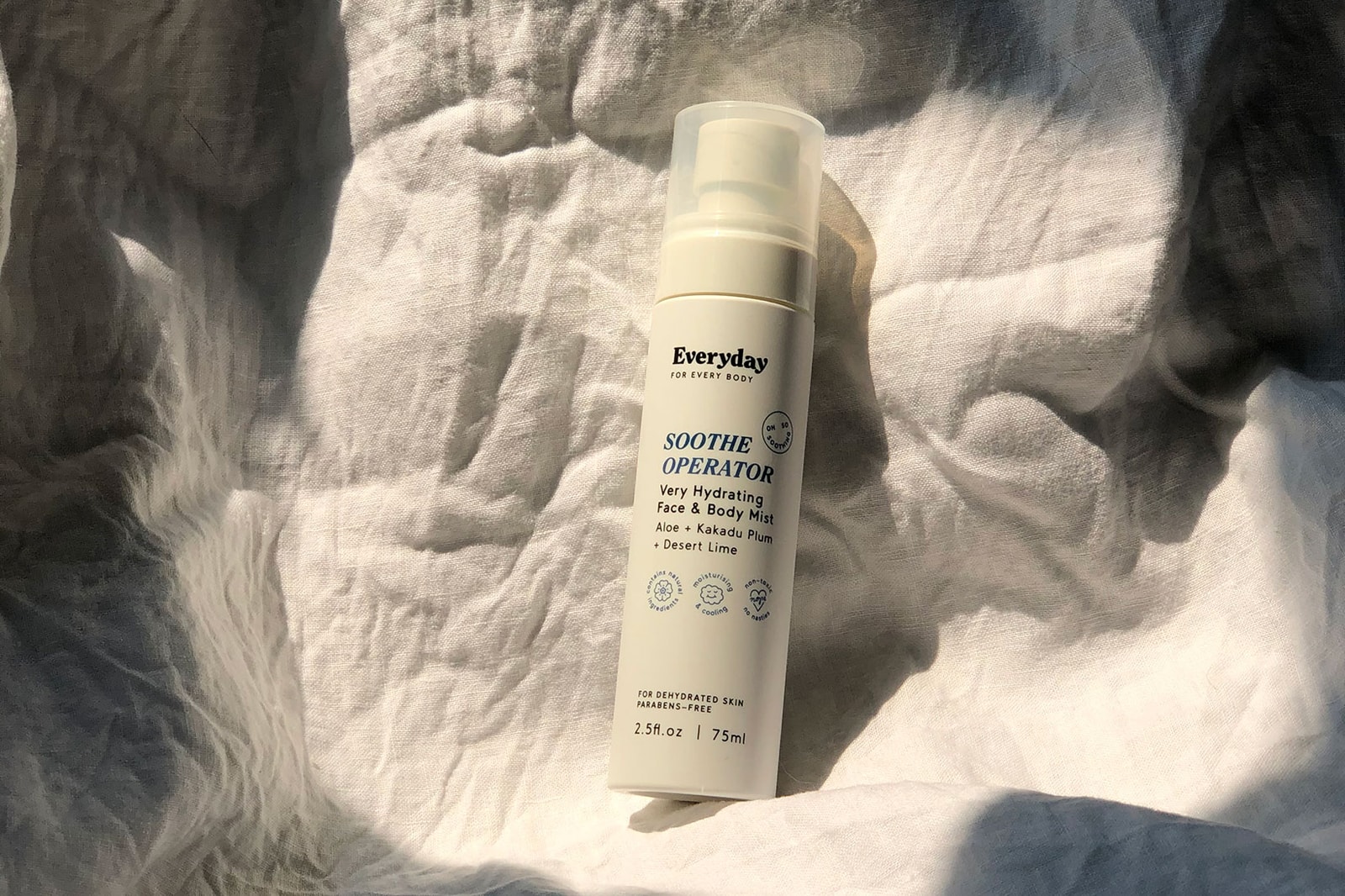 If you've been out in the sun all day, Soothe Operator is the tall drink of water your skin needs. Included in the formula are ingredients such as aloe vera juice (very soothing) and witch hazel (very calming), as well as kakadu plums that are rich with vitamin C. Desert limes are also in the compound, which is what gives the mist its refreshingly vibrant scent. I love the cooling effect that this mist has on my skin (both body and face) and it definitely revitalizes my complexion after prolonged sun exposure. The only thing about this product is that I wish the mist was finer and also that the spray would cover a greater surface area. I find that when I apply the mist, it only lands on certain areas of my face, rather than a large cloud that can cover the entirety of my visage. Even so, I love the way that the beauty mist feels on my skin, and is definitely a new must-have for hydrated skin throughout the year. Soothe Operator retails for $18 USD.
We all know that deodorants can be one of the most irritating products for the skin. Due to the plethora of chemicals that often go into their composition, it's not uncommon for deodorants to cause discomfort amongst users. Combatting this common reaction, Everyday has created a natural alternative that is aluminum-free and includes soothing ingredients such as shea butter, vitamin E and sunflower seed oil. The all-natural formula also includes tea tree oil, which is odor-neutralizing and also helps fight bacteria and BO. I personally love using this because of its herbal scent that is not overpowering, and it lasts all throughout the day even in the hot and humid conditions of Hong Kong. I really do recommend making the switch to natural deodorant as a safer alternative for your skin. Really Nice Pits retails for $17 USD.
Share this article