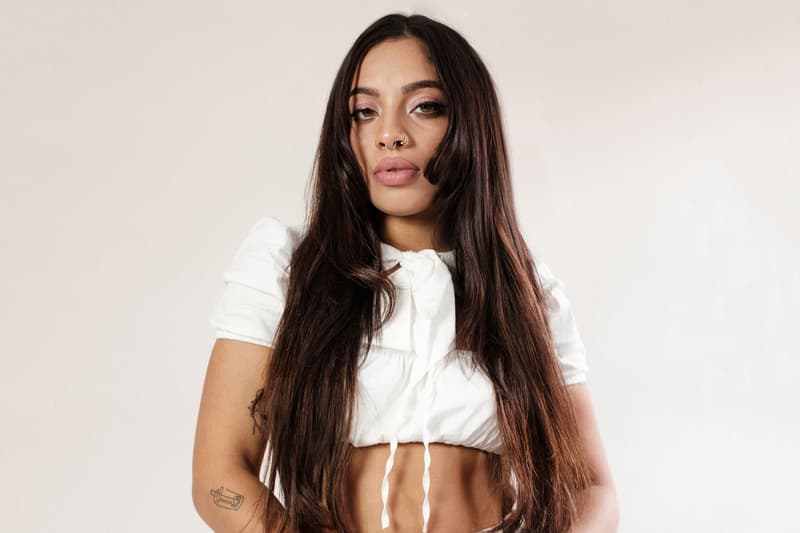 Music
BAEwatch: Kiana Ledé
The LA-based songbird sheds light on her background, inspirations and more.
BAEwatch: Kiana Ledé
The LA-based songbird sheds light on her background, inspirations and more.
From the moment Kiana Ledé walked into our office, we noticed a spark in her eyes. Originally from Phoenix, Arizona, the singer-songwriter's music has been racking up millions of streams over the past few years. Last summer, she released the seven-track project Selfless which first put her on our radar. The album features standout tracks like "Get In The Way" and "Shame," both proved that Kiana is undeniably an artist worth paying attention to. Reminiscent of the R&B of the '00s, Selfless pushed Lede into the forefront of the music conversation.
It was inevitable that Republic Records would also notice her innate ability to create great music. According to Live Nation's platform ones to watch, Ledé was signed to the label after creating #SoulFoodSessions back in 2016 featuring covers that pulled in over 50 million views. Fast forward to this year, she released an EP titled Myself. The sultry project comprises of catchy R&B songs filled with songwriting about love, intense feelings and heartbreak. The introduction track "Can I" painted a picture of the entire release characterized by its exploratory sound. Other editor-favorites from the EP include "Shawty," "If You Hate Me" and "Heavy."
Fresh off of her tour with Ella Mai, we got a chance to catch up with Ledé to get insight on her journey, what makes her unique and more. Keep reading for an in-depth look at the R&B singer's background.
What's it like being from Phoenix, Arizona? Would you say this has directly influenced your sound?
I didn't have much to do there other than focus on my art. Music, theatre, dance all of that became the focus because there really wasn't much else to do. So I guess the internal focus that I developed led me to find my voice earlier than some.
Can you share how you began getting involved in the entertainment industry?
I was always in theatre, learning instruments and I also did pageants. So I was involved from a pretty early age, and got my real start in LA when I got signed to my first label when I was 15.
Where are you currently living and would you say your sound has evolved since you've moved there? 
I currently live in LA. I've been here for about six years now, and yes my "sound" has evolved but the core of my sound has stayed the same. I like blending musical and cultural backgrounds. My dad listened to rap and R&B and my mom listened to pop and R&B. I love singer-songwriter type stuff too. I'm really such a mixed kid that I think it just took a while for me to put all the best bits of each thing I am into one cohesive sound. The idea was always to do that and I think on Myself, I'm getting closer.
When you're in the booth recording, do you come equipped with a concept and a song already written?
It varies, but most often I find myself being an open conduit for the energy and feelings of the day. If I'm sad, a sad song happens. If I'm energized, then we put some bounce into it. Sometimes I have an idea that's been burning inside me and I let that out. It really depends on the day. I'm a very "in the moment" person.
Back when you were recording Selfless, what was your thought process like?
I was sad. I had put so much of myself into my previous romantic relationships that I was feeling empty and pretty broken. I spiraled into depression. My thoughts were dark and confused. I wasn't sure of who I was, and who I wanted to be. If you've ever experienced depression then you know what I mean. I also want to say, to anyone who is going through that now, it does get better.
Were you looking to shed light on relationships and love?
If I shed light on anything, it was only because I was exploring myself for real for the first time. I was dealing with the idea of "self." I had given too much of it.
When you were working on your latest project Myself, what was your guiding light?
[I] was the guiding light, who I realized I wanted to be as I emerged from darkness and into my own perspective.
What do you think separates you from other emerging singers in the R&B genre today?
I think we are all quite different really. What Ella Mai brings to the table isn't what I bring, what Jessie Reyez brings is unique and so on. I think R&B is in such an amazing space now where I like to call it alternative R&B because it allows even more room for identity. I love that I am working alongside such cool and powerful women who can take this music and make it our own.
Who are you listening to right now and which artists are your biggest inspiration?
I love what Lizzo is doing at the moment. I always love Beyoncé for how strong she is and what she stands for, and what Rihanna has done for women in the larger business picture is incredible. Drake always inspires and sneaks into all my playlists. YBN Cordae is so talented. There's just so many f*cking good artists out there right now.
What was it like touring alongside Ella Mai? What was your favorite moment?
She was lovely, accepting and I loved the entire experience. There was no favorite moment. It was all great. I f*cking love being on tour. I can't wait to share new moments on my own tour this fall.
Share this article