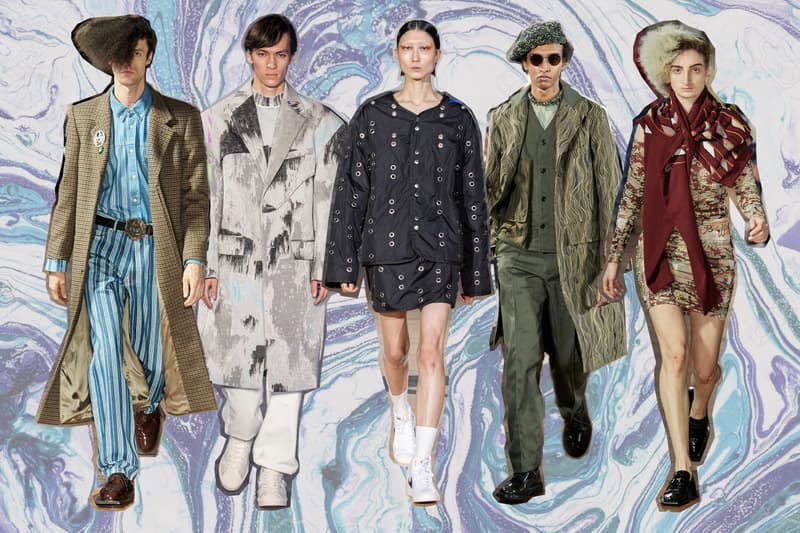 Fashion
Here Are the Best Shows From London Fashion Week: Men's Fall/Winter 2020
Martine Rose, Charles Jeffrey LOVERBOY, Studio ALCH and more.
Here Are the Best Shows From London Fashion Week: Men's Fall/Winter 2020
Martine Rose, Charles Jeffrey LOVERBOY, Studio ALCH and more.
We're only a week into the new decade, but we've already wrapped up the first fashion week of the year – London Fashion Week: Men's. This season, designers took to the British capital to present their Fall/Winter 2020 collections, and we saw a huge focus on sustainability amongst both up-and-coming designers as well as seasoned industry favorites. We also saw designers start to incorporate both menswear and womenswear looks, straying away from the traditional set-up and opting for a genderless approach that is important to grow throughout the upcoming years.
Following the hectic weekend, we've put together some of the best shows that you can't miss from London Fashion Week Men's, including names like Martine Rose, Feng Chen Wang and more. Keep reading to see our highlights from this season, and let us know which shows you would have put on the list in the comments below.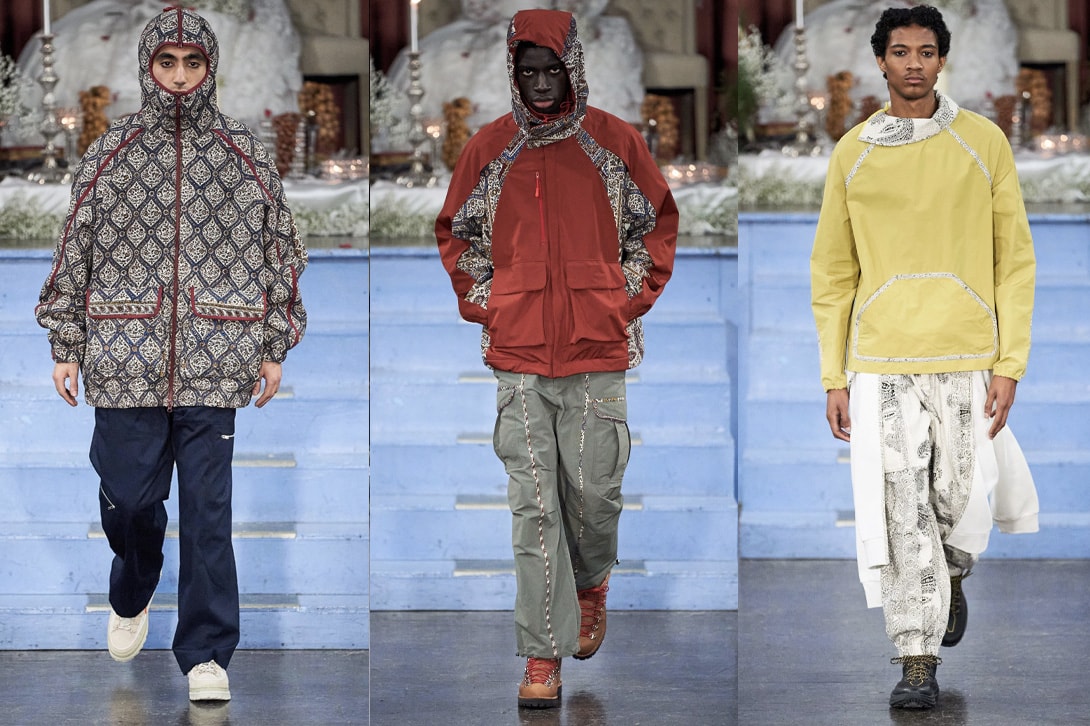 Paria Farzaneh often draws from her heritage when it comes to inspiration for her collections, and for this season's show, she brought attendees to a school hall in London and divided the audience with men on one side of the aisle and women on the other. The show opened with a wedding ceremony conducted in Farsi, and moved into a runway show with Farzaneh's designs.
The designer's show was filled with political commentary, and as the designer herself put it, "It's a time to come together, to remember where you come from. Even though I was born here [in England], I have been to Iran every year of my life. I feel I am doing them proud, speaking for them, and that's important to me." As for the collection, it was stacked with traditional prints sourced in Isfahan, which covered everything from padded jackets to trousers, hoodies and more. Lastly, the collection is completely sustainable, hand-made in Isfahan using natural dyes like turmeric and saffron.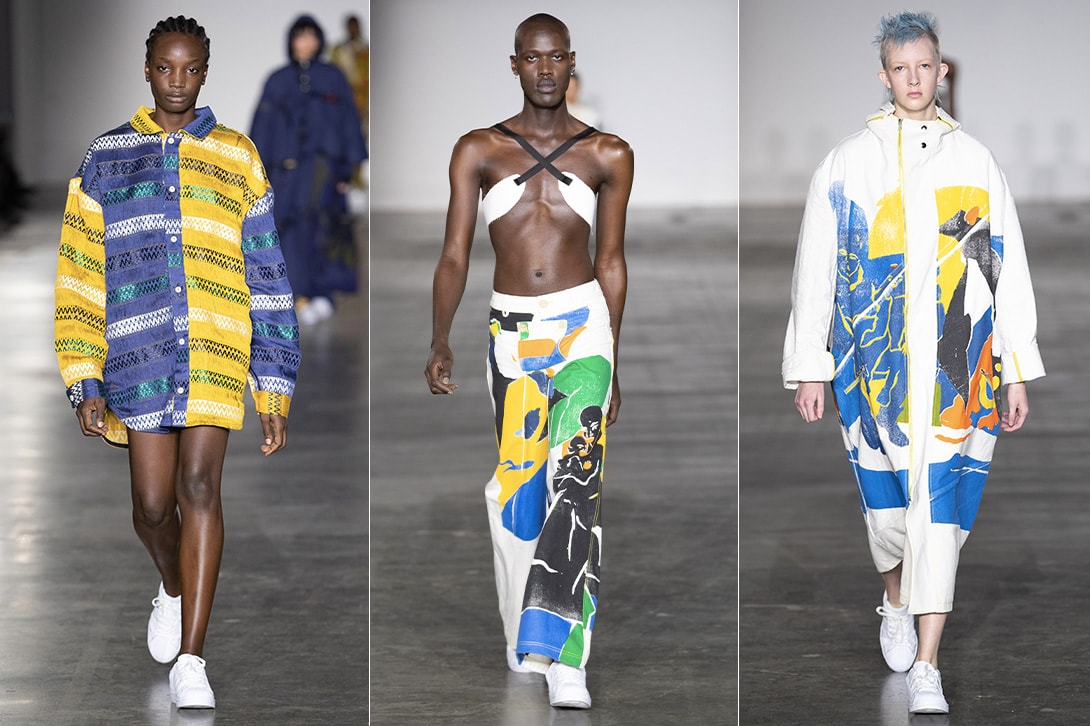 "Bethany Williams is not a fashion designer, she is a trailblazer," read the press release following the designer's LFW Men's show. Teaming up with The Magpie Project Charity founded in 2017, the designer is putting focus on social issues as well as marginalised communities, drawing attention to the ever-growing issue of homelessness and damage created to women and children.
Bethany Williams teamed up with illustrator Melissa Kitty Jarram to tell the stories of mums and children unable to work, study and move in London after being deemed to have "no recourse to public funds." The artwork is seen throughout the collection, depicting a mother and a child. "Through spending real time with us, Bethany ensured that – from materials to models, communications to collaborators – every decision she makes is run through her own ethical framework and interlinking with the nurturing bond between mother and child," said the Magpie Project regarding Williams' collection.
Boasting bold colors and exaggerated silhouettes, the collection combined traditional menswear silhouettes with feminine influences, emphasizing Bethany Williams' focus on creating gender neutral clothing that can be worn by anyone, anywhere.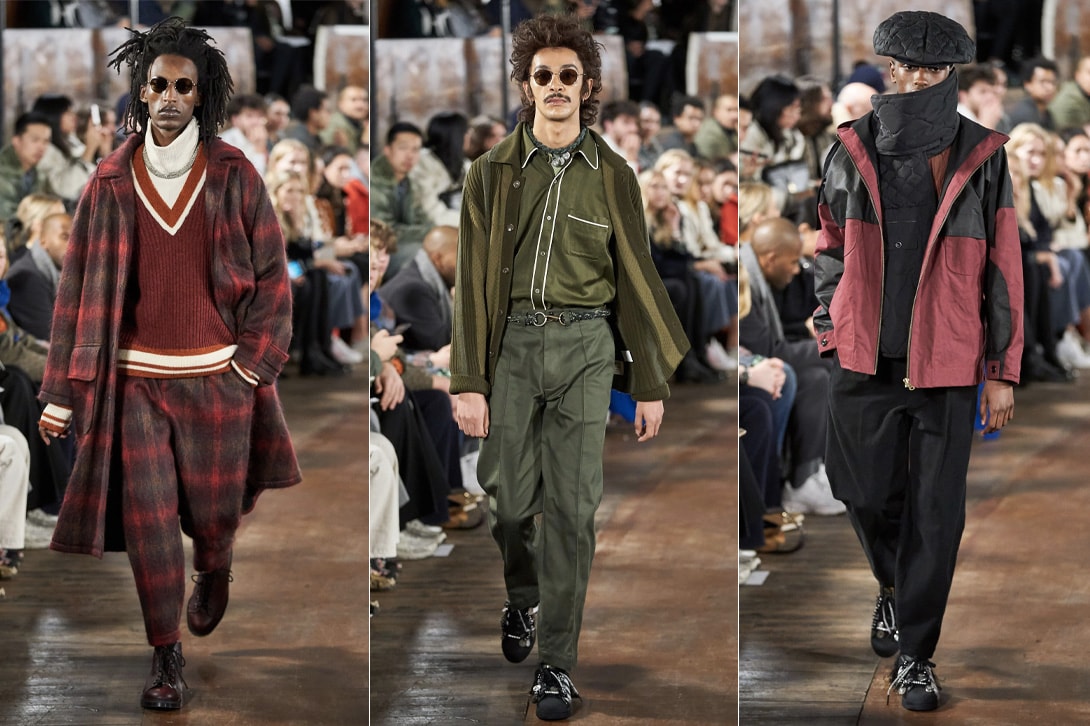 Titled "The Abstract Truth," Nicholas Daley's show kicked off with three South London musicians performing jazz and psychedelic rock to set the tone for the show. The collection featured layered looks that included everything from cardigans to structured jackets, as well as statement head pieces and hats, classic coats and more. Drawing inspiration from afro-futurism and the black abstract art movement of the 1970s, Daley proved that he knows how to create a unique aesthetic and pave the way for fashion as we know it.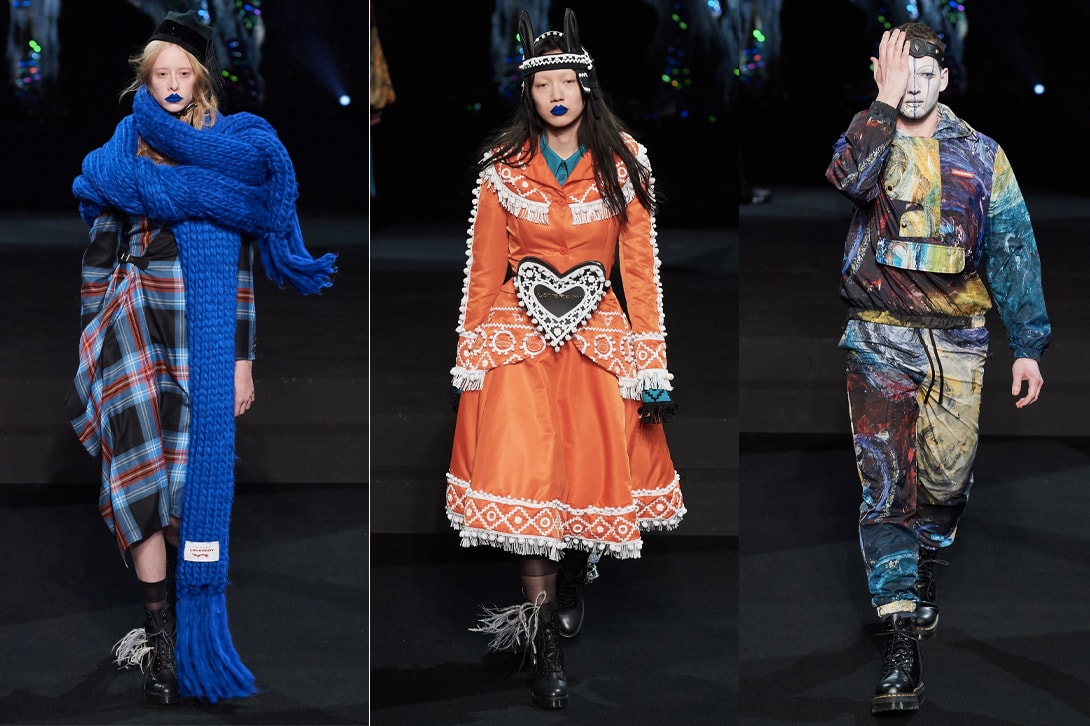 Charles Jeffrey is known for his bold and colorful pieces as well as conceptual designs, and this season the designer took it to the next level by debuting flatteringly tailored pieces, abstract silhouettes and intricate craftsmanship. Combining colors, patterns and prints, the designer emphasized his love for the unconventional, whilst tapping into trends like suiting, two-piece tracksuits and more.
In addition to his captivating collection, Charles Jeffrey continues putting effort into sustainability. The range was made with GOTS-certified cotton, focusing on "localism" which means that nothing is sourced from too far away and that the practices are put into place locally. Jeffrey is also extending the efforts to his team, who have all studied weekly online sustainability courses offered by the London College of Fashion. Inspired by his Scottish roots and the ever-growing push for sustainability, Charles Jeffrey Loverboy put together perhaps his most extensive and effective collection yet.
This year Martine Rose made her anticipated return to the London Fashion Week runway. "Kids, young people, education are our future and we should invest in them. Primary schools are magical. The teachers are here, there's a lot of people with kids—it's another community, isn't it?" the designer told Vogue, with her show taking place at her four-year-old daughters school. Staying true to her personal brand and belief, Rose went with street casted models, sporting extravagant hairstyles swept to the sides, and experimented with materials like denim, latex, leather and more.
Martine Rose is known for loving the odd, and this season was no different. Drawing inspiration from 90s club culture as well as taking design cues from the 70s and 80s, messing with proportions and classic silhouettes to create something eye-catching and more unconventional. Her unique approach has made her one of the most influential designers in the London scene, and this season's show proved she's always going to deliver.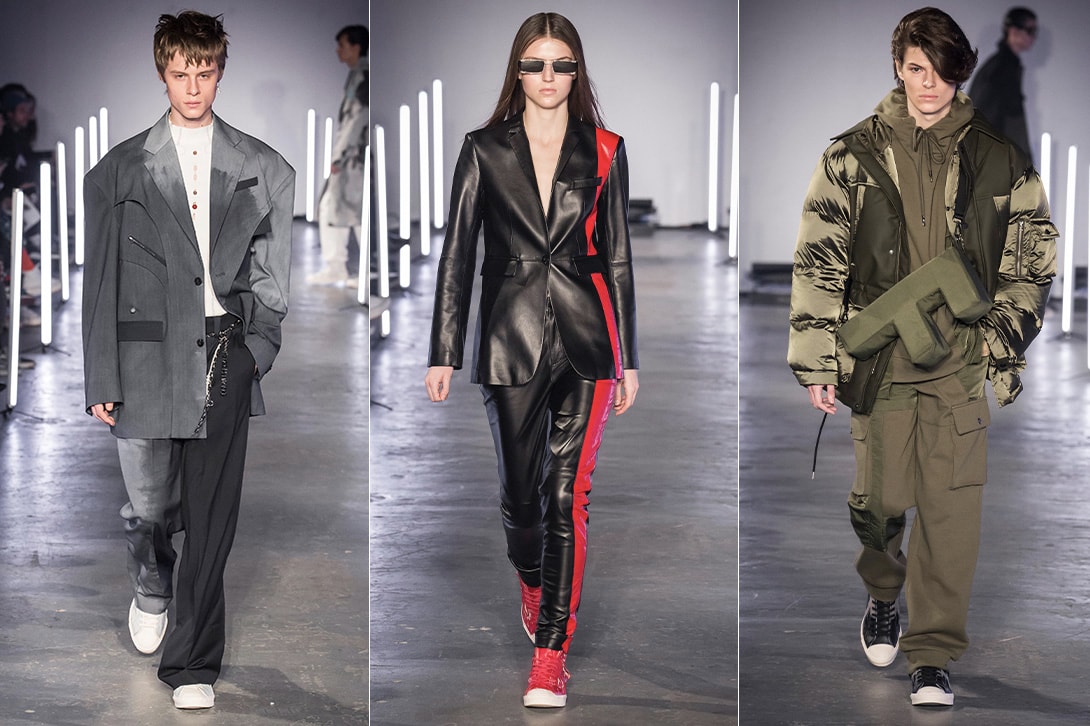 Chinese-born designer Feng Chen Wang once again teamed up with Converse for this season's collection, which drew inspiration from her own heritage as well as the Chinese characters making up her name. To create the collection, Wang returned to her hometown in China to source local materials and learn dye techniques, which resulted in a beautifully constructed collection which sported elements from athleisure, workwear and high fashion all at once.
Putting more focus on accessories this season, Wang experimented with shapes and bold designs, debuting an F-shaped bag as well as a handful of headpieces, sunglasses and more to go with the fashion-forward range. Despite having only done her first solo show during the SS18 season, Wang has already established herself as one of the most exciting names on the LFW schedule and continues to push the boundaries and innovate.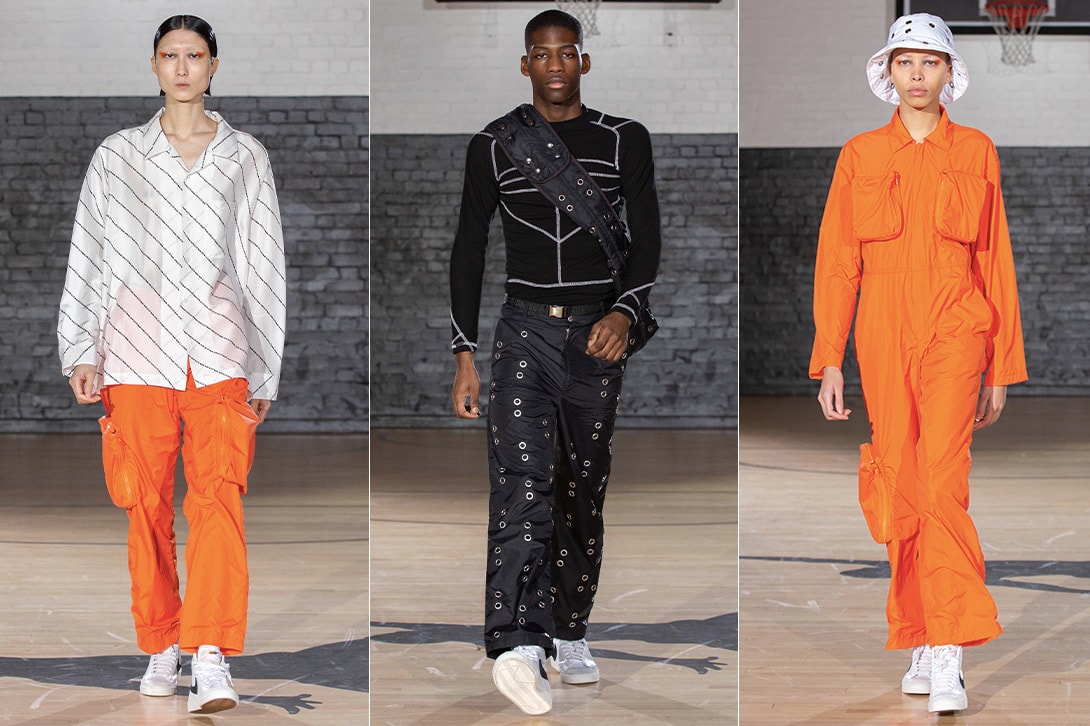 Founded by Alexandra Hackett, also known as Miniswoosh, Studio ALCH focuses on waste-reducing design techniques which was emphasized in this season's collection. The most notable were the winter-inspired pieces boasting removable and packable carrier bags, set out to reduce plastic usage, as well as the denim and jersey silhouettes which hae all been redesigned and pattern cut using only a single piece of fabric resulting in zero material waste.
With sustainability in focus, the garments from the range were all produced using recycled, organic or excess deadstock materials, as well as innovative materials such as Tencel™ which is a biodegradable fibre. As for the designs, the collection saw cues from military-inspired silhouettes as well as traditional streetwear and athleisure, all following a simple color palette putting emphasis on the craftsmanship and detail of the garments.